Only the Atlanta Falcons stand in the way of Brady and Belichick making Super Bowl history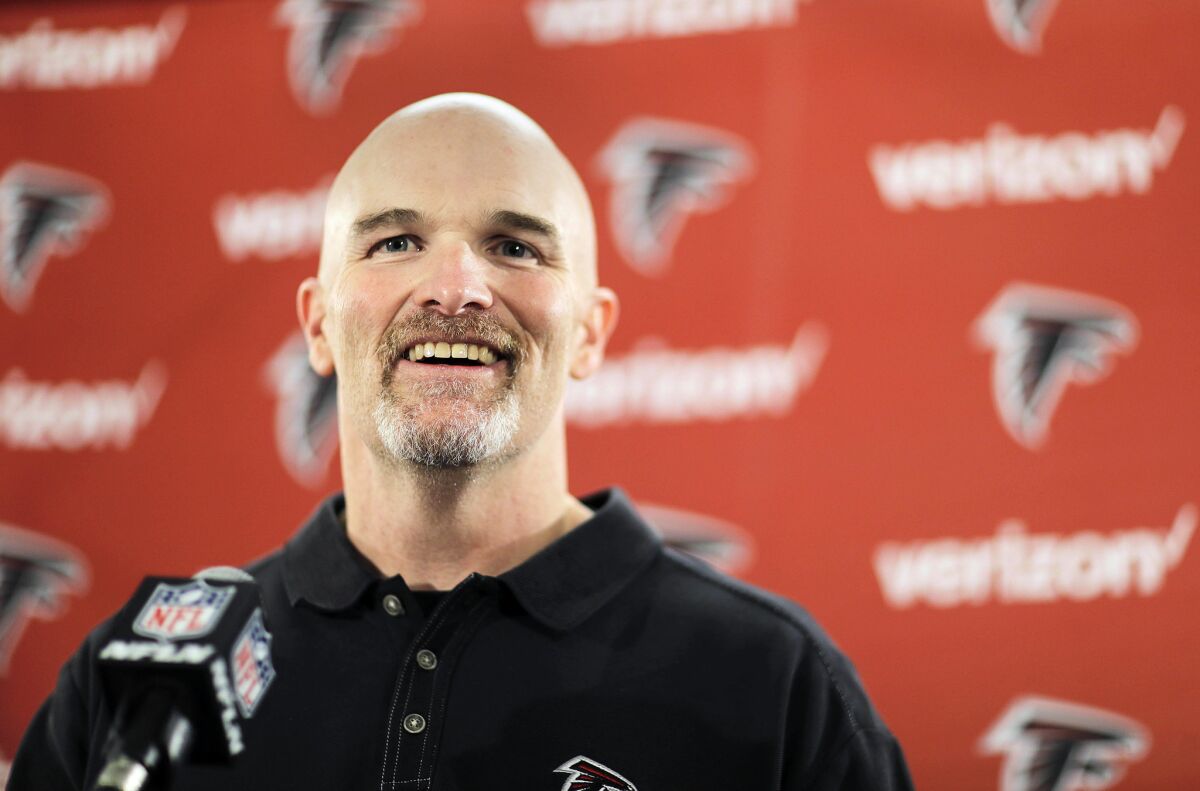 Reporting from flowery branch, ga. —
The Atlanta Falcons have themes for several days of the week. There's Competition Wednesday, Turnover Thursday, Finish Friday…
And now Sleepless Sunday.
The Falcons are still trying to wrap their heads around their first trip to the Super Bowl since the 1998 season, the result of their 44-21 thrashing of the Green Bay Packers in the NFC championship game.
"I did not get much sleep," Atlanta Coach Dan Quinn said Monday at team headquarters. "I generally don't after games. I'm thinking about what we could have done differently."
Even the most meticulous of nitpickers would have to look hard to find fault with the Falcons' performance Sunday, a game that set them up for a Super Bowl LI showdown in Houston with the New England Patriots.
"Obviously, they're a very good and very talented team," Patriots Coach Bill Belichick said Monday of the Falcons, who have won six in a row, scoring at least 33 points in each game. "There are a number of people down there in that organization that I know and have worked with, and I have a great deal of respect for them. But we'll start digging into them before the day is over."
Whereas the Falcons are looking for their first Lombardi Trophy, Belichick and Tom Brady are looking to become the first coach and quarterback to win five. They secured a spot on the NFL's biggest stage with a 36-17 victory over the Pittsburgh Steelers.
The Patriots have won nine in a row and haven't trailed since Nov. 27.
Oddsmakers are going with experience, favoring New England by a field goal in a shootout. The over/under is 59 points, highest in Super Bowl history. That tops the over/under of 57 when the New Orleans Saints defeated the Indianapolis Colts, 31-17, seven years ago in Miami.
The Patriots and Falcons have played four times in the Brady era, New England winning them all, three in Atlanta.
Quinn said he doesn't expect his players to be intimidated by the Patriots' history of success. Instead, he expects them to adhere to their typical weekly process, and t has scheduled this week as if the team is preparing for a game Sunday.
"At the beginning of the week when we do our game planning, we look at the opponent and all the unique things that they do and how do we feature them," he said. "Then at the end of the week, the shift comes right back to us. So it's not something that we talk about on a regular basis with them or any other opponent."
Quinn was the defensive coordinator for Pete Carroll's two Super Bowl teams in Seattle, the one that defeated the Denver Broncos and the one that suffered a last-second loss to the Patriots. He said he hasn't shown his Super Bowl ring to his players and plans to refrain from doing so until …
"Those are ones to do after," he said. "Your intent is so focused on this game and playing well, so I'll leave it at that. But that was, you know, from a different spot. So it's this group going through this trip together."
Fifteen years ago, the Patriots played their final game at Foxboro Stadium and it was memorable, a divisional playoff game against the Oakland Raiders that hinged on the so-called "tuck rule." New England won en route to its first Super Bowl victory.
The Falcons are hoping their final season in the Georgia Dome ends with a similar flourish. They move into their new stadium next season.
"That was a really cool way to send out the Georgia Dome," Falcons quarterback Matt Ryan said of Sunday's victory.
"It's difficult to win one game in this league… And to string [these] together and keep guys healthy, and get the opportunity, and to be playing your best at the right time, there are a lot of things that have to go into it. And I feel like the team we've had this year has been the right mix… And we're starting to play our best ball now."
Follow Sam Farmer on Twitter @LATimesfarmer
Get our high school sports newsletter
Prep Rally is devoted to the SoCal high school sports experience, bringing you scores, stories and a behind-the-scenes look at what makes prep sports so popular.
You may occasionally receive promotional content from the Los Angeles Times.