Super Bowl notes: Commissioner says he'd like to start from scratch on catch rule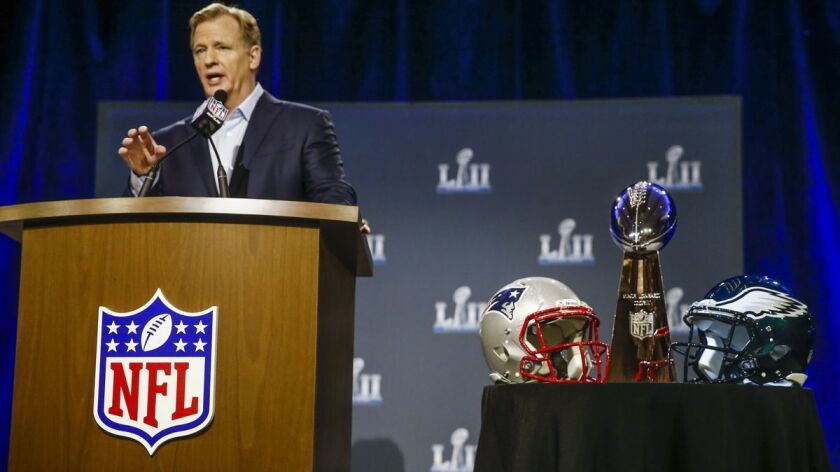 Reporting from minneapolis —
The NFL plans to spend part of this offseason getting a grip on a basic question: What is a catch?
During his annual State of the League news conference Wednesday, commissioner Roger Goodell said he wants the competition committee and other league officials to work on clarifying the definition of a catch, a controversial issue because not everything that looks like a catch is ruled a completion.
Goodell said he'd like to reboot and define catch/no catch from scratch.
"Instead of adding to the rule or subtracting from the rule," he said. "I'd like to start over again and look at the rule fundamentally from the start."
There are plenty of disagreements on the topic, even among people who play, coach or analyze football for a living. Several Hall of Fame players spent three hours at league headquarters recently, going over about 150 plays to determine what should be a catch and how the rules should be improved.
"As an example, Cris Carter believes that when you make a catch you should stand up and hand it to the referee, and if you don't do that it's not a catch," Goodell said, referring to the Hall of Fame receiver. "I admire and respect him a great deal, but there are others who have the view that if you get possession of it and you get that second foot down, it's immediately a catch."
The goal is to simplify, clarify and put the problem in the past.
"I think we've got a great opportunity to get this rule right, so everyone understands it and appreciates it," he said, "and that's not the focus going forward."
Stars in stripes
Although officiating has been under fire this season in particular, Goodell defended it as "outstanding" but said there's always room for improvement.
"With technology the way it is, we see things now that we never saw 10 years ago, and that makes their job that much harder," he said. "But I think they're extraordinary professionals."
However, Goodell said there were more replay interruptions this season and that's something the league wants to improve upon.
"We spent a great deal of time in the offseason on game presentation: how do we make our game more attractive, with less stoppages and fewer stoppages when they do occur, whether they're commercials or otherwise," he said. "That's one of the things we're going to focus on. How do we do the replay in a way that ensures we correct an obvious mistake, but make sure that it doesn't interrupt the flow of the game?"
Midweek maladies
A recent study published by the league showed that there was a slight uptick in injuries when teams played on Thursday nights (6.9 per game) than on any other day of the week (6.3). That reinforced the theory that teams didn't have enough time to rest for those midweek games, even though statistics in years past indicated there were actually fewer injuries in Thursday night games.
The NFL is committed to playing those games, and Wednesday announced Fox has signed a five-year deal to broadcast them.
Goodell cautioned against reading too much into the slightly higher injury numbers this season.
"We always work to make the game safer," he said. "We always look to see what we can do. Just to respond to the statistical aspect that you raised — out of the last five years where we've kept the sophisticated statistics that we have on injury data, only this year showed a slight uptick which was not even statistically significant. If you take it over any period of time over those five years the injury rate is lower. We do not think that is something to overreact to."
Masked man
Philadelphia Eagles defensive tackle Fletcher Cox donned a green "Eagles" wrestling mask for much of his time at the podium during Wednesday's interview session.
Cox said a reporter from Mexico gave him the headgear.
"He told me to put it on to take a picture," Cox said, "so I just kept it on the whole time and I thought I looked cool during the interview."
Cox said he would continue wearing the mask as long as he wasn't sweating.
"If you come in here all uptight, it's just really not good," he said. "You talk to guys that have been around, that's been in Super Bowls, they just said you can't go in this thing uptight.
"You've got to have fun but also be professional about it."
The New England Patriots will have no problem identifying Cox. He had 5½ sacks this season, and is regarded as a key to helping the Eagles pressure Patriots quarterback Tom Brady.
Cox makes those playing around him better, coach Doug Pederson said.
"He brings a level of play to our defensive line that sort of increases the talent a little bit around him," Pederson said.
Cox said he did not plan to return the mask to the reporter that gave it to him.
"It was gift," he said. "He's not getting it back."
Gronk practicing
Patriots tight end Rob Gronkowski has not been made available to the media because he technically remains in concussion protocol.
He was limited during practice, and wore a red jersey so he would not be hit.
"We red-jerseyed him [Wednesday] so he's working his way back," Patriots coach Bill Belichick said.
Follow Sam Farmer on Twitter @LATimesfarmer
Follow Gary Klein on Twitter @latimesklein
---
Get the latest on L.A.'s teams in the daily Sports Report newsletter.
You may occasionally receive promotional content from the Los Angeles Times.