Absolutely no drop in Sam Darnold's game as he throws in rain at USC's pro day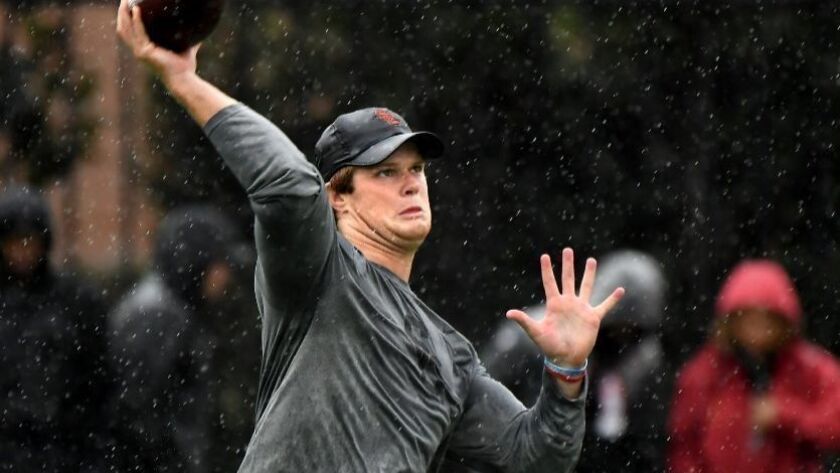 The NFL scouts, coaches and team executives were there, but that's true for any high-profile pro day. There was someone else standing on the sideline at USC's Cromwell Field on Wednesday, however, studying Sam Darnold's every spiral. Hall of Fame quarterback and Fox commentator Troy Aikman watched the rain-soaked workout from under an umbrella.
Aikman, the former No. 1 overall pick from UCLA, hadn't set foot on USC's campus in 30 years, not since he and Trojans quarterback Rodney Peete participated in a photo shoot before the 1988 season.
But that's the allure of Darnold, the favorite to go first in this year's draft to the Cleveland Browns. That team was out in force for this pro day, with not only the coach, offensive coordinator, and quarterbacks coach on campus, but also Browns owner Jimmy Haslam, who watched from the stands and was joined by Darnold's parents.
Cleveland's weather showed up too, with heavy drops turning to a downpour, and an unfazed Darnold still zipping throws to his receivers. He just looked like a kid having fun, soaked in his long-sleeve gray T-shirt and matching ball cap.
Aikman, for one, was impressed.
"I don't think I would have been taken first if it rained on my pro day," the three-time Super Bowl winner said. "I couldn't throw a wet ball. Maybe it was something that I struggled with more than anything. But I thought he had a really good workout."
UCLA's Josh Rosen and Wyoming's Josh Allen aren't likely to wait long to hear their names called either, especially with all the quarterback-needy teams at the top of the draft. The first five picks go to Cleveland, New York Giants, New York Jets (thanks to a trade with Indianapolis), Cleveland again, and Denver. Even with the stopgap veterans they've signed, all those teams remain in the market for quarterbacks.
This year is expected to mark only the second time that USC and UCLA quarterbacks have been chosen in the same draft. The first was 1989, when Aikman went No. 1 to Dallas, and Peete went in the sixth round to Detroit.
Running the workout for Darnold was Jordan Palmer, whose brother, Carson, was USC's only quarterback taken No. 1 overall, the top pick by Cincinnati in 2003. The way Jordan Palmer sees it, the similarities between his brother and the 6-foot-4, 220-pound Darnold are striking.
"I'd say he has 20% less arm talent than Carson had at that time — and that's not an indictment because a lot of people have told me that Carson would be the No. 1 pick in any draft," Jordan said. "But I think he's got at least 20% more athleticism than Carson at this age. He's going to play 15 years and win a bunch of games."
There's a good chance Darnold won over some skeptics Wednesday with the way he handled the lousy, wet conditions. Remember, it was in a rain storm at a private workout in Berkeley that the Rams fell in love with quarterback Jared Goff, whom they selected first overall in 2016.
"One of my first football experiences was playing mud football in the rain," Darnold said. "It was cool to come out here and throw one last time with the guys who I've been throwing with the last four years here. To be able to throw in the rain and tough conditions was awesome."
As was the case with Rosen at UCLA last week, Darnold was at center stage, but there were plenty of other NFL hopefuls on display. Running back Ronald Jones II, defensive end Rasheem Green and edge rusher Uchenna Nwosu did individual drills; receiver Steven Mitchell Jr. and safety Chris Hawkins participated in everything, including bench press and 40-yard dash. Receiver Deontay Burnett, who plans to have private workouts for teams, did not participate in any drills or running.
While there's miles of tape on Darnold, there's not much footage of him throwing in the rain before Wednesday. His only true rain game at USC came in 2016 at home against Notre Dame, a 45-27 victory by the Trojans in which he completed 19 of 29 for 205 yards, two touchdowns and no interceptions. There was pregame rain at Washington that year, but it stopped before kickoff.
Darnold's first career start was at Utah, and it was expected to pour. There was only light rain in the first and third quarters, however, and not enough to qualify as a real rain game. It was 40 degrees, though.
Wednesday, Darnold might as well have been standing on the shores of Lake Erie.
"We all know he can throw it in 75-degree weather and palm trees," Palmer said. "So I thought this was great, a perfect day for him to get out there and … act like it isn't raining, no big deal. That's how he is on tape, how he is in the locker room. I thought it was a great showing for him."
Turnovers remain a concern for Darnold. He had 11 fumbles last season — tied for second-most in Division I football — and 20 in the past two years. He had 13 interceptions last season, and nine in 2016.
He had a conversation recently with Bill Parcells in which the legendary coach advised him to always "get back in the huddle," to quickly put mistakes behind him and keep pressing forward.
Darnold's personal coach has reminded him of that frequently.
"When you're the best player in the country, or perceived to be the best player, you get more freedom to do things in the offense — check to this, run around and make that play happen," Palmer said. "But the counter to that is when you're 20 or 19, that can also be a problem. You can get too creative. You can get too aggressive, too competitive.
"I can guarantee you right now, he is going to throw a pick in the NFL, he's going to lose a game in the NFL. He's going to play long enough to do it a lot. But he's also going to get back in the huddle."
Follow Sam Farmer on Twitter @LATimesfarmer
---
Get our high school sports newsletter
Prep Rally is devoted to the SoCal high school sports experience, bringing you scores, stories and a behind-the-scenes look at what makes prep sports so popular.
You may occasionally receive promotional content from the Los Angeles Times.