UCLA products Kendricks and Barr tackle linebacker assignments on stingy Vikings defense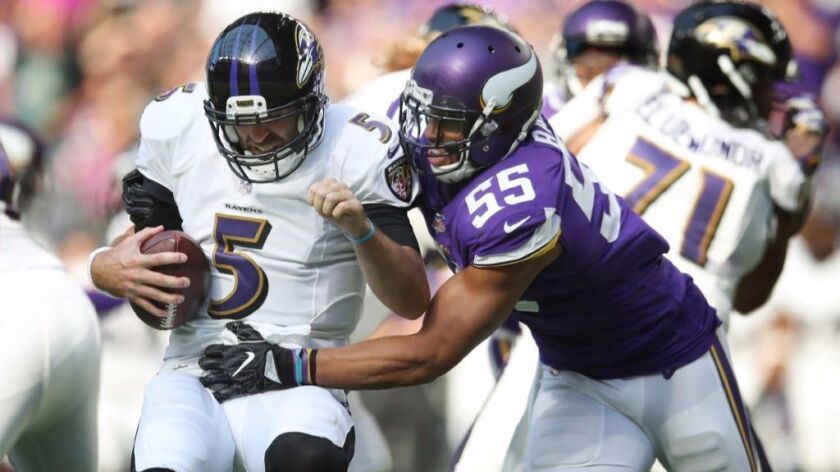 Reporting from eden prairie, minn. —
Eric Kendricks, middle linebacker for the Minnesota Vikings, didn't always see himself directing traffic for a smothering NFC North defense.
For a brief period, he fancied himself more Tony Hawk than A.J. Hawk.
Kendricks, a rough-and-tumble kid growing up in Fresno, loved football but dabbled in skateboarding too. That pretty much came to an end during the summer after his freshman year in high school, when he took a memorable spill after sailing off a concrete staircase — all captured on video by his buddy.
"I snapped my skateboard and rolled my ankle," he recalled. "I think it was a sign that I broke my board. I kind of just let it go."
The Vikings are eternally grateful. Kendricks, a former UCLA standout, is a fixture in the NFL's fourth-ranked defense. Although he's relatively undersized at 6 feet, 232 pounds, he's a remarkably instinctive playmaker who led the team in tackles last season with 126.
In a victory over Baltimore last month, Kendricks had four tackles for loss. He figures to be in the middle of the action Sunday when the 6-2 Vikings play at Washington, and again the following Sunday when they play host to the Rams.
"I feel like my balance and my creativity playing the game are derived from skateboarding," said Kendricks, who still cruises around on a long board from time to time, but doesn't do tricks. "I feel like I bend a little bit differently. I might not have that balance if I didn't skateboard."
This Vikings defense, tied with Jacksonville for fewest touchdowns allowed (12), crashes down on quarterbacks like a shore break at the Wedge in Newport Beach. Appropriate, then, that the unit has a distinct Southern California flavor.
Kendricks plays alongside former UCLA teammate Anthony Barr, the starting strongside linebacker. The two are close friends and are so in sync that much of their communication is wordless.
"It's to the point where we don't even have to say anything," said Barr, designated to wear the one in-helmet radio on defense. "It's just eye contact, hand movement, or head movement and we'll kind of be on the same page. We're used to hearing each other's voices, using the same kind of verbiage, and we just kind of clean up after each other.
"If somebody messes up, the other one's there to make up for that mistake."
Everson Griffen, a fourth-round pick out of USC in 2010, lines up at right defensive end for the Vikings and is off to a tremendous start. He's third in the league with 10 sacks, pushing his total to 40½ since becoming a starter in 2014. Only Denver All-Pro Von Miller has more sacks during that span (46½).
Two Bruins and a Trojan working in unison?
"I don't like them too much," said Griffen, breaking into a smile. "Nah, I'm playin'. They're good guys. I almost went to UCLA, but I chose USC because of Pete Carroll … But the UCLA guys, they're great. We have a great chemistry on the football field."
There are actually four Bruins on the Vikings roster — kicker Kai Forbath and long snapper Kevin McDermott — and a good deal of that is due to George Paton, assistant general manager, who played at UCLA and typically has multiple players from both Los Angeles universities on the roster.
"I think Jim Mora's done a good job of preparing these guys," Paton said, when asked specifically about the UCLA players. "Jim's been in the pros. His guys are workers, good intangibles, good team guys. And we've got two of the best ones who have played there in a while."
Both Barr and Kendricks were gambles to some degree. Barr began his college career as a fullback/tight end, and switched to defense midway through his four-year UCLA career. The Vikings drafted him ninth overall in 2014, even though he was raw and still learning the position.
Kendricks went in the second round a year later. Some teams saw him as too small for the position. The Vikings put a high value on his instincts and tackling ability, qualities that earned him the Butkus Award as college football's top linebacker.
Barr had 7½ sacks and forced five fumbles in his first two seasons, dropped off a bit last year, but now is back up to speed. He was in the news earlier this season for his jarring hit on Aaron Rodgers, one that snapped the collarbone of the Green Bay quarterback. What followed was an angry exchange between the players, with Rodgers saying Barr gave him the middle finger as the quarterback was walking off the field, and Barr saying Rodgers was shouting profanities at him.
"I don't care if you Aaron Rodgers or Mr. Rogers, if you say something like that you're going to get a response from me," Barr wrote on Twitter.
That was an uncharacteristic response from the typically introspective Barr, but he explained this week that he wasn't going to back down.
"I just felt a need to defend myself, and that's what it really came down to," he said. "At some point, you've got to speak up. It wasn't done maliciously or anything like that. It was just to set the record straight and put it behind me."
As for Kendricks, there are precious few players who get behind — or past — him. In a 24-16 victory over Baltimore last month, he had four tackles for loss. He's one of five NFL players to collect that many in a game this season.
"A lot of people think I'm undersized," said Kendricks, whose older brother, Mychal, is a linebacker for the red-hot Philadelphia Eagles. "But if you underestimate me, you're going to get beat."
Kendricks is known for his relentless work ethic. He's methodical. He doesn't skip steps.
Learned that the hard way as a skateboarder.
Follow Sam Farmer on Twitter @LATimesfarmer
---
Get the latest on L.A.'s teams in the daily Sports Report newsletter.
You may occasionally receive promotional content from the Los Angeles Times.