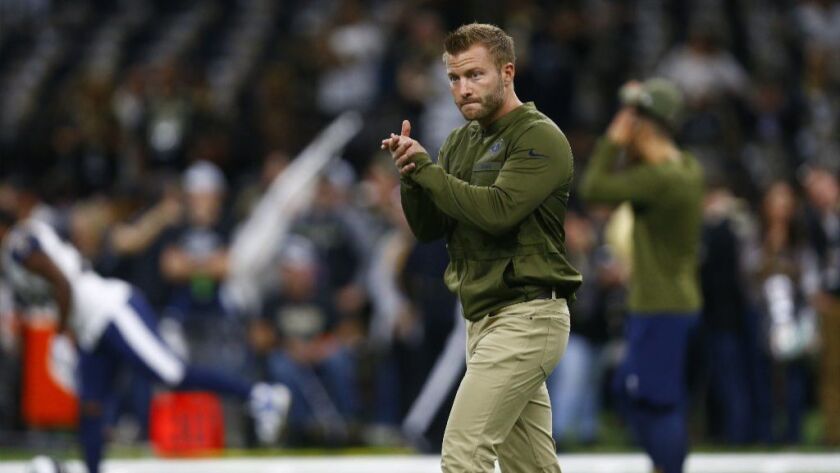 His team's eight-game winning streak ended in New Orleans, but Rams coach Sean McVay will put another streak on the line this week against the Seattle Seahawks.
Under McVay, the Rams have never lost two consecutive regular-season games.
After each of their first four defeats in 2017, the Rams rebounded with victories that helped them win the NFC West and advance to the playoffs for the first time since 2004. They dropped their final game against the San Francisco 49ers when McVay rested starters and then lost to the Atlanta Falcons in a wild-card game.
Sunday's 45-35 loss to the Saints ended the Rams' chances for a perfect season, but they still lead the division.
And they remain in the Super Bowl discussion heading into Sunday's game against the Seahawks at the Coliseum.
"If anything," McVay said Monday of rebounding from defeats, "it creates an added sense of urgency."
Against the Saints, the Rams had their worst defensive game in McVay and defensive coordinator Wade Phillips' one-and-a-half seasons with the franchise. The Rams had not given up more than 43 points before the Saints eclipsed that while amassing 487 yards.
"They were getting out of the huddle, tricking us with a bunch of formations and stuff," defensive lineman Michael Brockers said after the game. "So we definitely gotta communicate a lit bit faster as a defense."
Despite the problems, the Rams still were in position to possibly win after coming back from a 21-point deficit.
"Everybody gotta be humbled," running back Todd Gurley said. "And, you know, this was our day."
The Rams did not sack Saints quarterback Drew Brees and they could not stop him from passing for four touchdowns.
Now they face the Seahawks' Russell Wilson for the second time.
In Week 5, Wilson passed for three touchdowns, without an interception, in a 33-31 win by the Rams that was not secured until Rams quarterback Jared Goff executed a late fourth-down sneak for a first down.
Wilson completed 26 of 39 passes for 235 yards and two touchdowns, with an interception, in Sunday's 25-17 loss to the Chargers that dropped the Seahawks' record to 4-4.
Rams cornerback Marcus Peters struggled in October against the Seahawks, and he struggled against the Saints.
He gave up multiple long gains, including a 72-yard touchdown to receiver Michael Thomas that sealed the Saints' victory.
Peters acknowledged after the game that he had been playing poorly of late.
"And that's just being honest," he said.
The Rams "still have a lot of confidence" in Peters," McVay said Monday.
"In a lot of instances, he's isolated one-on-one with the other team's best receiver," McVay said, "and that's come up throughout various times this season. There's going to be an element of, those great players will make some of their plays.
"The standards that Marcus has for himself, that we have for him, we expect him to play and make some of those plays. But, the best part about him is the accountability that he took afterwards. The first thing he's going to do is look inward and figure out what he can do to be better."
Rams cornerback Aqib Talib remains sidelined while recovering from ankle surgery. The soonest he could return from injured reserve would be Week 13 against Detroit.
McVay said the Rams focused on acquiring an edge rusher, not a cornerback, at last month's trade deadline.
New edge rusher Dante Fowler played 44 of 71 defensive snaps against the Saints. He made a tackle for a loss and defended a pass.
Etc.
The Rams activated rookie linebacker Ogbonnia Okoronkwo and waived rookie linebacker Trevon Young. Okoronkwo began the season on the physically-unable-to-perform list while recovering from foot surgery. "Whether he's actually active on game day or not is still to be determined," McVay said. …
Offensive lineman Rodger Saffold tweeted that he had apologized to Goff for an exchange that occurred after Saffold was penalized for a personal foul. "This can happen between brothers in a heated battle but we won't let the incident define us. This won't happen again. #WeNotMe," Saffold wrote.
Follow Gary Klein on Twitter @latimesklein
---