John Johnson has proven to be much more than a safety valve for the Rams' defense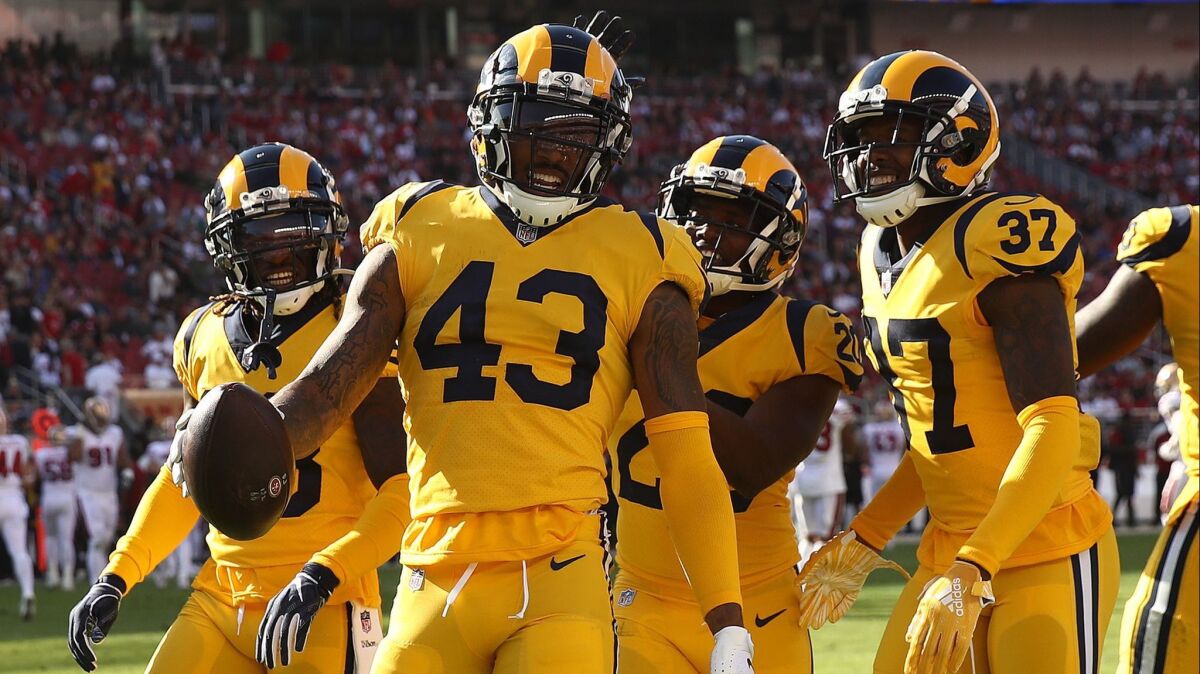 They had not yet played together in a game, but Rams cornerback Marcus Peters already had formulated his evaluation of second-year safety John Johnson.
Peters, a two-time Pro Bowl player, said during training camp that with his skills and smarts, Johnson would soon be an All-Pro.
After 13 games, Johnson has solidified that assessment in Peters' mind.
"He is exactly what we thought he was going to be," Peters said. "A young player who is emerging to be a star in this league."
Voting for postseason awards is out of Johnson's control, but he is one of the top players for an 11-2 Rams team that won its division and is in contention for the No. 1 seed in the NFC playoffs.
Peters' training camp comments resonated with Johnson.
"It just meant a lot because he's been in the league longer than I have. He's been around Eric Berry, probably one of the best to ever do it," Johnson said, referring to the Kansas City Chiefs safety, a former teammate of Peters. "If he sees it in me, I know it has some type of credibility."
Johnson, a third-round pick in the 2017 draft, has built his resumé this season with four interceptions, tied for sixth-most in the NFL.
"He's playing like a first-rounder," fellow safety Lamarcus Joyner said.
Johnson will be one of the key players on the field when the Rams play the Philadelphia Eagles on Sunday at the Coliseum. With a victory, the Rams can clinch a bye through the wild-card round of the playoffs.
Johnson, who turns 23 next week, is part of a defense that was upgraded with the offseason additions of Peters, cornerback Aqib Talib and lineman Ndamukong Suh, and the trade-deadline deal for linebacker Dante Fowler.
"He's a smart guy that can play a lot of different positions," defensive coordinator Wade Phillips said of Johnson.
At 6-feet and 209 pounds, Johnson plays close to the line of scrimmage and covers tight ends as a strong safety, but also roams like a free safety. Phillips also has deployed him as a linebacker.
"He can do so much," said Talib, an 11th-year pro. "He's just an all-around good player."
Johnson played cornerback at Northwestern High in Hyattsville, Md., and patterned his game after NFL star Richard Sherman.
At Boston College, he played cornerback as a freshman and sophomore. But with several safeties finishing their eligibility, he moved to that spot for his final two seasons.
Ejiro Evero, the Rams' safeties coach, had not watched film of Johnson before meeting him at the 2017 NFL scouting combine in Indianapolis. Johnson impressed with his demeanor and intellect.
When Evero tested him about his responsibility in certain schemes, Johnson articulated in detail the assignments of all 11 defensive players. And did it with personality.
"I was as impressed by his interview as any I've ever done," Evero said.
Johnson's 40-yard dash time of 4.61 seconds at the combine probably caused some teams to shy from drafting him earlier. But Evero thought it might give the Rams a chance to land him. Still, he was pleasantly surprised when general manager Les Snead pulled him aside on the second day of the draft and said the Rams were thinking about selecting Johnson with the 91st pick.
"He's got such great acceleration, such great burst and he's so smart, speed is never a deficit," Evero said.
It took Johnson time to work his way into the Rams' plans.
He suffered a leg injury on the second day of rookie camp and was sidelined for organized-team activities. He was still recovering at the outset of training camp but began to return to shape by the preseason and was penciled in as a backup.
But by Week 4 at Dallas, he was assigned a more prominent role and made several impressive plays. The next week against the Seattle Seahawks, he supplanted Mo Alexander as the starter.
"I thought, 'OK, this is my opportunity,' " Johnson said. "If I have a good game, on to next week, kind of like a one-game contract. That's how I looked at it."
Johnson intercepted a pass by Seahawks quarterback Russell Wilson and returned it 69 yards. He has not come out of the lineup since.
"His ability to think and process fast, and communicate, allows us to go even further than we typically would because he can handle it all," Evero said about handling defensive schemes.
In this season's opener against the Oakland Raiders, Johnson struggled initially against tight end Jared Cook, but made adjustments and intercepted a pass in the end zone.
Five weeks later, he picked off a tipped pass at Denver. The following week, he wrestled the ball from San Francisco 49ers tight end George Kittle for another.
In the Rams' last game at Chicago, he read the eyes of Bears quarterback Mitch Trubisky and intercepted one of three passes the secondary picked off in the 15-6 defeat.
With three games remaining in the regular season, and the playoffs to come, Johnson is readying for a big push.
His main goal: Win a Super Bowl. If he plays well, he said, individual recognition might follow.
"If you ask me, I'm right up there with anybody else you can consider," he said. "But I just have to finish out the season strong."
Follow Gary Klein on Twitter @latimesklein
Get the latest on L.A.'s teams in the daily Sports Report newsletter.
You may occasionally receive promotional content from the Los Angeles Times.