Column: Sean McVay is facing his first real test as a head coach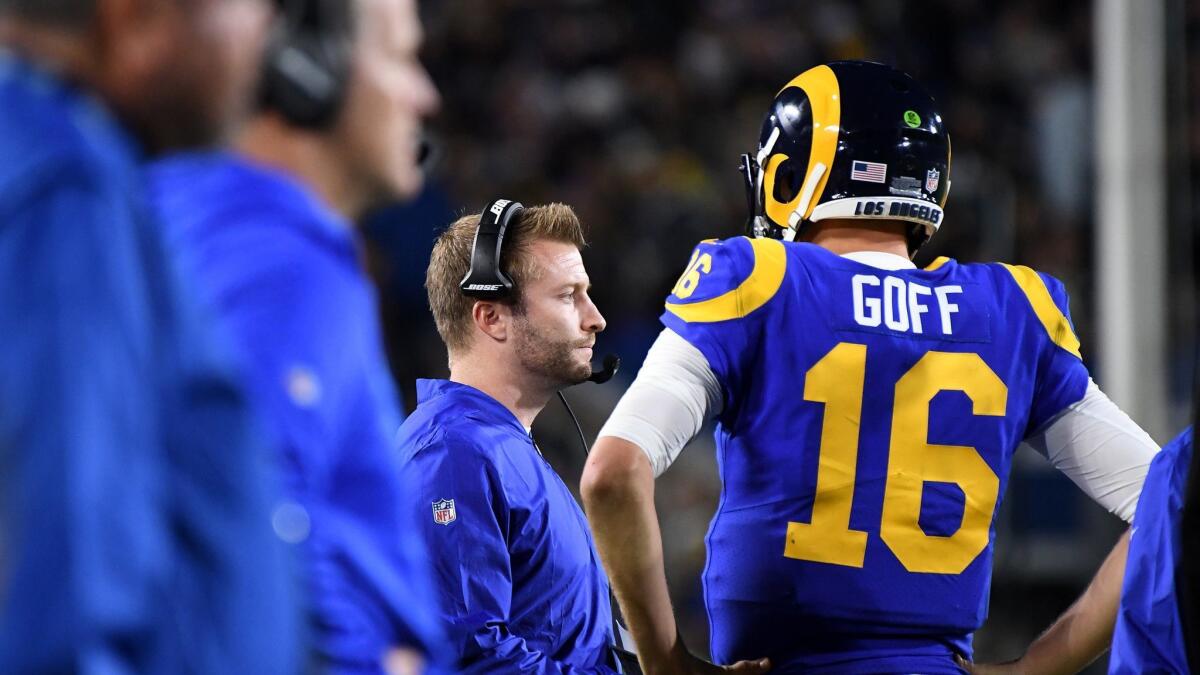 The Rams are a mess. They have lost their last two games. They didn't look right in the game before that either.
The only reason they are expected to win Sunday is because they're playing the three-win Arizona Cardinals and that almost certainly won't solve the problems that are threatening their Super Bowl ambitions.
Maybe it's because he's refusing to see what everyone else sees or maybe it's because he's really a visionary, but coach Sean McVay sees opportunity in this wreckage.
"You get a chance to really see if you can be what you say," he said this week.
If McVay spoke with the self-assurance of a coach who has never endured the horror of watching a promising season suddenly vanish into a sinkhole, it's because, well, he never has.
Up to this point, everything has gone right for the 32-year-old McVay. The second-year coach has turned around a franchise that won only four games the year before his arrival. Every step he has taken has felt like a step forward.
Until now.
Coach Doogie Howser is facing his first real crisis situation.
His approach has been to go about business as usual. At practice this week, the fast-talking, high-energy McVay was in constant motion, watching Jared Goff deliver a pass from the vantage point of a linebacker on one throw and mimicking the actions of a defensive back by running several strides alongside receiver Robert Woods on another.
"It's easy when things are going well," McVay said. "This is a great opportunity, not only for us as coaches and myself, but for our players to demonstrate the mental toughness that we talk about."
He's right about that. Regain control of the sinking ship, get it back on course and McVay will be known as more than an offensive whiz.
For what it's worth, he thinks he has identified the team's problems, which first appeared in a Week 13 victory in Detroit.
"It's pretty clear," McVay said. "It's not really a magic solution. We're not taking as good care of the football. We've got to do that. When we get the turnovers, we've got to be able to turn those into points — not just field goals, but touchdowns. Then we've got to avoid the negative plays and we've got to create them on defense. It's a simple solution."
But is it really?
The keys are in the details, which coaches and players generally loathe speaking about publicly.
Slumping quarterback Jared Goff, who had six passes intercepted in his last three games, has made reference to how opposing defenses have made adjustments in how they play the Rams' once high-powered offense.
It could be the league has figured out McVay — or at least found a way to slow down his offensive schemes.
Or the offensive downturn could be a symptom of something even more disconcerting — like, say, how the porous pass protection Goff has received in recent weeks is sign the team's aging offensive line has worn down.
And there is the Todd Gurley problem.
What this month has made abundantly clear is that Gurley, not Goff, is the motor of the offense. Gurley has a sore knee and didn't practice this week.
Resting Gurley for the remainder of the regular season makes sense but creates other problems.
The running back's absence could cost the Rams a first-round bye. But there's something else: If the offense is centered on Gurley, how is it supposed to regain its rhythm if he's not there?
"Nobody's ready to press the panic button," McVay said. "But we do want to be solution-oriented. To say that there's not a little bit level of increased urgency from myself, from some people, would not be accurate."
What makes McVay hopeful is that he hasn't detected any significant changes in his players' demeanors.
"Let's see your reactions align with what your core beliefs and your values are," McVay said. "That's what we hope to be able to lean back on when you do go through some adversity and that's what's going to hopefully help us come through this on the right end. I think we're on track to doing that."
He spoke with enthusiasm. He spoke with conviction. And why not? He has experienced only varying degrees of success as a head coach.
He's also right about this being an opportunity. How he emerges from this will define him — until the next crisis emerges.
Get the latest on L.A.'s teams in the daily Sports Report newsletter.
You may occasionally receive promotional content from the Los Angeles Times.