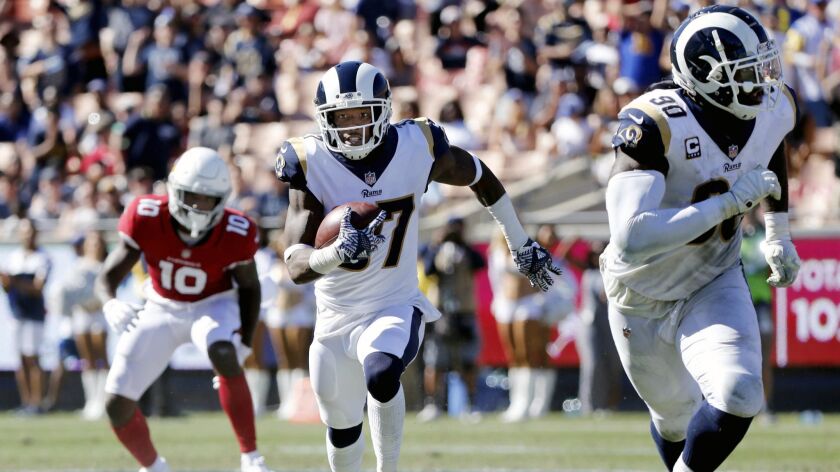 Lining up against Green Bay Packers quarterback Aaron Rodgers will be nothing new for Sam Shields. The Rams cornerback played his first seven seasons with the Packers, practicing daily against the two-time NFL most valuable player.
"It was competition and we enjoyed it," Shields said Wednesday. "He'd give me the side eye like, 'Yeah, I'm coming at you.' Things like that."
Rodgers and the Packers will be at the Coliseum on Sunday to play the unbeaten Rams.
The Packers have a 3-2-1 record, and they are coming off an open date after defeating the San Francisco 49ers 33-30 on Oct. 15.
Rodgers has passed for 12 touchdowns, with one interception.
Rodgers told reporters in Green Bay this week that he was looking forward to seeing Shields, who was sidelined nearly all of the last two seasons after suffering a concussion against Jacksonville in the 2016 season opener.
Shields sat out last season, and he was among Rams offseason acquisitions that included cornerbacks Marcus Peters and Aqib Talib and defensive lineman Ndamukong Suh.
Shields started one game in place of the injured Talib, but he is expected to continue serving mainly as a rotational backup to Troy Hill and also play on special teams.
Shields said he was looking forward to seeing Rodgers and other former Packers teammates. "It's been a long time," he said. "I miss those guys. I can't wait."
Cornerback Marcus Peters played against Rodgers during his rookie year with the Kansas City Chiefs in 2015. Rodgers passed for 335 yards and five touchdowns in a 38-28 victory.
Asked what he had seen on film from Rodgers this season, Peters gave a blanket summary.
"It's A-Rod," he said. "C'mon now. We all know what he's going to do. It's A-Rod."
Rodgers' mobility, like that of Seattle Seahawks quarterback Russell Wilson, presents a challenge for players in the secondary.
"He's a little different because he kind of has more purpose with his scrambling around, it seems like," safety John Johnson said. "Russell's kind of like a video game. Aaron Rodgers is kind of designed running around, like he's supposed to do that."
Etc.
Receiver Cooper Kupp (knee) is doubtful to play Sunday against the Packers, coach Sean McVay said. Josh Reynolds is expected to start for the second consecutive week. … The Rams lead the NFL in rushing, averaging 153.1 yards per game. Aaron Kromer, the Rams' run game coordinator, said left guard Rodger Saffold was "the most underrated offensive lineman in the NFL — last year and this year."
Follow Gary Klein on Twitter @latimesklein
---