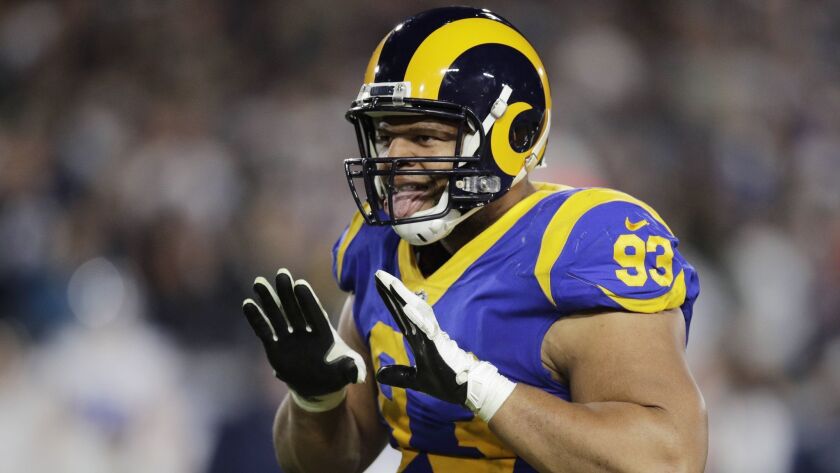 The Rams gave Ndamukong Suh a one-year, $14-million contract to add another dominant presence to their defensive line.
It appeared to be a solid, if unspectacular investment during the regular season. Suh stood out at times, but as part of a front that featured star Aaron Donald he was not a game-changer.
He looks like one now.
Suh goes into the NFC championship game against the New Orleans Saints on Sunday coming off a starring role in the Rams' divisional-round playoff victory over the Dallas Cowboys.
The New Orleans Saints feature a future Hall of Fame quarterback, the NFL's best wide receiver and an unrelenting running game. Stopping the explosive Saints is objective No. 1 for the Rams in Sunday's NFC championship game.
The 6-foot-4, 305-pound Suh set the tone by stopping NFL rushing champion Ezekiel Elliott for no gain on the Cowboys' first play. He also helped stuff Elliott on a key fourth-down play in the fourth quarter. Suh finished with four tackles, one for a loss, and two hits on quarterback Dak Prescott in the 30-22 victory.
It was Suh's best game of the season, coach Sean McVay said.
"You could see, he had a look in his eyes where he was ready to go," McVay said. "It showed up with the way that he played throughout the course of the night."
Suh, a five-time Pro Bowl player in his ninth NFL season, said "playoff football" provided the impetus.
"It's always a goal for me to prove that I'm an elite player," he said. "It was a platform to do that."
Suh also had a financial incentive.
According to overthecap.com, his contract includes a bonus of $500,000 for playing 65% of the snaps and making the playoffs, a figure that increased to $750,000 for winning a playoff game and could rise to as much as $1 million if the Rams win two playoff games.
The Rams would be thrilled to pay the maximum if they defeat the Saints and advance to the Feb. 3 Super Bowl at Mercedes-Benz Stadium in Atlanta.
"One of the ultimate goals and one of the reasons why I signed here was to have an opportunity to play in the postseason," Suh said. "I felt this team had some of the right pieces and I would be a good addition to it."
The Rams already had traded for cornerbacks Marcus Peters and Aqib Talib when the Miami Dolphins released Suh in March after the third year of six-year $114-million contract that guaranteed $60 million.
Suh, who played his first five seasons with the Detroit Lions, met with the Saints and coach Sean Payton as he shopped for his next team. But the Rams wooed Suh with the prospect of playing in Los Angeles, which offered diverse post-football opportunities and the chance to join an up-and-coming team.
The pairing of Suh with reigning NFL defensive player of the year Aaron Donald was regarded as, potentially, one of the most dominant inside defensive presences in NFL history.
But it took time for defensive coordinator Wade Phillips and defensive line coach Bill Johnson to meld Suh with Donald, defensive lineman Michael Brockers and other players.
"The whole defense, that's what you do is try to get a feel for what they really do well, what their strengths are, and if they have some weakness, try not to put them in those situations," Phillips said.
Donald, with 20½ sacks, is on his way to another defensive player of the year award. Suh had 4½ sacks.
The two linemen communicate well and played well together all season, Donald said. And Suh asserted himself against the Cowboys.
"It's a big game, big stage and he made his plays when plays presented themselves," Donald said. "That's what you expect from your guys. That's why he's here, to make plays like that for us and win big games and he did that."
Now the Rams have their biggest game since the franchise returned to Los Angeles in 2016, and it offers a chance to avenge a defeat at the Superdome.
On Nov. 4, the Rams suffered their first loss of the season. The Saints led 35-17 at halftime before the Rams rallied to tie the score at 35 in the fourth quarter. The Saints added a field goal and a long touchdown pass to win, 45-35.
But Rams players left the building feeling they would win a rematch.
"It's a good template that we can look at," Suh said of the first game. "Overall we need to be focused on starting a lot faster, tackling. ... It's the playoffs, I'm sure they're going to have some things that we haven't seen before up their sleeves so we'll be ready."
Suh appears primed for another big game after his performance against the Cowboys.
"We're pleased with that," Phillips said, "and we expect more from him."
So does Suh, who said he was his "harshest critic," despite McVay's praise.
"Sean may of seen it as one of my best games," he said, "but I got a lot more in the tank."
Suh said he has dreamed about what it would be like to advance to the Super Bowl for the first time.
"I get chills thinking about it so I'm excited," he said. "I'm looking forward to it."
Etc.
The Rams have a giant temporary tent structure set up in the players' parking lot, but the rain let up Thursday so they practiced on their grass field. Last week, with rain in the forecast, the Rams had considered traveling to a locale with an indoor facility but decided against it, McVay said. "When you start to explore the options, to actually think about having to go off-site and have the players leave their families and their kids — and the coaches as well — earlier, we felt like that wasn't going to give us the reward," he said. "We wanted to be able to keep our normal rhythm and routine, even if we did have to practice in the rain. The tent was a result of once we made that decision that we weren't going to explore any of those other options. It would have to be so far that we would have to travel."
Sign up for our daily sports newsletter »
Follow Gary Klein on Twitter @latimesklein
---