Rams to inform fans they've sold out season tickets, will begin selling single-game tickets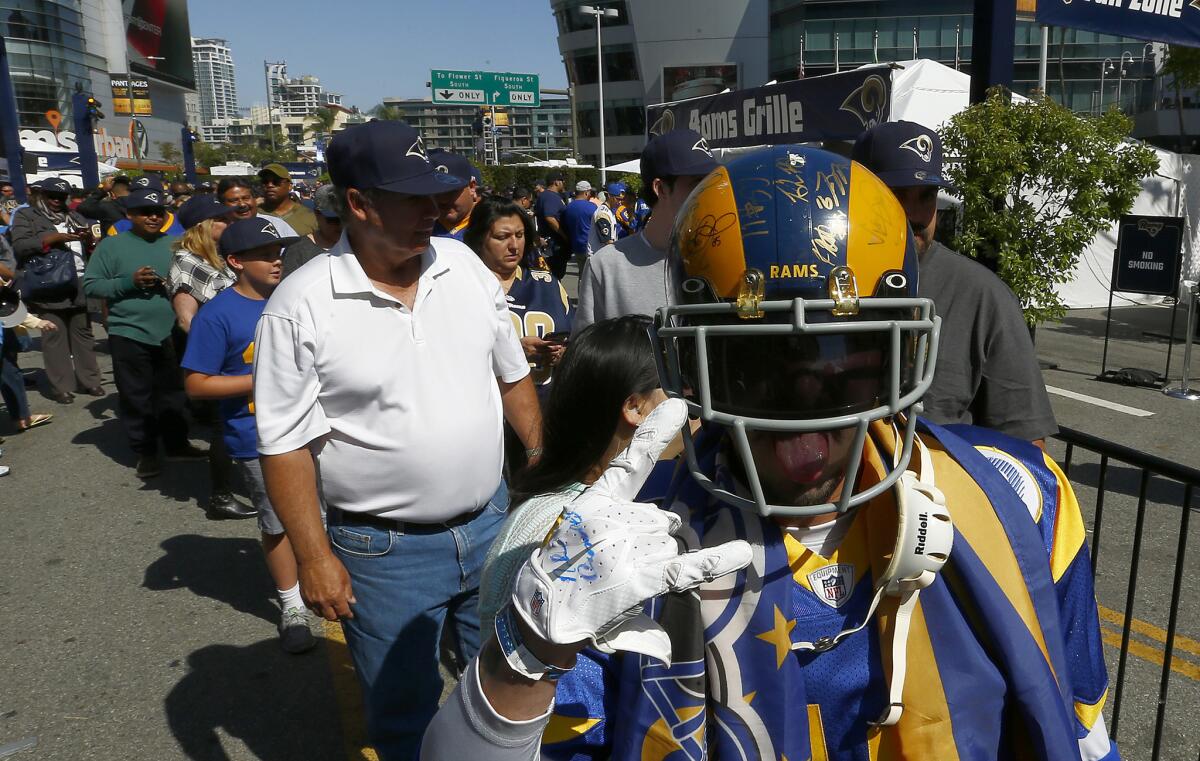 The Rams will inform fans Tuesday that they have completed their season-ticket sales process for this fall and now will turn their attention to distributing a limited number of single-game tickets.
After getting approval from the NFL to move from St. Louis to Los Angeles, the club spent two weeks collecting $100 deposits from people interested in buying season tickets for 2016. Each deposit holder was permitted to buy as many as eight season tickets.
Those deposit holders were contacted in waves on a first-come, first-served basis, and roughly 24,000 of them bought the entire allotment of 70,000 tickets. By the time the franchise got through the first six hours of deposits, the season tickets were gone.
The Rams will play their next three seasons of home games at the Coliseum while their $2.6-billion stadium in Inglewood is being constructed.
"To sell out of season tickets in the first six hours upon our return to Los Angeles is both humbling and a reminder of how excited Angelinos are about the return of the Rams and the NFL," Kevin Demoff, Rams chief operating officer, said in an email to The Times. "As both Los Angeles' first pro sports team and its newest sports team, the bond between this team and the community is evident and strengthening each day."
This week, the Rams will begin selling single-game tickets, making those available first to the deposit holders on the list who have yet to be contacted, again in the order they placed their deposits earlier this year.
Jake Bye, Rams vice president overseeing ticket sales, said "a very limited number" of single-game tickets will be released to the general public on July 28.
"At the outset, we were committed to providing the opportunity for all of our initial deposit owners to purchase a ticket to a Rams game, working to ensure the tickets ended up in the hands of Rams fans, and creating the best home-field advantage in the NFL this fall," Bye wrote in an email that will be sent to deposit holders.
The team will stage a Fan Fest on Aug. 6 as an opportunity for Rams fans — particularly those who didn't get the chance to buy a game ticket — to watch an open practice at the Coliseum and see the team live. The Rams said more details on that event will be released later this month, but that the event will be free.
ALSO
Analysis: Rams' outlook matches L.A.'s weather: Sunny and bright
For Rams rookies, a forceful caution on the perils of drinking and driving
Rams running back Todd Gurley is primed to become L.A.'s next marketing superstar
Get the latest on L.A.'s teams in the daily Sports Report newsletter.
You may occasionally receive promotional content from the Los Angeles Times.