Will Jared Goff get a new contract now that Sean McVay and Les Snead have theirs?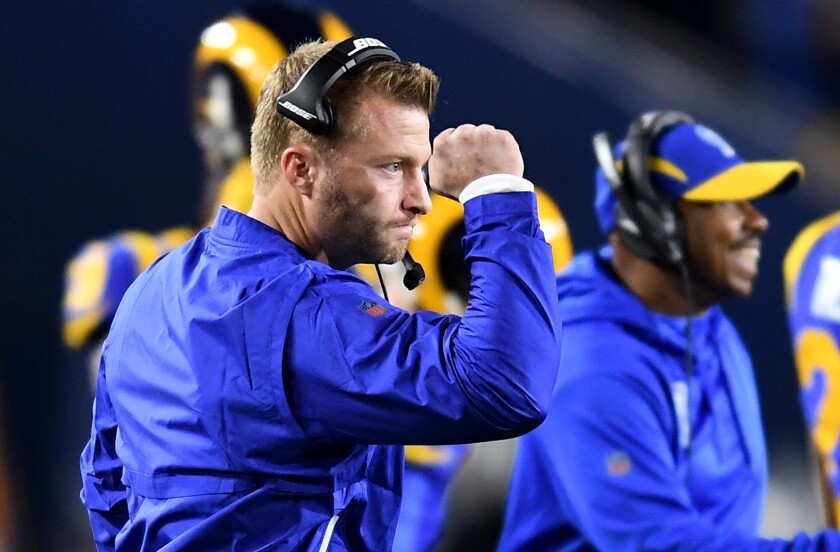 Two contract extensions taken care of, another major one possibly coming sooner than later.
The Rams announced Friday that they had extended the contracts of coach Sean McVay and general manager Les Snead through the 2023 season.
Next up: Jared Goff.
During a news conference at a Newport Beach hotel, Rams chief operating officer Kevin Demoff, McVay and Snead did not provide a timeline for a new deal with the two-time Pro Bowl quarterback, but they sounded as if completing one before the Sept. 8 opener against the Carolina Panthers was a possibility.
The Rams might agree to terms with less prominent players in the interim, but Goff has been the franchise's priority since the Rams selected him with the first pick in the 2016 draft. The massive extension quarterback Carson Wentz signed with the Philadelphia Eagles in June kick-started conversations between the Rams and Goff's representatives, who also represent Wentz.
McVay said there was "constant and ongoing" dialogue between the Rams and Goff's agent Ryan Tollner.
"It's not a matter of if," Snead said of a new deal for Goff, "it's just when."
But the focus Friday was on McVay and Snead.
Rams owner Stan Kroenke did not wait to sign off on extensions for a coach and general manager who have steered the Rams to consecutive NFC West titles and a Super Bowl appearance.
"Their work ethic, leadership and character are traits we value throughout all our organizations," Kroenke said in a statement, adding, "We look forward to having them lead our team as we play our final year in the Coliseum and prepare for our new stadium at Hollywood Park."
Terms of the deals were not disclosed, but McVay no doubt received a hefty raise from the estimated $4 million per year he earned after the Rams hired him before the 2017 season. The then 30-year-old McVay became the youngest head coach in modern NFL history when the Rams tabbed him to replace Jeff Fisher and agreed to a four-year deal that included a fifth-year option.
The extension adds two additional years.
"Really good day for the organization as we open up training camp," Demoff said in praising the "partnership" between McVay and Snead.
"It's a blessing," McVay said of his extension, "but it's also a reflection of a great collaboration, of everybody's work together. ... You're not going to work any harder, but it makes you want to work to make them right on the decision."
Said Snead: "Our extensions represent continuity."
McVay has a record of 24-8 during the regular season and 2-2 in the playoffs, including last season's 13-3 loss to the New England Patriots in the Super Bowl.
Can the Rams bounce back, avoid the slide that has befallen many other teams that lost in the Super Bowl and make a run to an NFL championship?
Seattle Seahawks coach Pete Carroll last December signed an extension that will pay him about $11 million per year, according to reports. Oakland Raiders coach Jon Gruden reportedly earns $10 million, and New Orleans Saints coach Sean Payton $9 million. All have won Super Bowls.
McVay, the 2017 NFL coach of the year, remains in search of a Super Bowl title.
Last season, the Rams finished 13-3 and earned the No. 2 seed in the NFC playoffs. They defeated the Dallas Cowboys in a divisional-round game and beat the Saints in overtime in the NFC championship game before losing to the Patriots.
Snead has been the Rams general manager since 2012.
He appeared to be on shaky ground after the Rams fired Fisher during the 2016 season. During the Snead-McVay regime, however, the Rams acquired veteran players such as offensive lineman Andrew Whitworth, receivers Robert Woods and Brandin Cooks, defensive lineman Ndamukong Suh, cornerbacks Marcus Peters and Aqib Talib and edge rusher Dante Fowler. They also deftly drafted in lower rounds, finding starters such as receiver Cooper Kupp and safety John Johnson.
In 2016, Snead traded up a record 14 spots to select Goff. The quarterback carries a salary-cap number of $8.9 million this season and would earn more than $22 million playing on a fifth-year option in 2020.
He reiterated this week that he was not concerned about an extension, and that his agents would handle it at the appropriate time.
Etc.
Running back Todd Gurley will be on the field Saturday when the Rams begin training camp workouts at UC Irvine, but his workload will be carefully managed, McVay said. Gurley sat out two games last season because of a left knee issue, and was held out of offseason team workouts. "Can't wait to see Todd back out there with us," McVay said. ... Kupp, coming off season-ending knee surgery, has been cleared for full participation but his activity will be monitored, McVay said. ... Tackle Aaron Donald won two consecutive NFL defensive player of the year awards after staying away from training camp because of a contract dispute. Donald signed a $135-million extension before the 2018 opener. Will he be on his own program during training camp? "Depends on how much he's wrecking practice," McVay joked. "If he's really upsetting me by winning a lot, then he'll be standing next to me a lot." ... Ted Rath, the director of strength training and performance whom a Ventura County jury found not guilty of three counts of misdemeanor sexual battery, is back with the team. "We're glad to have him back," McVay said.
---
Get the latest on L.A.'s teams in the daily Sports Report newsletter.
You may occasionally receive promotional content from the Los Angeles Times.