Lakers telecast pushes Galaxy to the side for a night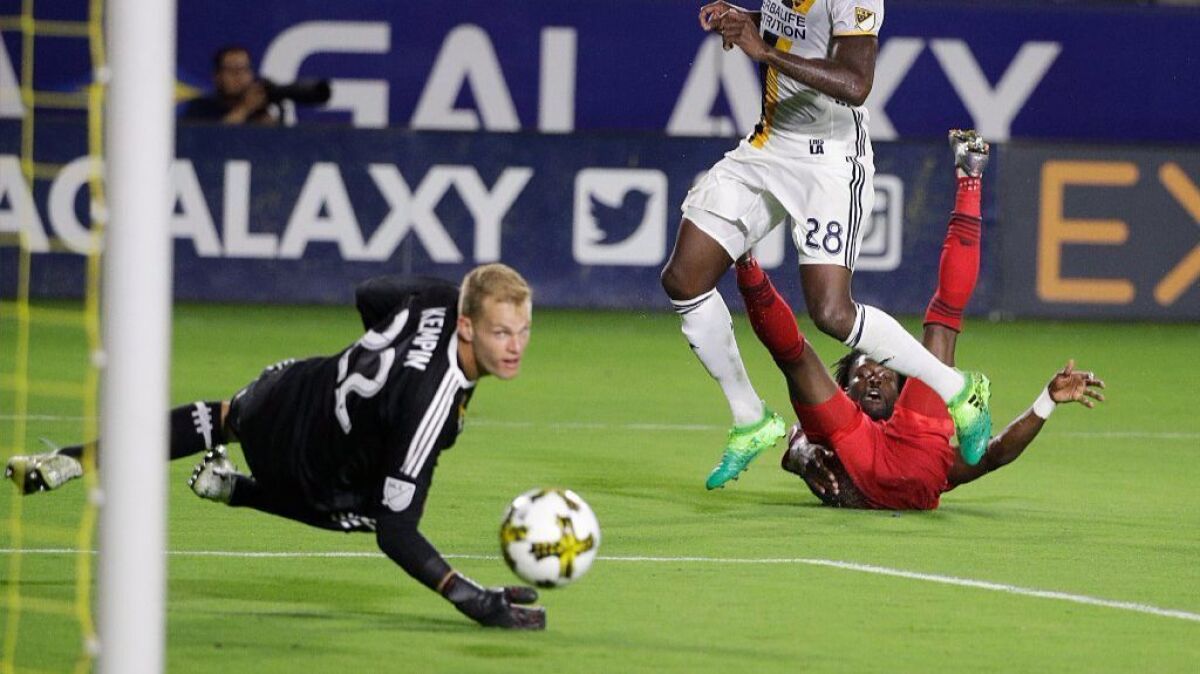 Every time it seems the Galaxy's dismal season couldn't get any worse, it does.
The latest indignity was delivered by the team's broadcast partner, Charter Communications, which moved Saturday's 7:30 p.m. home game with Real Salt Lake off Spectrum SportsNet's main channel to a series of alternate cable channels that differ depending on carrier and zip code. A Galaxy game on April 7 was also moved off the main SportsNet channel.
Contractual obligations require Spectrum to air a preseason NBA game between the Lakers and Minnesota Timberwolves. And even though those were two of the worst teams in the NBA last season, the exhibition will likely draw a larger audience than the Galaxy's penultimate home match of the season.
A Charter spokeswoman said the Galaxy's TV ratings are up this season, to an average of about 9,000 viewers a game. But that's less than the 11,000 homes a game the team's broadcasts averaged in its previous deal with Fox Sports West.
By way of comparison Real Salt Lake, the Galaxy's opponent Saturday, is seen in as many as 45,000 Utah households per game on an over-the-air channel, according to Trey Fitz-Gerald, the team's vice president of broadcast and public relations.
The Galaxy's 10-year, $55-million broadcast deal, which Charter inherited when it completed its purchase of Time Warner Cable last year, was the most lucrative local broadcast agreement in MLS history when it was signed in 2011.
This year's Galaxy team is struggling through the worst season in franchise history. As a result, Spectrum has cut back or discontinued much of its companion programming such as "Backstage Galaxy," no longer staffs daily training sessions, has curtailed use of its own sideline reporters and has eliminated much of its Spanish-language content.
The Galaxy (7-17-7) will miss the postseason for the first time since 2009 and have already set a franchise record for losses. They need at least one win in their last two home games to avoid tying the league record for fewest home victories in a season.
Home attendance is also down more than 3,300 a game although those figures are based on tickets distributed, not the number of spectators in attendance. The team has announced several crowd figures this season that appeared far greater than the actual number of people in the building.
Follow Kevin Baxter on Twitter @kbaxter11
---
All about the beautiful game
Go inside the L.A. pro soccer scene and beyond in Kevin Baxter's weekly newsletter.
You may occasionally receive promotional content from the Los Angeles Times.