Women's World Cup: Jill Ellis embraces challenge as U.S. prepares for Chile
Reporting from paris —
Jill Ellis expects to get a text from her father John on Sunday, just as she says she does every day.
As a former coach who created soccer programs in places such as Trinidad and Tobago and Singapore, John Ellis' messages are generally short and to the point but always contain the same words of wisdom.
"Enjoy the challenge," his daughter said.
That advice will resonate a little stronger Sunday because it will come not just on Father's Day, but also on the day Jill Ellis has a chance to coach the U.S. national team into the second round of the Women's World Cup.
With a win over Chile at Paris' Parc des Princes stadium, the U.S., which opened the tournament with a 13-0 rout of Thailand, would have six points after two games, assuring it a spot in the round of 16. A draw probably would be enough to send the Americans through, given their plus-13 goal differential.
Making sure that happens is a challenge she's definitely enjoying.
"At this point, it's making sure your focus is on yourself and your performance is about yourself. And you put yourself in the best position to advance in the tournament," she said Saturday.
"Right now, we want to get out of our group to get a chance to continue in this tournament. That's the only focus right now, this game tomorrow."
The U.S., which Ellis led to a World Cup title four years ago, broke records for most goals and largest margin of victory in its win over Thailand last week. Alex Morgan led the way with five goals and three assists but she was just one of nine players who contributed to the scoring.
As impressive as that was, though, the coach insists that match has been forgotten.
"The beauty of this tournament is the game you just played is irrelevant," Ellis said. "It's the game in front of you. The takeaways from games you played has to be on what's in front of you."
The opponent that's in front of the Americans is much better than the one they left behind. Chile, taking part in its first Women's World Cup, played ninth-ranked Sweden even for 82 minutes in its opener before giving up a goal late in regulation and another in stoppage time of a 2-0 loss.
La Roja's best player is goalkeeper Christiane Endler, who attended the University of South Florida and plays for Paris Saint-Germain. Endler, 27, is Chile's most seasoned player and widely regarded as one of the top keepers in the world.
The U.S. put seven goals past her in a pair of friendlies last summer, but Endler went on to have a standout club season that ended with her peers voting her the top goalie in France. Two years earlier, playing for Valencia, she won the Zamora Trophy as Spain's top keeper.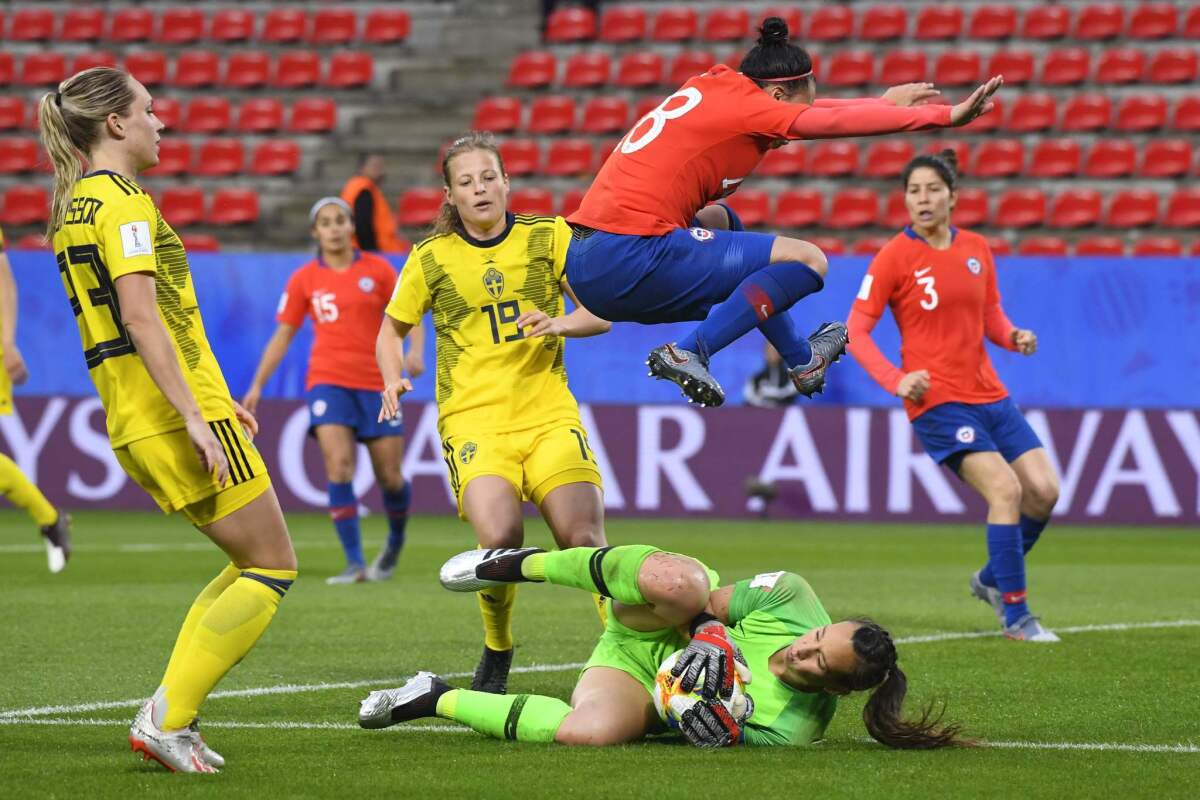 On Sunday she'll face a U.S. team with a dizzying array of attacking options.
"What's so special about this team is the depth. Any player that comes off the bench can bring something new and different," said midfielder Lindsey Horan, one of 11 players on the roster taking part in their first World Cup. "The starting lineup we have is absolutely amazing. And then we have another, I don't know how many players, that come off the bench and can do the same thing."
Now that team has an extra game of experience and a ton of confidence playing under Ellis, who is unbeaten in eight games as World Cup coach.
Sign up for our weekly soccer newsletter »
"What we've done over the last 3½ years has been building to this. The mind-set of the players — you can just see a difference, you feel a difference," said Ellis, who will pass April Heinrichs atop the U.S. leaderboard in games coached if her team makes it to the semifinals. "My job right now is to obviously prepare them for games. But it's also to keep them in a good space.
"That's everything from how we are at training, to things that we do, to meetings. Everything kind of has to come together in terms of making sure that their mind-set's right. A very good mind-set is a big part of teams winning championships."
So are words of wisdom from your dad on Father's Day.
kevin.baxter@latimes.com | Twitter: @kbaxter11
---
All about the beautiful game
Go inside the L.A. pro soccer scene and beyond in Kevin Baxter's weekly newsletter.
You may occasionally receive promotional content from the Los Angeles Times.