No losers as LAFC and Borussia Dortmund play the first of what they hope are many beneficial meetings
The Los Angeles Football Club played a game that didn't mean anything Tuesday against a Borussia Dortmund team that had nothing to play for. And when it was over, both came away satisfied.
Fittingly the game ended in a 1-1 draw, LAFC scoring first on Aaron Kovar's sliding redirection of a Lee Nguyen cross in the 77th minute, and Borussia Dortmund's Maximilian Phillip equalizing 10 minutes later.
"Guys that don't often get opportunities get a chance to step on the field and show where they are in the scheme of things," said LAFC coach Bob Bradley, who used 20 players. "It's an exhibition. Against a good team.
"And [for] those guys that played, it was a hell of a lot more fun than just training this morning."
But that was only one measure of the game's success.
For the announced crowd of 22,000 at Banc of California Stadium, it was a chance to see World Cup stars Mario Gotze, Andre Schurrle and U.S. national team wunderkind Christian Pulisic, the latter of whom left to a standing ovation.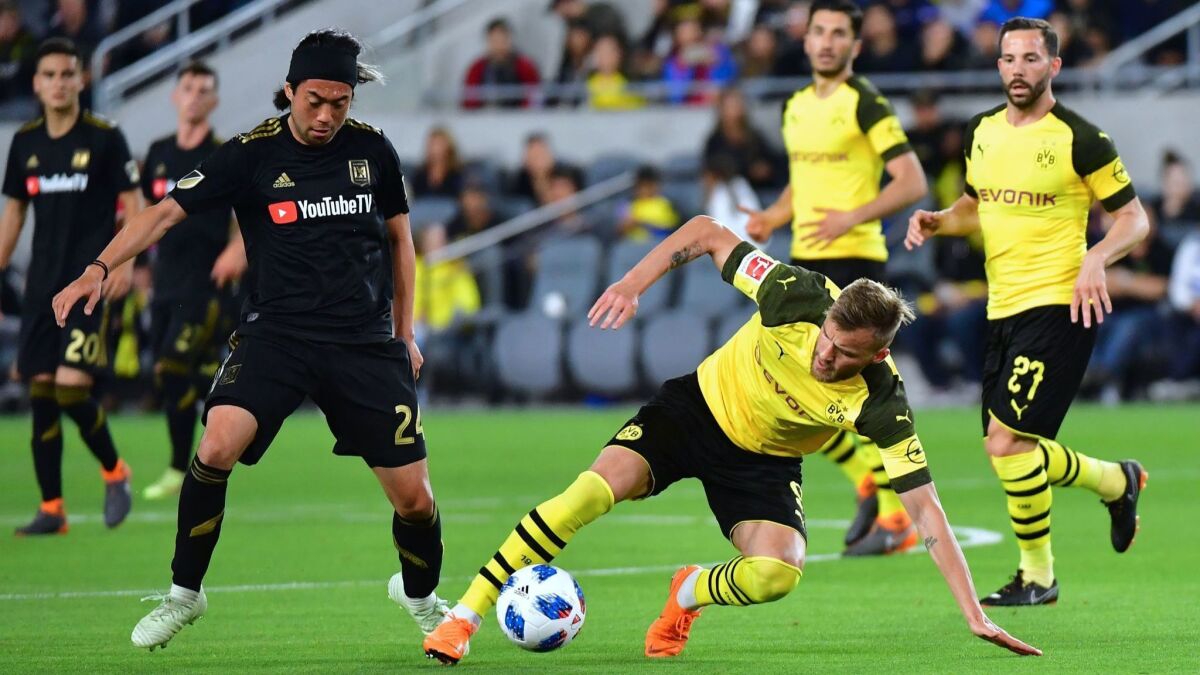 For the franchises it was a chance to do a little business off the pitch — LAFC toward building deeper ties with one of soccer's well-established clubs and Borussia Dortmund toward uncovering a fan base and other opportunities in a market it has yet to engage.
Still, the timing of Tuesday's game seemed strange for both teams.
Borussia Dortmund finished its league season in Germany 11 days ago and will be back in the U.S. for a summer tour in July. LAFC is in the middle of its first MLS season, and with the addition of Tuesday's friendly, the team will play six games in 22 days.
Complicating things further for LAFC is the fact it's losing five players to international duty: Carlos Vela, Omar Gaber, Marco Urena and Laurent Ciman for the World Cup and Walker Zimmerman to the U.S. team, where he'll soon be joined by Pulisic.
"We mutually agreed we really wanted to do a game. And this was the time window," LAFC President Tom Penn said. "It's a little unorthodox. But it's really worked out well."
It also comes after a years-long cultural exchange in which LAFC has sent leaders of its supporters groups to Germany, where they learned from the leaders of Dortmund's famed "Yellow Wall," the raucous grandstand where nearly 25,000 standing fans create an intimidating atmosphere.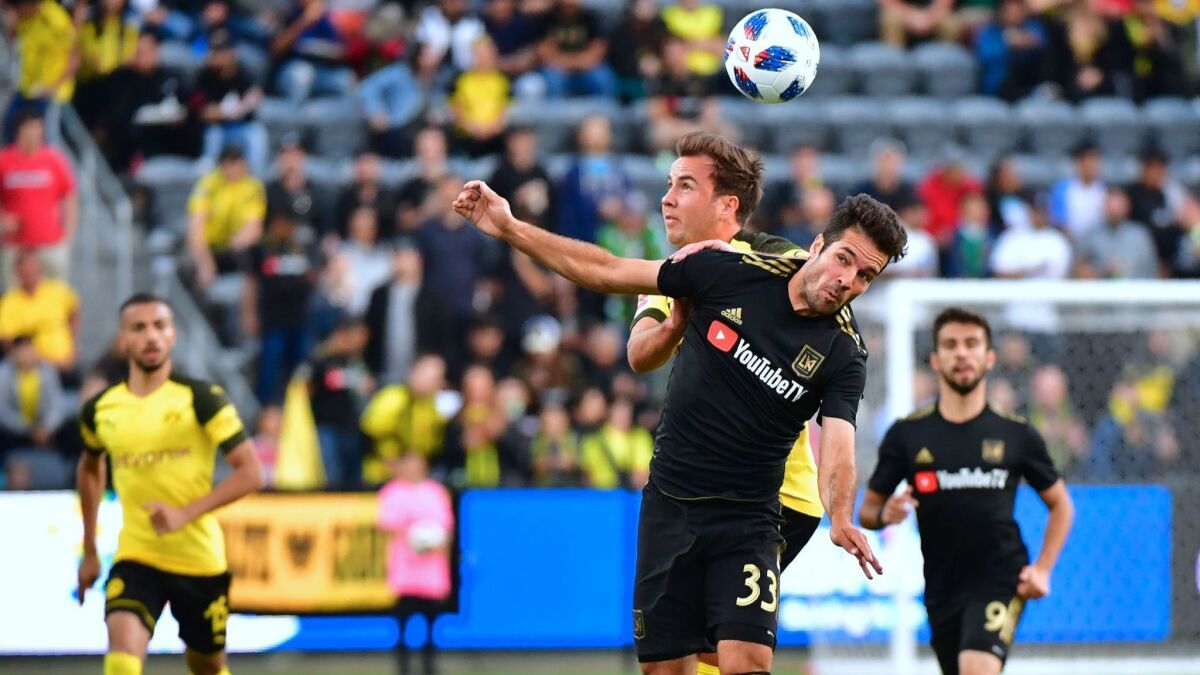 "There's a whole lot of relations at all levels of the operation," Penn said. "We have incredible respect for their club. They're a phenomenon. We've learned from them. And we aspire to be a global football club."
For Dortmund the game provided a chance to plant its flag in territory that, for most German clubs, remains largely unexplored.
Gaining allegiance to U.S. fans and their disposable income has become increasingly important for major European clubs, who need new revenue streams to meet their growing payrolls. It's why Barcelona, Bayern Munich and Paris Saint-Germain have opened in New York and why nearly a dozen teams make exhibition tours through the U.S. each summer.
Dortmund is one of them. It will return to play three more games in July.
"If you get the opportunity to do two tours in one summer, the footprint might be a more intense one and a more sustainable one," said Carsten Cramer, the team's chief marketing officer. "It's also a little bit like trial and error to see how the people reflect to Borussia Dortmund. What can we do to attract them?"
And with LAFC and Dortmund sharing the costs of Tuesday's game — "a joint venture," according to Penn — the only losers may have been the players, with the Germans losing a few days of their offseason and LAFC's starters forced to endure a scrimmage in the busiest part of their season.
Cramer disagreed. Some of his players planned to stay, getting their summer vacations off to a late start.
"Do you hear any players complaining about traveling to L.A.?" he said. "To be in L.A., see this skyline, see this stadium, see this pitch. No. They are not complaining. For sure."
Follow Kevin Baxter on Twitter @kbaxter11
---
All about the beautiful game
Go inside the L.A. pro soccer scene and beyond in Kevin Baxter's weekly newsletter.
You may occasionally receive promotional content from the Los Angeles Times.