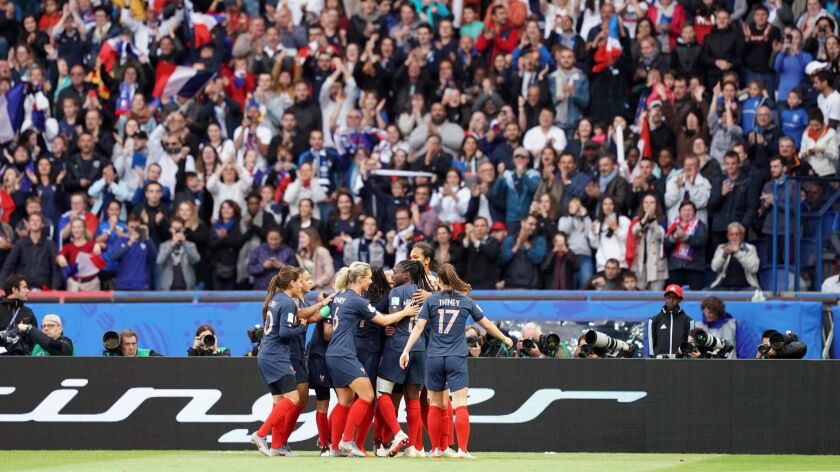 Reporting from Reims, France —
Hello and welcome to the latest edition of the L.A. Times soccer newsletter. I'm Kevin Baxter, the Times' soccer writer. We start today in Reims, France, about 85 miles northeast of Paris, where the U.S. team will open defense of its Women's World Cup title Tuesday against Thailand.
First the travelogue.
The population of Reims is relatively small — at 185,000, it has fewer inhabitants than Glendale — but as the unofficial capital of the Champagne wine-producing region it has an outsized global clout, with two dozen Champagne houses based within the city.
And, no, I haven't tried any yet. Well, OK, one glass.
But it was a small one. Really. (Don't tell my boss).
As for the soccer, the Women's World Cup is already five days old but there is very little buzz around the event in France. The tournament opened last Friday at Parc des Princes in Paris, about a quarter-mile from Roland Garros, the tennis stadium where, on the same day, Rafael Nadal beat Roger Federer in the French Open semifinals.
Yes, 45,000 people packed the stadium to see France beat South Korea, bringing many of the French players to tears when they sang "La Marseillaise," the country's national anthem, before kickoff. But outside the stadium for those two hours, you wouldn't have known a major non-tennis sporting event was taking place in Paris.
Paris, the argument goes, is far too big, far too busy and far too cosmopolitan for the Women's World Cup to make much of a splash. So organizers didn't do much to promote the event in the capital, they said. Wait until you get outside the city, we were told.
So on my first night in Reims, with Norway playing Nigeria across the street from the hotel, the lobby bar had a men's game on TV. If you haven't been to a World Cup — this is my fifth — you may not understand how unusual that is.
Four years ago in Canada, the hotels closest to the stadiums were packed with fans of the women's teams in soccer jerseys, wrapped in flags or wearing facepaint. And the streets around the venues were rolling parties. In Moscow during the men's tournament last summer — and four years before that in Brazil — the city literally shut down when a big game was on, even if it was being played hundreds of miles away.
On the other hand, the weather has been cold, overcast and rainy here, which would put the damper on any party. But it is picking up; organizers say they've sold more than 960,000 tickets — about a third to people traveling from the U.S. — so somebody must be coming.
Several group-play games as well as the semifinals and final in Lyon, have already sold out. As I'm writing this Tuesday morning, I'm told tonight's U.S.-Thailand game is also a sellout at tiny Stade Auguste-Delaune, with 21,127 seats, the second-smallest of the nine World Cup venues.
And that may be true. On Monday night, for the first time since I arrived in Reims, I started to see a few fans milling about in U.S. jerseys. By Tuesday the city was filled with soccer people. There were lots of Americans, but also some Thai fans, and with Italy scheduled to play its second group-play game here later this week, I saw members of the Italian team's training staff.
You can keep up with the World Cup, including the results of Tuesday's tournament opener for the U.S., at latimes.com/sports.
(Experience Reims for yourself with this YouTube tour.)
Here is the U.S. team's group play schedule, with local TV information:
June 11: vs. Thailand at Stade Auguste-Delaune, Reims. Ch, 11, Telemundo, noon
Sunday, June 16: vs. Chile, Parc des Princes, Paris, Ch, 11, Telemundo, 9 a.m.
Thursday, June 20: vs. Sweden, Stade Oceane, Le Havre, Ch. 11, Telemundo, noon
Don't look back …
This week's Women's World Cup name of the week, courtesy of stats maven Paul Carr, belongs to New Zealand forward Paige Satchell, who has probably never played baseball but was an age-group cross-country champion in addition to her obvious soccer skills.
Maybe the men are a little jealous
The Women's World Cup isn't the only major international tournament starting this month. Nor, unfortunately, is it the only major international tournament that will end on July 7.
The CONCACAF Gold Cup — the federation championship for the 41 nations of North America, Central America and the Caribbean — and the Copa America — for the South American championship — will both stage their finals on that day. It's an inexcusable scheduling mistake by FIFA and one that plays into the women's arguments that soccer's governing bodies show them no respect.
How can you claim to be promoting the women's game when you siphon interest and viewership away from its most important event by playing two men's title games on the same day?
''It's ridiculous and disappointing, to be honest,'' said Megan Rapinoe, co-captain of the U.S. team.
Added her coach, Jill Ellis: "Playing three big matches in one day isn't supporting the women's game."
Scheduling snafus aside, the Galaxy and LAFC had figured to be well-represented in the men's tournaments after the two MLS teams placed 11 players on the provisional national team rosters for those events. But the final cuts were not so kind.
LAFC's Dejan Jakovic (Canada) and Christian Ramirez (U.S.) and the Galaxy's Sebastian Lletget (U.S.) failed to make their country's Gold Cup teams. Lletget was left off after he sustained a hamstring injury in his last game with the Galaxy.
Rolf Feltscher, who missed the two most recent Galaxy games with injury, remains on the Venezuelan roster for the Copa America but may not play.
Surviving the cuts were LAFC's Tyler Miller and Walker Zimmerman with the U.S., Mark-Anthony Kaye with Canada and Peter-Lee Vassell for Jamaica. The Galaxy's Giancarlo Gonzalez (Costa Rica) and Jonathan dos Santos will also play in the Gold Cup, while Uriel Antuna is expected to make the Mexican team as an injury replacement.
LAFC captain Carlos Vela, who leads MLS in goals (16) and assists (10) is one of many veteran players who turned down an invitation to play with Mexico and its new coach, Tata Martino.
Despite their depleted rosters, both LAFC and the Galaxy will also play this week in the fourth round of the U.S. Open Cup, with LAFC meeting MLS rival Real Salt Lake on Tuesday in Utah and the Galaxy playing host to the Orange County FC of the fourth-tier National Premier Soccer League on Wednesday.
The Orange County team is managed by former UCLA and national team star Paul Caligiuri, hero of a 1989 World Cup qualifier the U.S. actually won in Trinidad.
Oh, brother
For Jonathan dos Santos, this season has marked a huge transition, both in his club career and in his role with the Mexican national team.
Dos Santos has always been hidden in the shadow of his (slightly) older brother Giovani. As kids both were recruited to Barcelona's famed academy, La Masia, but Gio was promoted to the B team three years ahead of Jona.
Gio then went on to Tottenham of the English Premier League and, eventually, Villarreal of Spain's La Liga. Jona arrived at Villarreal a year before his brother left for the Galaxy, then followed him to MLS two years later.
But this year, with Gio's career in limbo — the Galaxy decided to give him $6 million rather than a uniform, buying out his designated-player contract on the eve of the season-opener — Jona has begun to shine. He is clearly the most impactful player on the Galaxy.
In the only three games in which he has failed to play 90 minutes, the Galaxy lost. They won two of the four games Zlatan Ibrahimovic missed.
"He's the engine for our team," Ibrahimovic said. "He keeps the game going. With him on the field we play a different game. He drives the game and he likes to have the ball on his feet.
"So when you don't have a player like that, you change a little bit."
More important, however, is the leadership he provides. He wears the captain's armband when Ibrahimovic isn't on the field — and deserves it even when the Swede is playing. And that's been the biggest change since Gio left: Jona no longer has to defer to his often mercurial brother or let him set the tone.
Instead, he's stepping up. He's one of the few players — although with Ibrahimovic — who has been accountable to the media, win or lose. He's also begun taking questions in English, although he still answers in Spanish.
That may sound like a minor thing, but for a Mexican player who has spent most of his career in Spain, making the effort to communicate in English — even at the potential risk of some embarrassing misunderstandings — shows a commitment to the Galaxy, MLS and their mission.
He's even allowed the outside world to see his sense of humor, which is often self-deprecating. Asked about his history of leg injuries, Dos Santos blamed anatomy.
"If you notice I have a big butt," he said. "So that causes me to have more issues with my hamstrings."
And with his brother out of the picture on the Mexican national team, Jonathan dos Santos is assuming a new role there as well. Although the two-time World Cup veteran is just 29, he is one of the oldest and most experienced players on a team that Martino has been tasked with rejuvenating.
Dos Santos remembers the help he got when he was first called up as a 20-year-old and he's trying to pay that forward.
"I was helped by Gio, [Gerardo] Torrado, Rafa Marquez. Many players. Chicharito [Hernandez], who seems to be old but no, is two years older than me," he said.
"Now I feel a little old. I will try to help in every way I can."
Dos Santos has played in two of Mexico's four wins this year, scoring goals both times. Those goals are the midfielder's only scores in international play and the first — which came in rather spectacular fashion, giving Mexico a lead it never lost in a win over Paraguay — also won him a cherished keepsake as well.
"I have a trophy I was given as the best player in that game," he said. "I have it well guarded in my house."
(Watch Jonathan dos Santos' first international goal.)
U.S. men planning to stay the course
Mexico and the U.S. have combined to win 13 of the 14 previous Gold Cups, with only Canada interrupting that string of domination in 2000. And with the two teams on different sides of the bracket in this summer's tournament, it's probably fair to assume they'll meet in the July 7 final.
Or at least it would have been fair before the last two U.S. games.
While Mexico under Martino has won all four of its friendlies this year -– and mostly looked good doing it — the U.S. has looked awful this month, failing to score in losses to Jamaica and Venezuela.
"Obviously, I know what the narrative is going to be. That we have no chance, and that we're going to lose and maybe not even make out of the first round," Gregg Berhalter, the new U.S. coach, said after the Venezuela loss. "That's fine. We'll deal with."
In Berhalter's defense, he didn't have his best team on the field in either game. Christian Pulisic is still working his way back to full fitness after a two-week break. Tyler Adams didn't join the team until June. Michael Bradley is still recovering from injury and Jozy Altidore played 45 minutes combined in the two games.
All four are expected back for the Gold Cup opener next week in St. Paul, Minn. But the coach emphasized their absence was an explanation, not an excuse, for his team getting outplayed in the two games.
"You still want more competitiveness," he said. "And it starts with putting guys in good positions to be able to make tackles and to go in on duels."
In the meantime Berhalter said he's sticking with his plan heading into his first competitive game as U.S. coach June 18 against Guyana.
"I think we need to be calm," he said after the Venezuela game. "We need to look at the game, look at what we need to improve on and then set out to do it. We're still getting guys where they need to be. And we're not there yet. That's pretty clear. So we're going to keep working on it."
Here's the Gold Cup group-play TV schedule for Mexico and the U.S. (all times Pacific):
Mexico
June 15: vs. Cuba at the Rose Bowl, FS2, Univision, 7 p.m.
June 19: vs. Canada at Broncos Stadium at Mile High Stadium, Denver, FS1, Univision/UDN, 7:30 p.m.
June 23: vs. Martinique at Bank of American Stadium Charlotte, FS1, Univision/UDN, 5:30 p.m)
U.S.
June 18: vs. Guyana at Allianz Field, St. Paul, Minn., FS1, UniMas/UDN, 7 p.m.
June 22: vs. Trinidad & Tobago at First Energy Stadium, Cleveland, FS1, Univision/UDN, 5 p.m.
June 26: vs. Panama at Children's Mercy Park, Kansas City, Kan., FS1, UniMas/UDN, 6 p.m.
The Galaxy keeps expanding
Now back to the Galaxy. The team is in negotiations that could bring Boca Juniors forward Cristian Pavon to Southern California but the deal is complicated.
As currently constituted it would require the MLS club to fork over a transfer fee to acquire part of the player's rights, with the Argentine club retaining a percentage in the case of a future move to Europe.
And that's not the biggest sticking point. To close the deal, the Galaxy would probably need a designated-player spot, something they don't have. Ibrahimovic and Dos Santos aren't going anywhere this season and Romain Alessandrini, the team's third DP, is injured and won't be able to play until September. That makes a trade unlikely if not impossible.
However, the contracts of Ibrahimovic and Alessandrini expire when the season does, which means it's possible the arrival of Pavon, 23, won't happen until next year.
He may be worth waiting for. A member of Argentina's World Cup roster last summer, he made four appearances in Russia. And he's a huge favorite of the Galaxy's Argentine-born coach, Guillermo Barros Schelotto, who managed the player at Boca Juniors.
"As far as I know, it's still not close," Schelotto, speaking about the negotiations, told John Rojas this week.
Asked whether he wanted Pavon, the coach was more emphatic.
"Yes, definitely. Without a doubt," he said.
Pavon would make a nice fit in the puzzle Schelotto and general manager Dennis te Kloese are putting together with the Galaxy, joining speedy Mexican winger Uriel Antuna and Argentine attacker Favio Alvarez in the attack. None of the three are older than 26 and none were with the Galaxy five months ago.
Stay tuned.
Andre was no giant for LAFC
While the Galaxy wait for Pavon, LAFC is done waiting on Andre Horta. After a disappointing 11-month stint in MLS, the midfielder is being shipped back whence he came.
The team announced Monday that Horta, 22, is being returned to Portuguese club Braga. LAFC's third designated player, Horta joined the team early last summer but started just five games and played only 503 minutes, taking two shots on goal.
His most memorable play may have come in his debut, when he came off the bench late in the second El Trafico with the Galaxy and made a poor back pass that led to a Galaxy goal and a 2-2 draw.
"We would like to thank Ande for his contribution to the club," John Thorrington, LAFC's general manager and executive vice president of soccer operations, said in a four-paragraph statement announcing the move. "This deal makes good sense for both LAFC and Andre, and we wish him the best in the next phase of his career at Braga."
LAFC was frustrated by Horta's inability to stay healthy this season — he made just two starts and didn't get past the 78th minute in either. And with the emergence of Latif Blessing along with Mark-Anthony Kaye and Eduard Atuesta in the midfield, the opportunity for Horta to make an impact on the team was probably gone anyway.
For LAFC, already the best club in MLS, the deal gives them an opportunity to get better by using that open DP spot to strengthen the roster when the secondary transfer window opens July 9.
Quotebook
"I don't have a magic wand. I ordered it but it hasn't arrived yet. Maybe it will come after the World Cup."
French coach Corinne Diacre when asked how her team will do in the Women's World Cup
Sign up for our weekly soccer newsletter »
kevin.baxter@latimes.com | Twitter: @kbaxter11
---