Column: U.S. dominance in Women's World Cup qualifying underscores need for FIFA reforms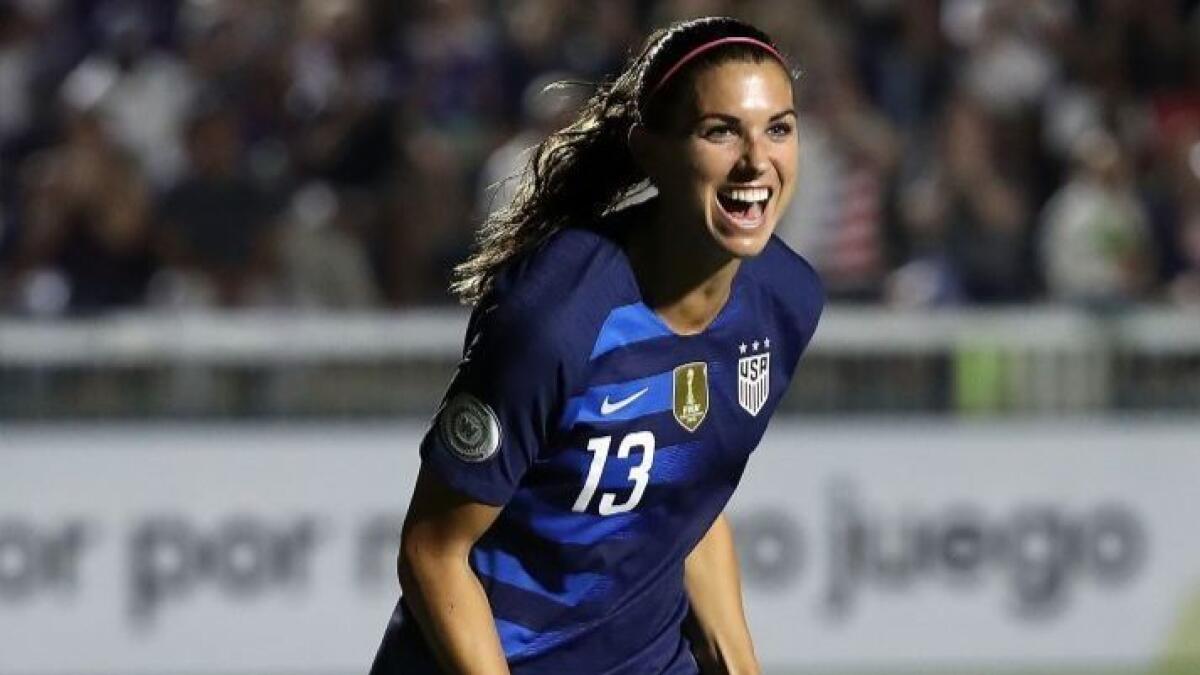 There's a reason Jill Ellis has brought opponents from Russia, South America, Asia, Europe and Australia to the U.S. to play her women's national team over the last two years.
It's because no team in her own neighborhood can give the Americans a game.
Ellis' players barely broke a sweat in the group stage of the CONCACAF Women's Championship, the regional qualifying tournament for next summer's World Cup, beating Mexico, Panama, and Trinidad and Tobago by a combined 18-0. The U.S. outshot those three teams 117-7.
The job might not get much tougher in Sunday's semifinals in suburban Dallas where the U.S. will face Jamaica, a team it has outscored 16-0 in its previous two meetings. Since the top three finishers advance to the World Cup, a win Sunday will send the U.S. to France no matter what happens in Wednesday's final, where it will face the winner of the other semifinal between Canada and Panama.
The U.S. hasn't lost to either country in 34 matches dating to 2001, something that speaks more to a massive gap in spending and support than it does to sheer talent for many women's programs in the region.
"Our approach to these games has been it's more about us in terms of how we play and what we're preparing for," Ellis said with a straight face. "Everytime we play we're learning something about ourselves."
It's hard to say what the lesson was in the Trinidad game — other than how to count. The U.S. had a 59-0 edge in shots in running its all-time record in CONCACAF qualifying to 30-1.
The regional dominance can be attributed to several factors, starting with Title IX, the 1972 law that called for gender equity in high school and college athletic programs. That increased opportunities in this country for female athletes, who also benefited from social norms that have been much more accepting of women playing soccer than is the case in many other nations.
And while we're still a long way from sporting equality for men and women in the U.S., especially on the professional level, female soccer players receive far better support in the U.S. than in any of the other 40 CONCACAF countries.
The result? The U.S., ranked No. 1 in the world, has outscored opponents 176-5 all-time in World Cup qualifying and hasn't lost a game to anybody in any competition in nearly 15 months.
FIFA, which says it wants to level the field in women's soccer, last week announced a five-pronged proposal designed to raise the level of play worldwide. One aim of the campaign is to double the number of women playing soccer, to 60 million, by requiring each national association to develop a comprehensive plan for its women's program by 2022.
The Women's World Cup in France next summer will be a key event in driving that growth, FIFA said. However current and former players remain unmoved.
"I want to see it actually happen," Abby Wambach, a former U.S. national team star and frequent FIFA critic, told the Associated Press. "I want to see not only the growth of the game, but I also want to see money get into the hands of the women who are actually growing it."
That skepticism is warranted because FIFA has long been complicit in holding the women's game back. When the U.S. women won the 2015 Women's World Cup, the team earned $2 million from a prize-money pool of $15 million. When France won the men's event earlier this year, it received $38 million from a $400-million pool.
FIFA didn't offer any prize money for the women's tournament until 2007.
There have been other slights too, like forcing the women to play the 2015 tournament on artificial turf, a surface so dangerous and inferior it is banned from the men's tournament. FIFA has yet to commit to video replay assistance for officials in the next Women's World Cup, something it mandates in the men's event.
"They're targeting participation numbers and they're targeting marketing. All these things are excellent for our game in terms of willingness to grow our sport, grow our brand and make it more available," Ellis said.
At the same time she noted that FIFA scheduled the Women's World Cup final for the same day CONCACAF and CONMEBOL will hold the televised championships of their men's federation tournaments, which will take attention away from the women's game.
"Playing three big matches in one day isn't supporting the women's game," she said. "So there you go."
The FIFA initiatives also call for all 211 member associations to have women on their executive committees by 2026. That, too, is well and good but real progress won't take place without more funding, a fact players in several countries have highlighted.
The U.S. women, for all their success, had to sue U.S. Soccer to get a new contract that narrowed huge gaps in pay and bonuses between the men's and women's teams. National teams in Australia and the Netherlands took equally dramatic measures by refusing to play or train until their protests over unequal treatment were heard. After the kickoff of an August friendly with Argentina, Puerto Rican players briefly abandoned the match and gathered at midfield to protest a lack of support.
"If we had the basics — training camps, international friendlies and fields — we would be able to do better," midfielder Nicole Rodriguez said of a Puerto Rican team that, inactive for two years, reorganized and rolled through the first round of World Cup qualifying unbeaten despite its federation's ambivalence. "We have the potential to make the World Cup if we have the proper investment. We can definitely be the top team in the Caribbean."
Sarai Bareman, FIFA's chief women's football officer, cut to the chase when she told the Associated Press that improving the women's game will require countries to stop looking at those teams as little more than a drain on their men's squads.
"Women's football is not this kind of poor little sister waiting for the handout from the big brother of men's football," she said. "We want to bring it into the mainstream."
kevin.baxter@latimes.com | Twitter: @kbaxter11