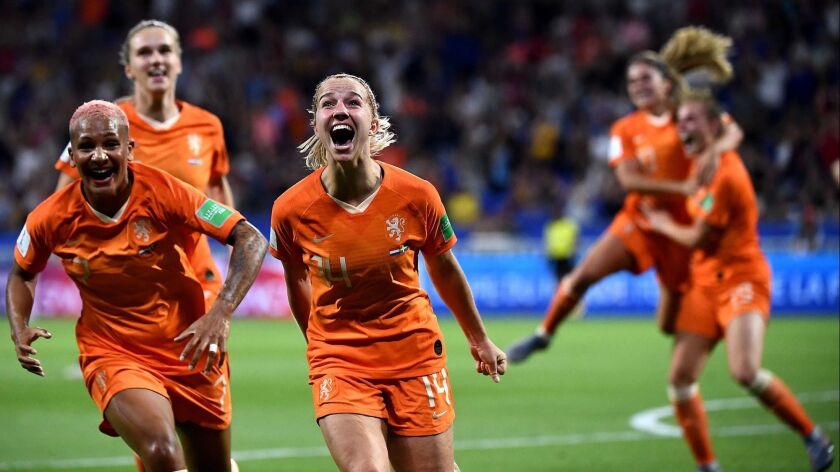 The Netherlands had to win arduous two-leg playoff series with Denmark and Switzerland just to quality for the Women's World Cup. And once here, it needed a penalty-kick goal in the 90th minute and an extra-time score to win two of its three knockout-round games en route to Sunday's final.
That has left the Dutch believing they may be a team of destiny despite the fact the U.S. is heavily favored to win its second consecutive world championship.
"A final in a tournament, anything can happen of course," defender Dominique Bloodworth said. "America is a very tough team so we're just going to see where their weaknesses are, where their strengths are, where we need to be careful and where we need to exploit their weaknesses. Hopefully, we can hurt them and do something great.
"We all know that they are very confident. But we are also confident. We know we haven't been playing our best football but still reached the final."
The opponent on the field won't be the only challenge the Dutch will have to overcome, though. Star forward Lieke Martens, a former world player of the year, injured her toe celebrating her game-winning goal against Japan in the round of 16 and had to come out of the semifinal with Sweden at halftime.
"If I don't feel 100%, then I want another girl to come in and give 100%, that's easy," she said of her status for Sunday.
The Netherlands also had one fewer rest day than the U.S. to recover from its physical extra-time win over Sweden.
"The tournament has been long, the season has been long for a lot of players," Bloodworth said. "You can tell that the players are getting tired, but at the end, it's just going to be a mental game."
Act like you've been here before
Kelley O'Hara is one of seven U.S. players who will be in uniform for a third consecutive World Cup final Sunday. But she isn't buying the idea that the Dutch, who made their Women's World Cup debut four years ago, will be intimidated or awed by playing in their first.
Not only is the Netherlands ranked eighth in the world, but it's the reigning European champion.
"They know what it's like and they know what it takes to go through a difficult tournament and to come out on top," O'Hara said.
"Is it an advantage?" she continued of her World Cup experience. "It can be. But, at the same time, it's how you handle that and how you approach the game and how you approach your preparation and that sort of thing."
Wanting a day for themselves
If Sunday's game, which kicks off at 8 a.m. on the West Coast, starts a little too early, you can always sleep in and wait for two men's finals: the Copa America title game between Peru and Brazil, which starts at 1 p.m., or the Gold Cup final between the U.S. and Mexico, which begins at 6 p.m.
And that's a problem for the women, who believe their quadrennial world champion deserves a day to itself.
"It's terrible scheduling for everyone," U.S. co-captain Megan Rapinoe said. "That's a terrible idea to put everything on the same day, in every way. This is a World Cup final. This is like cancel everything day."
FIFA, which manages the international soccer calendar, said the scheduling was purposeful and intended to boost attention for all three games.
However CONCACAF President Victor Montagliani, who is overseeing the Gold Cup, told the New York Times that the decision to play that final Sunday was not deliberate but due to a "clerical error."
FIFA announced the date for the Women's World Cup final in September 2017, a full year before CONCACAF set the date for the Gold Cup championship in Chicago. The Copa America final wasn't set until early 2018.
But rather than detracting from the women's game, at least one stakeholder thinks the schedule mix-up will hurt the other two tournaments more.
"The priority for Coca-Cola is the Women's World Cup, and we're going to do everything we can to bring a lot of attention, a lot people in front of TVs to watch the game, to watch the final," Ricardo Fort, head of global sponsorships at Coca-Cola, a FIFA partner, told the Associated Press. "Too bad for the other finals. I'm pretty sure the Women's World Cup final is going to be a big global event again."
Sign up for our weekly soccer newsletter »
kevin.baxter@latimes.com | Twitter: @kbaxter11
---