Bosnia-Herzegovina team a symbol of resiliency, rebirth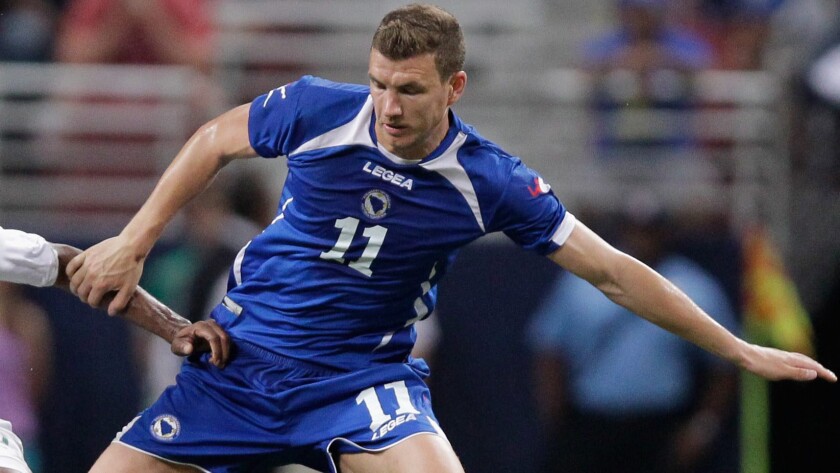 Reporting from Sao Paulo, Brazil —
Edin Dzeko has grown tired of the same question.
"You ask me again about the war," he complained to a CNN reporter recently.
It's a fair subject, though. Because it is Dzeko's war experiences that best exemplify the resiliency and rebirth of both his homeland, Bosnia-Herzegovina, and its soccer team, which is taking the field in a World Cup for the first time since the country won independence in 1992.
While many of his teammates fled the country during three-year Bosnian war, Dzeko stayed. When his family's home was destroyed during the Serbian siege of Sarajevo, he moved into his grandparents' tiny one-bedroom apartment, where he lived with 15 other people.
"In Bosnia it was war between the ages of 6 and 10, so it was hard to go out and do anything or live a normal life," he has said. "But I was young. It's over now, and I don't want to speak too much about it."
Yet the war shaped him, he concedes. Shaped his teammates too.
Vedad Ibisevic, whose game-winning goal against Lithuania qualified Bosnia for the World Cup, was 7 when Serb soldiers burned down his father's village. His grandfather was murdered in the accompanying ethnic cleansing and the family fled, eventually landing in St. Louis.
Midfielder Haris Medunjanin's father also died in the fighting after the rest of the family had escaped to the Netherlands. Defender Ervin Zukanovic caught the last train out of Sarajevo, landing first in Slovenia, then Germany.
"Maybe our stories have made a special bond between us," Zukanovic, one of the final players cut from Bosnia-Herzegovina's World Cup roster, told the Telegraph of London.
But the most harrowing of those stories belongs to Dzeko, who narrowly escaped death on multiple occasions. Once he was outside kicking a ball around with some friends when his mother called him in. Seconds later a bomb landed on the ground where he had been playing.
"My gut feeling saved my son's life," his mother, Belma, said.
Dzeko, 28, works for peace now. In England, where he has helped Manchester City win two of the last three Premier League titles, he's active in charity and community work. In his still-fractured homeland, where he leads the national team in goals, he uses his role as Bosnia-Herzegovina's first UNICEF ambassador to speak in schools, preaching the importance of tolerance and overcoming the divisions of the past.
"Many of the schools are divided," he said. "It's like two schools in one, with the Bosnians on one side and the Croats on the other. I go there to try to persuade them to come together and mix, because the war led to mistrust and hate, so things are difficult."
On both Manchester City and the national team, Dzeko, a Muslim, plays alongside Serbs. So it's not surprising that Dzeko, who wept openly after Bosnia qualified for the World Cup last fall, sees both teams' successes as another useful metaphor in the struggle to reintegrate his homeland.
And he's not the only one. During a trip to Sarajevo in October, FIFA President Sepp Blatter touched on the same theme, calling Bosnia's multiethnic national team "a symbol of reconciliation and union for the whole country…once again demonstrating the powerful role of football in society."
Bosnia almost made the World Cup in 2010, then missed out on the Euros two years later, falling to Portugal in a playoff both times. The team made sure it wouldn't need a playoff this time, losing just once in 10 qualifying games to advance directly to Brazil. And in a country paralyzed by a stagnant economy, corruption and an unemployment rate of 44%, that resiliency has become a rallying point.
"It's very amazing," Zukanovic told the Telegraph. "The World Cup is the only thing at the moment to make Bosnia happy, because people don't have a real future here and are not happy about the situation in the country.
"It is important," he said. "We want to make them more proud, to give them joy."
---
All about the beautiful game
Go inside the L.A. pro soccer scene and beyond in Kevin Baxter's weekly newsletter.
You may occasionally receive promotional content from the Los Angeles Times.