El Tráfico: Galaxy escape with another home victory over rival LAFC
In just 14 games, the MLS rivalry between the Galaxy and LAFC has already taken on a life of its own. It has become a series where the bizarre has become predictable and the unusual commonplace, which is why it also has become the league's fiercest derby.
Saturday's latest renewal of El Tráfico was no different, with LAFC losing three goals on offside calls and the bench nearly losing its mind after the final whistle sounded on a confusing 2-1 Galaxy win in front of a boisterous sellout crowd of 25,174 at Dignity Health Sports Park.
"There's always going to be drama. Whether you want it or not," said Galaxy defender Raheem Edwards, who has played for both teams. "The game was electric. You always have to be ready."
Nobody, however, was ready for the way Saturday's game ended.
Javier "Chicharito" Hernández scores twice for the Galaxy, which snaps a two-game losing streak in a 3-1 win over the Portland Timbers on Sunday.
LAFC thought it had tied the score on a Latif Blessing goal deep in stoppage time, touching off a wild celebration. But after bringing both teams back to the center circle, referee Chris Penso paused to consult with the video assistant referee and to watch a replay.
He then waved off the goal, turning the Galaxy's despair to delight.
"I knew it was offside from the minute the ball went in," Edwards said. "I kind of thought VAR would overturn it and it rightfully did. Sometimes you have faith in [VAR] and sometimes you have no faith in it."
When Penso ended the game seconds later, the LAFC bench charged the officials as the Galaxy players nearby hugged.
"They were celebrating and then they were disappointed. We were disappointed and then we were celebrating," Galaxy captain Javier "Chicharito" Hernández said.
Lost in all the confusion was the fact the win ran the Galaxy's home unbeaten streak against LAFC to seven games and the loss ended LAFC's perfect start to the season. It also gave LAFC (4-1-1) little to take away from a desperate second-half comeback in which the team outshot the Galaxy 12-4.
But only one of those shots found the back of the net and counted.
"Really game of two halves, if you will," LAFC coach Steve Cherundolo said. "I was happy with their effort, not with the finishing tonight or with the officiating. But I was pleased with the effort."
Hernández got the scoring started in the 13th minute, splitting defenders Mamadou Fall and Diego Palacios on a run to the far post, then heading a Samuel Grandsir cross into the net on a bounce for his fifth goal in six games.
Sega Coulibaly doubled the lead for the Galaxy (4-2-0) in the 31st minute and again it was Grandsir who made it happen, chesting down a pass inside the 18-yard box, spinning and slipping a low left-footed pass through the LAFC defense for Coulibaly, who charged in from the right side of the six-yard box to score his first MLS goal.
In between, Carlos Vela had a first-half goal wiped out by an offside call, then lost another in the opening minutes of the second half. LAFC was called for offside nine times.
But it was the final one that stung the most.
"It was devasting when they scored," Galaxy goalkeeper Jonathan Bond said. "It was living in a nightmare. I couldn't believe it happened."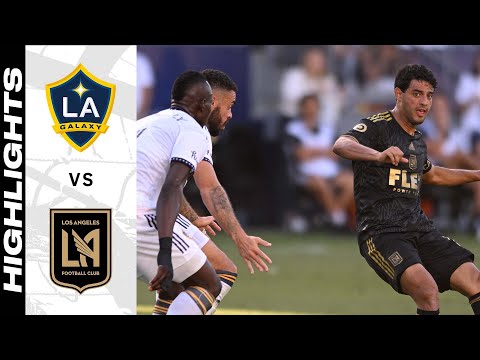 It didn't, Penso concluded.
In a written response to a question from a pool reporter, Penso said VAR official Edvin Jurisevic recommended he review the goal and when he did Penso said LAFC's Fall "was in a clear offside position when the ball was last touched by an attacker."
That's a better explanation than Cherundolo said he received.
Ilie Sanchez scores a go-ahead goal in the 51st minute to help lift LAFC to a 4-2 victory over Orlando City on Saturday.
"I didn't get one," he said. "I'm assuming they said it was offside."
"We were very unlucky not to get a point tonight," he added. "I think if two calls go our way, we definitely get a point and maybe you get three. Those calls were very close. From what I understand, the refs could have called them either way."
Sometimes that's the way it goes in a rivalry game. Actually, that's the way it always goes in this rivalry.
"Twenty-five years ago, if I would have said we had this in a derby, you would have said I'm crazy," Cherundolo said. "So this is an amazing, amazing progression of our sport."