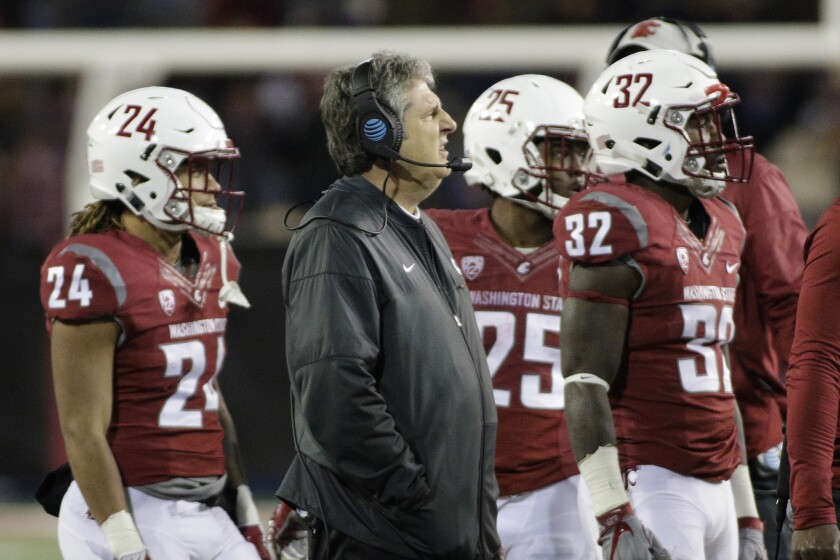 Break out the chips and cold drinks, but let Mike Hiserman handle the remote. The Times' deputy sports editor handicaps what's worth watching, and skipping, on this weekend's menu of college football games.
FRIDAY
Nevada Las Vegas at No. 20 Boise State, 6 p.m., ESPN2
It's always fun to check in on the latest version of the top-25 busting Broncos, and this is a good opportunity. UNLV is coming off a thrilling, 69-66 triple-overtime win over Wyoming, a pretty good team that upset then-No. 13 Boise State three weeks ago. The Broncos are 9-1 overall, 5-1 and in a three-way tie for first place in the Mountain Division of the Mountain West Conference. Boise State holds the tiebreaker over New Mexico and Wyoming, but can't afford a second slip-up.
Other game
5 p.m.: Memphis at Cincinnati, CBS Sports Network (CBSSN).
SATURDAY MORNING
No. 11 Oklahoma State at Texas Christian, 9 a.m., FS1
Oklahoma State is two wins away from winning the Big 12 Conference title. All the Cowboys have to do is defeat TCU and No. 9 Oklahoma in back-to-back weeks — on the road. Oklahoma State was almost tripped up at home by Texas Tech last week, escaping, 45-44. TCU is coming off its best performance of the season, a 66-22 win over Baylor two weeks ago in which Kyle Hicks ran for 192 yards and five touchdowns.
No. 23 Florida at No. 16 Louisiana State, 10 a.m., SEC Network (SEC)
While its play-patsy week for much of the Southeastern Conference, Florida and LSU finally get around to playing a game that was scheduled in October but postponed by Hurricane Matthew. Florida defeated South Carolina last week after getting routed by Arkansas, 31-10. LSU bounced back from a tough loss against top-ranked Alabama by thrashing Arkansas, 38-10. Comparing those games against the Razorbacks, it's easy to see why LSU is a nearly two-touchdown favorite.
Other games
9 a.m.: No. 7 Wisconsin at Purdue, Channel 7; No. 2 Ohio State at Michigan State, ESPN; Kansas State at Baylor, ESPN2; Maryland at No. 18 Nebraska, ESPNews; Morgan State at Army, CBSSN; Texas San Antonio at No. 25 Texas A&M, ESPNU; Iowa at Illinois, Big Ten Network (BTN).
9:30 p.m.: Yale at Harvard, CNBC; Miami at North Carolina State, KDOC.
11 a.m.: Oregon at No. 12 Utah, Pac-12 Networks (Pac-12).
SATURDAY AFTERNOON
No. 22 Washington State at No. 10 Colorado, 12:30 p.m., Channel 11
If the Pac-12 Conference regular season had ended last week, this would be the conference championship matchup. Washington State has won eight in a row and is 7-0 in Pac-12 play behind quarterback Luke Falk, who is third among major-college quarterbacks with 3,610 yards passing. His top target is Gabe Marks, a senior from Venice High who has a Pac-12-record 295 career receptions for a school-record 3,217 yards. Colorado's only two losses — both in competitive games — came on the road against No. 3 Michigan and No. 13 USC.
San Diego State at Wyoming, 12:30 p.m., CBSSN
San Diego State's Donnel Pumphrey leads the nation in rushing yardage, but recently fell to second in rushing yards per game. He's averaging 177.9 yards, a little more than a yard less than Texas' D'Onta Foreman. The star of the Aztecs' six-game winning streak has actually been the defense, which is giving up an average of only 7.0 points per game during that span. Wyoming had won five straight before falling last week in triple overtime to Nevada Las Vegas.
No. 24 Stanford at California, 2:30 p.m., Pac-12
Christian McCaffrey is healthy and producing again, and Stanford is winning again. Yes, there might be a connection there. The Cardinal have a three-game winning streak and have won six in a row against Cal. One more win matches the longest streak in the series between Bay Area rivals.
Other games
Noon: Duke at Pittsburgh, Prime.
12:30 p.m.: Missouri at No. 19 Tennessee, Channel 2; Virginia Tech at Notre Dame, Channel 4; No. 17 Florida State at Syracuse, Channel 7; Indiana at No. 3 Michigan, ESPN; Texas at Kansas, ESPN2; Texas Tech at Iowa State, FS1; Buffalo at No. 21 Western Michigan, ESPNU; Northwestern at Minnesota, BTN.
1 p.m.: Navy at East Carolina, ESPNews.
1:30 p.m.: Austin Peay at Kentucky, SEC.
2:30 p.m.: Southern Mississippi at North Texas, beIN1.
4 p.m.: No. 4 Clemson at Wake Forest, ESPN; Tennessee Chattanooga at No. 1 Alabama, ESPN2; South Florida at Southern Methodist, CBSSN; Arkansas at Mississippi State, ESPNU.
4:30 p.m.: Arizona State at No. 6 Washington, Channel 11.
SATURDAY EVENING
No. 9 Oklahoma at No. 14 West Virginia, 5 p.m., Channel 7
If TCU upends Oklahoma State in the morning, this effectively becomes the Big 12 Conference championship game. Oklahoma has won seven in a row, but has lost its only two games against ranked opponents — its opener against Houston, which has since fallen from the top 25, and in Week 3 against Ohio State. Despite only one loss, West Virginia has doubters. The Mountaineers sit behind six two-loss teams and one spot behind three-loss USC in the College Football Playoff ranking.
No. 13 USC at UCLA, 7:30 p.m., ESPN
USC comes in hot; UCLA is not. But the Bruins can be formidable on defense, and they have nothing to lose — well, except bowl eligibility — which makes them dangerous. USC will try to take away what UCLA has as a running game, which isn't much, and then tee off on quarterback Mike Fafaul. The Bruins will try to become the first team to completely contain USC quarterback Sam Darnold.
Other games
5 p.m.: Tulsa at Central Florida, ESPNews; No. 8 Penn State at Rutgers, BTN; Mississippi at Vanderbilt; SEC.
7:15 p.m.: New Mexico at Colorado State, ESPN2.
7:30 p.m.: Air Force at San Jose State; Arizona at Oregon State; North Carolina A&T at North Carolina Central (tape delay), ESPNU.
Twitter: @MikeHiserman
---