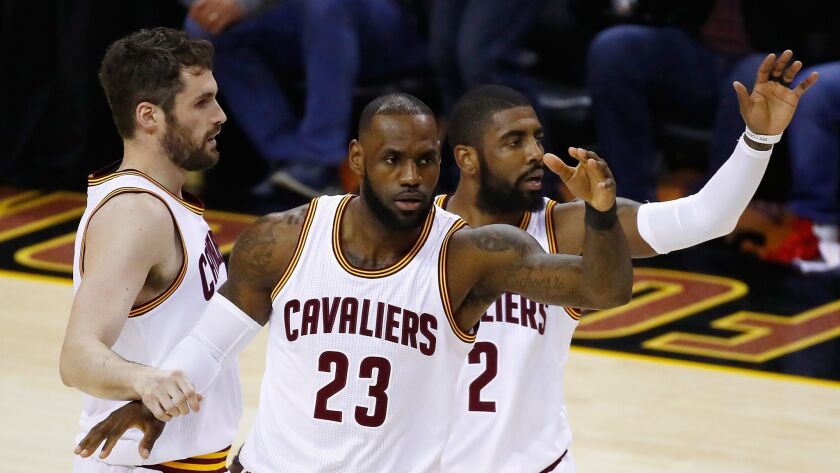 LeBron James has never played for a superteam. He doesn't believe in the concept of superteams.
That's what James — who won two NBA titles in Miami with Dwyane Wade and Chris Bosh and one in Cleveland with Kyrie Irving and Kevin Love — said Monday night after the Golden State Warriors clinched the league title by defeating James and the Cavaliers, 129-120, in Game 5 of the NBA Finals.
"I don't believe I've played for a superteam," James said in response to a question by Basketball Insiders' Eric Pincus. "I don't believe in that."
Before joining the Heat for the 2010-11 season, James was already a two-time league MVP and six-time All-Star. He and Bosh, then a five-time All-Star with the Toronto Raptors, took their talents to South Beach to play with Wade, a six-time All-Star and former NBA Finals MVP, on a Heat team that had gone 47-35 and lost in the first round of the playoffs the previous year.
The Heat lost in the NBA Finals that season and won the title the following two years.
By the time he rejoined the Cavaliers for the 2014-15 season, James had added two more league MVP awards and four more All-Star selections to his resume, as well as two NBA Finals MVP awards. He and Love, then a three-time All-Star with the Minnesota Timberwolves, hooked up in Cleveland to play with Irving, a two-time All-Star who was the 2012-13 NBA rookie of the year, on a Cavaliers team that went 33-49 the previous season.
The Cavaliers also lost in the NBA Finals that season before winning it the following year.
Those teams sure seem like "superteams," with three star players joining forces for the sole purpose of winning a title — like what Kevin Garnett, Ray Allen and Paul Pierce did on the Boston Celtics championship team a few years earlier.
But let's look at the Warriors. They were pretty super before this year. Already led by a trio of stars — Stephen Curry (two-time league MVP, three-time All-Star), Klay Thompson (two-time All-Star) and Draymond Green (one-time All-Star) — Golden State claimed the league title in 2014-15 and won a record 73 games in the 2015-16 regular season before coming up short against Cleveland in the Game 7 of the NBA Finals.
Then in the off-season, they were joined by free agent Kevin Durant, also a former league MVP and a seven-time All-Star who had yet to win a championship after nine years in the league. Now with four superstars and lots of other help the Warriors cruised through the NBA postseason with a 16-1 record to reclaim the league title, led by Finals MVP Durant.
So back to James' statement about never having played on a superteam. That's a pretty tough statement to back up, but it is pretty clear that he has never played on a superteam quite like the one Golden State put together this year.
Twitter: @chewkiii
---