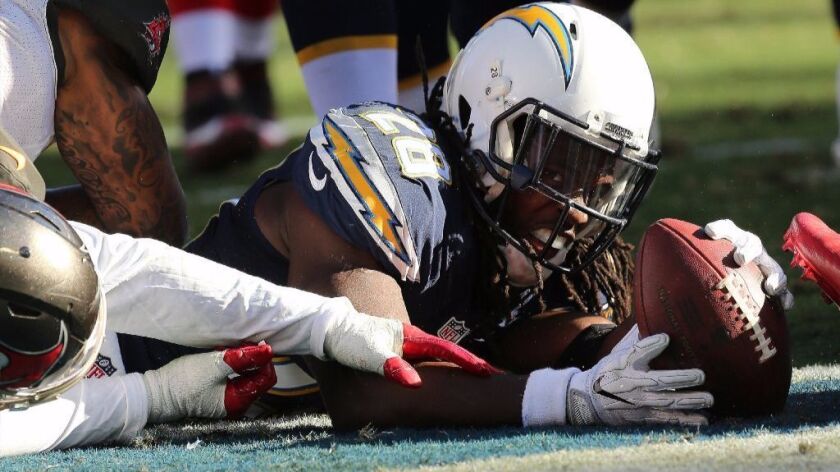 Not sure when the Statue of Liberty was relocated to L.A., but with the Chargers joining the Rams, the words "give me your tired, your poor, your huddled masses" should be amended to include "your losing football teams."
Mark S. Roth
Los Angeles
::
If an NFL team is content spending two seasons in a stadium that holds 25,000, isn't that a hint that moving to that area might not be great idea?
Rob Osborne
Manhattan Beach
::
If the Chargers' fan base is consistently outdrawn by the opposition's fans at the very intimate StubHub Center, will the venue be regularly referred to as the "Unfriendly Confines?"
Julie Chang
West Hills
::
If a tree falls in a forest and no one is around to hear it, does it make a sound? No one really knows. If a NFL game is played in a 27,000-seat stadium involving a team no one in the area cares about or wants up here, did the game actually take place? Like the tree, no one really knows. Or cares.
Erik Schuman
Fountain Valley
::
So, Bill Plaschke has never met one Chargers fan in L.A. Apparently, Plaschke has never taken a walk or jog on the Esplanade in Redondo Beach. When I am walking on the Esplanade or beach, I get more "Go Chargers" comments for my lightning-bolt cap than any other hat I wear, including Lakers, Dodgers, Angels and Bruins.
Larry Larson
Redondo Beach
::
Bill Plaschke needs to give the Chargers a chance to prove themselves instead of belittling every thing about them. The Chargers have some talented players and if Plaschke is up up for the bet I will wager breakfast at the Pantry that the Chargers will be in the Super Bowl before the Rams make it to the Super Bowl and also before the Lakers return to the Finals.
Kevin Riordan
La Quinta
::
Bill Plaschke pretends to speak for all 10 million residents of L.A. County (plus the 5 million in Orange and San Bernardino Counties) as he provincially claims the Chargers are not wanted in L.A. There are many, many pro football fans in that vast market who will support another NFL team in L.A., but the team must have exciting players that inspire passion, win plenty of games, and provide a fun game-day experience. The Chargers are quite capable of doing just that.
Many self-proclaimed experts predicted the San Diego Clippers would fail in L.A., because they weren't wanted there, and the market would not support two NBA teams. They were wrong. As the Clippers eventually became winners L.A. sports fans have flocked to Staples Center to support their exciting team.
The Chargers games at StubHub Center will be rocking! New, loyal fans will develop quickly. Dean Spanos will look like a genius as the value of his NFL franchise doubles.
Jim Regan
Carlsbad
::
The NFL and Commissioner Roger Goodell "worked tirelessly" ... to torpedo any reasonable stadium solution. Dean Spanos and the NFL had a single objective: "San Diegans will and must bend to our will for a downtown stadium."
It matters not that the current stadium location offered virtually limitless options for expansion, routine rotation for Super Bowl hosting, ease of access for most San Diego fans, reduced environmental impact to the San Diego Bay .. the list goes on. Does not matter to the NFL, it's our way or the highway and you're going to pay for it.
The NFL will fight tooth and nail to reject the Green Bay business model, but it really should embrace it.
David Pohlod
Oak Park
::
The Chargers moving to Los Angeles is one of the reasons that NFL fans are losing interest. The league is run by billionaires, for billionaires, with no regard for the fans and their interests. Instead of the popular choice of team to relocate to L.A. (Raiders), we are stuck with a team that nobody here wants and the only reason seems to be a selfish, rich owner who couldn't stiff the taxpayers of San Diego. We can't wait, Mr. Spanos.
Karen Y. Perez
Lomita
::
The average price of an NFL ticket is $117. Add in parking, a few beers and hot dogs and the real cost is more like $150.
The honeymoon with the third-rate Rams ended about the 20th time Jared Goff ran around like a high school quarterback.
The Rams left Los Angeles in 1979 and Anaheim in 1995. Nobody missed them.
That Dean Spanos wants to be part of this only confirms his status as the most out-of-touch NFL owner.
Bob Munson 
Newbury Park
::
Despite last-minute attempts to revive them, the San Diego Chargers were pronounced officially dead on Thursday, January 12, 2017. They were 56 years old. Cause of death has been confirmed as a combination of pathetic and greedy ownership along with inept San Diego city government.
Although born in Los Angeles, the Chargers moved to San Diego at an early age and were embraced immediately by their fans. Survivors include Lance Alworth, Dan Fouts, Kellen Winslow, Charlie Joiner, LaDainian Tomlinson, Phillip Rivers, Antonio Gates and a host of other players beloved by the San Diego community. The Chargers are also survived by their multitude of fans who suffered through their heartbreaking losses and rejoiced in their victories. There will be a public viewing this upcoming autumn at the StubHub Center in Carson, California. No one is expected to attend.
Tom Fielding
Pasadena
::
Let's not forget that if it were not for the Rams, who lost twice to the 49ers, and the Chargers, who were beaten by the Browns, the league would have had two 0-16 teams last season. Thanks a lot.
Peter Putrimas
Simi Valley
What a game
"Speed 2: Cruise Control." "Jaws 2." "Blues Brothers 2000." "Caddyshack Il." "Staying Alive." Thank you, Clemson and Alabama for not falling into "that" category on Monday night.
Tracy Leming Young
Burbank
::
You can't ask for a better college football championship game than that played by Alabama and Clemson. Loved the way it ended; onside kickoff recovery by Clemson, one second left, and Alabama offense unable to take the field. Clemson had the heart of an underdog and deserved the win.
Congratulations to Lane Kiffin who went undefeated as the Alabama offensive coach and finally an opportunity for Nick Saban to eat the adage, "What goes around comes around."
Camillo Wilde
Lompoc
::
Not even Saban and Alabama could could survive the double whammy of Kiffin and Sarkisian. Thankfully, USC has moved on from the fraternity brothers!
Bill Hokans
Santa Ana
::
So does Lane Kiffin get a runner-up ring?
Chuck Hill
Ventura
::
Come on, Bill Plaschke ["Finding Our United State, Jan. 11"]. John McKay said it best. "There are still 600 million Chinese who don't care if we win or lose." There was a football game played on Monday night?
Alex Fernandez.
Lakewood
::
Rather than ask how to make the college football playoff better, we should be asking why we need a playoff at all. Why not just finish the conference playoffs and let the student athletes go back to class?
Who gains from all of the bowl games and March Madness? Certainly not the players.
I realize that there is a lot of money involved, but these extra-curricular activities do not advance the goal of the schools, which should be education.
Kevin Minihan    
Los Angeles
Tough to argue
The last three Raider games proved beyond all doubt that Derek Carr is the NFL MVP.
Mike Lorraine
Simi Valley
Giving Bill his due
I must come to the defense of the "Big Redhead." Bill Walton is the refreshing antidote to the mundane, cliche-parroting announcers that simply state the obvious. Small-minded people get nervous when something new and unique appears. Bill, take encouragement in the words of Ralph Waldo Emerson, "A foolish consistency is the hobgoblin of little minds. … With consistency, a great soul has simply nothing to do."
Bill gives us insights from one of the smartest players ever with the creativity that would that would put Emerson on the couch with a bowl of chips!
David Waldowski
Seal Beach
::
I must defend the OUTRAGEOUS and SCURRILOUS Attacks on the GREATEST Bruin player in the HISTORY of UCLA. The Redhead is a breath of FRESH AIR in a WASTELAND of ordinary sameness that is college basketball color commentary today!
No other analyst in the ENTIRE HISTORY of SPORTS BROADCASTING will give you the pedigree of the GYM they're playing in as well as the sports lineage of EVERY player on the court, the bench or that's ever passed by the BUILDING!!!
And you can't say he's a "homer" since every missed shot or turnover is "the worst in the HISTORY OF UCLA BASKETBALL"!
The REDHEAD makes Listening to BRUIN BASKETBALL FUN AGAIN!!!
Vern Simmons
Simi Valley
Time is short
With Clayton Kershaw able to opt out in two years and with many of their key players in their mid to late 30s, the Dodgers' window of opportunity is closing fast. Brian Dozier and his 40-plus home runs don't come around that often, so make the move already! Quit haggling over prospects when an already established star is out there for the taking. Look at the moves the Cubs made to win it all and learn from them.
Tom Krug
Playa del Rey
Too many
Great job, FIFA, by expanding the World Cup by an additional 16 teams in 2026. The play in the last World Cup, in Brazil, was boring and sedentary, to say the least. Watering the tournament down even further will make the games even less appealing, as the talent level weakens dramatically.
Some of the crooks might be have been washed away, like Sepp Blatter, but great to see the new guard is still chasing the almighty dollar.
Kevin Flynn
Simi Valley
Pop at the top
I'm reading the NBA box scores and I see the Spurs win (again). No surprise they are in first place (again) but they are led by a guy named Bertans with 21 points and another guy named Dedmon with 15. Not sure either guy could make the Bruins. Can we just enshrine Gregg Popovich now and skip the wait?  
Craig A. Nelson
Solana Beach, Calif.
::
The Los Angeles Times welcomes expressions of all views. Letters should be brief and become the property of The Times. They may be edited and republished in any format. Each must include a valid mailing address and telephone number. Pseudonyms will not be used.
Mail: Sports Viewpoint
Los Angeles Times
202 W. 1st St.
Los Angeles, CA 90012
Fax: (213) 237-4322
Email:
sports@latimes.com
---