Beach volleyball: New partnerships featured in Long Beach this weekend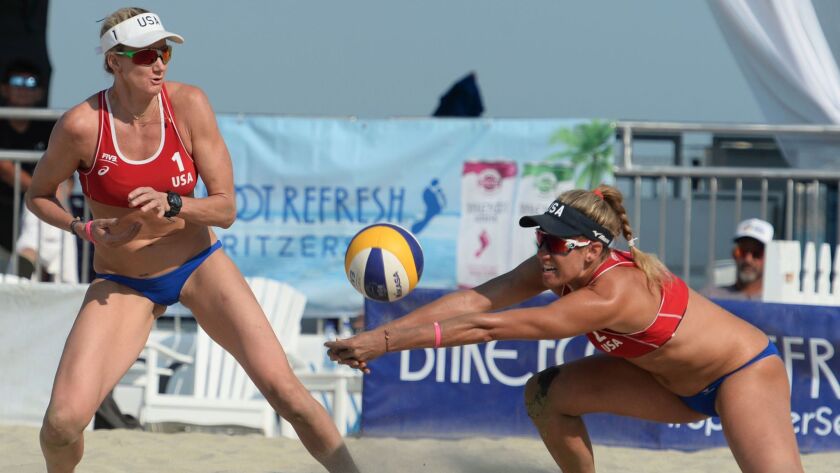 The drama will unfold on the sand, not in their hearts. Former partners Kerri Walsh Jennings and April Ross could face each other this week for the first time in nearly four years, but breakups in beach volleyball can be as commonplace as bad first dates on Tinder.
Just scan the list of participants at the reconfigured World Series of Beach Volleyball, which will debut a United States-vs.-the-world format Thursday in Long Beach. In addition to Walsh Jennings and Ross, fellow Olympians Casey Patterson, Jake Gibb, Brooke Sweat and Lauren Fendrick will all compete with new partners.
Hard feelings? They've scattered like sand through the toes.
"We've turned the corner," Walsh Jennings said of herself and Ross. "The bittersweetness is gone and now it's full-bore excitement for the future. It's just part of the sport. If you know beach volleyball, you know people break up."
They also tend to come back together. Walsh Jennings and her new partner, Nicole Branagh, competed as a pair as far back as 2008, the start of an intermittent partnership that lasted until Misty May-Treanor decided to put off retirement to reconnect with Walsh Jennings and win a third consecutive gold medal in the 2012 Olympics.
Walsh Jennings and Branagh resumed their affiliation this spring after Walsh Jennings initially courted USC star Sara Hughes, who was noncommittal about leaving Trojans teammate Kelly Claes. Walsh Jennings' coach, Marcio Sicoli, then invited Branagh to practice with her old partner, who liked what she saw in the fellow 38-year-old.
"It was like, 'Holy hell, where have you been?'" Walsh Jennings said.
Walsh Jennings and Branagh will be making their 2017 domestic debut together after having lost their first three matches before reaching the round of 16 last week at an FIVB event in Gstaad, Switzerland. They will face a field that includes reigning Olympic gold medalists Laura Ludwig and Kira Walkenhorst of Germany; Brazilians Larissa Franca and Talita Antunes, who were runners-up in Gstaad; and Ross and Fendrick, who won the New York City Open together last month on the AVP tour.
The top men's tandems include Phil Dalhausser and Nick Lucena, runners-up in the World Series of Beach Volleyball last year, as well as Olympic bronze medalists Alexander Brouwer and Robert Meeuwsen of the Netherlands.
Ross and Walsh Jennings could face each other as part of a 16-team President's Cup format that starts with pool play before the top four American and top four international teams are slotted into a championship bracket on opposite sides. ESPN will live-stream all of the matches, with some broadcast live on the network and others on tape delay.
The new format is part of World Series of Beach Volleyball CEO Leonard Armato's efforts to increase interest in the FIVB-sanctioned event by making it one massive extravaganza that also features a National Volleyball League tournament, the AAU junior national championships and a coed tournament open to the public.
Armato said he envisioned a festival-like atmosphere, with Grammy-nominated electronic dance music star Kaskade hosting a sold-out beach party on Saturday.
"We want to make beach volleyball accessible to the masses as opposed to being a niche sport," said Armato, who is also Walsh Jennings' manager.
The split between Walsh Jennings and Ross drew more attention than most breakups because of their success together. They won a bronze medal at the Rio de Janeiro Olympics and ruled the domestic tour for years. Their last match as a duo came in Fort Lauderdale, Fla., in February, when they finished fifth.
The end of their partnership was precipitated in part by Walsh Jennings' displeasure with the AVP, which she felt was forcing players to sign overly restrictive contracts that required a nondisclosure agreement just to view them. Walsh Jennings refused to comply, ending her association with the AVP, while Ross maintained her allegiance to the tour, saying she was satisfied with some contract concessions made by tour officials.
Walsh Jennings said she and Ross differed in their view of how the sport should grow; Walsh Jennings felt the AVP didn't provide a living wage for players and was an unsustainable model for the future of beach volleyball.
"The bottom line is that I love and respect April," Walsh Jennings said, "but it's time to move on."
Ross and others from the AVP tour received special dispensation to play in Long Beach. Ross said during the Huntington Beach Open in May that she wouldn't rule out playing with Walsh Jennings again but understood the differences that drove them apart.
"She thinks really big and she wants the sport to be really huge and I know that's what she's working for, so I totally respect her decision and what she's trying to do," Ross said at the time. "It's just, for me, there was no question that I wanted to be out here playing for the AVP."
They may have found some common aspirations this week.
"I don't just want to beat her," Walsh Jennings said of Ross, "I want to beat all the Americans and all of the world."
Twitter: @latbbolch
---
Get our high school sports newsletter
Prep Rally is devoted to the SoCal high school sports experience, bringing you scores, stories and a behind-the-scenes look at what makes prep sports so popular.
You may occasionally receive promotional content from the Los Angeles Times.