More than 1,000 Russian athletes involved in organized doping, report finds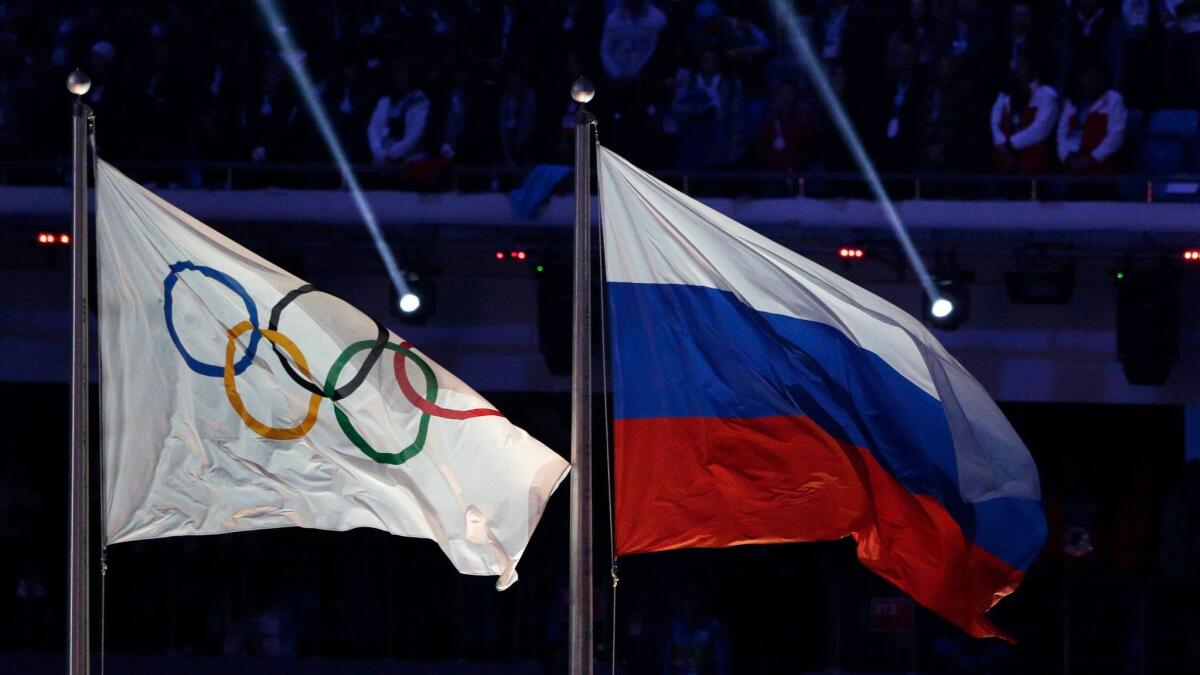 The winter of 2010 was a time of bitter disappointment for Russian sports officials.
Their Olympic team limped away from the Winter Games in Vancouver with only three gold medals — a fraction of the total won by countries such as Canada, the U.S. and Germany.
In response, investigators allege, those officials launched a "well-oiled systemic cheating scheme" by which the country's athletes could use performance-enhancing drugs without fear of detection.
In a report issued Friday, a World Anti-Doping Agency panel expanded on previous findings, alleging that more than 1,000 Russian athletes in more than 30 sports participated in an "institutional conspiracy" that evolved over five years' time.
The summer and winter competitors, who at that time were credited with 82 medals in 2012 and 33 in the 2014 Olympics, were aided by their national sports ministry, their national anti-doping agency and the government's FSB intelligence service, the report says.
"For years, international sports competitions have unknowingly been hijacked by Russians," said Richard McLaren, a Canadian attorney who headed the independent panel. "Coaches and athletes have been playing on an uneven field. Sports fans and spectators have been deceived."
The report added further evidence and detail to McLaren's initial findings in July. The first report resulted in WADA's recommending the entire Russian team be excluded from the 2016 Summer Games in Rio de Janeiro.
International Olympic Committee officials rejected an outright ban, instead asking the international federations that govern each sport to decide which Russians should be allowed to compete.
The decision drew widespread criticism when about two-thirds of the team ultimately participated in Rio.
Now, with 14 months until the 2018 Winter Games in Pyeongchang, South Korea, Olympic leaders face pressure to react more stringently.
"Professor McLaren's report demonstrates a fundamental attack on the integrity of sport," said IOC President Thomas Bach, who competed as a fencer at the 1976 Summer Games.
"For me as an Olympian, any athlete or official who took part in such a sophisticated manipulation system should be excluded for life," Bach said.
The IOC has established two commissions to address the situation, especially as it concerns alleged swapping of dirty samples for clean ones at a Russian lab during the 2014 Winter Games in Sochi, Russia.
All 254 urine samples collected from Russian athletes at those Games will be re-analyzed. Sixty-three blood samples have already been retested and found to be negative.
Similar work is being done in regard to samples from the 2012 London Games, where McLaren alleges that cheating took place on an "unprecedented scale" that might never be fully measured.
WADA originally created the McLaren panel after Grigory Rodchenkov told the New York Times that, as former director of a Moscow lab, he oversaw systemic cheating.
Investigators note that Rodchenkov and his colleagues had undertaken breakthrough work on peptides and long-term steroid metabolites in 2012. Though the research helped bolster anti-doping tests, it was allegedly used by the Russians to develop a cocktail of drugs known as the "Duchess" that could escape detection.
McLaren referred to the developing program as "a cover-up that evolved over the years from uncontrolled chaos to an institutionalized and disciplined medal-winning strategy."
Other elements of the so-called "Disappearing Positive Methodology" were rudimentary, according to investigators, with officials swapping samples through a "mouse hole" — a small opening — cut in a lab wall. McLaren said his panel found scratches and other marks suggesting that sealed samples had been pried open for tampering.
The samples for two women ice hockey players contained male DNA, the report says. Eight other samples were diluted with coffee granules or contained more salt than is physiologically possible in a healthy human.
Twelve Russian medalists from Sochi — including two athletes who won four medals — had their bottles tampered with, the report says.
Sample swapping allegedly continued in the years after Sochi, becoming a monthly practice at the Moscow lab. The panel said it now has records showing more than 500 positive tests conducted by the Russians on their own athletes were reported to international authorities as negative.
No athletes were named in the report but their identities have been provided to the respective international federations for possible disciplinary action.
With much of the Olympic movement still quarreling over how to deal with this and other recent doping scandals, McLaren called for cooperation.
"I find it difficult to understand why we're not on the same team," he said. "We should all be working together."
ALSO
Olympic leaders face potentially important decision on doping penalties
Donald Trump speaks with Olympic leader in support of LA 2024 effort, officials say
LA 2024 releases revised budget for Olympics, revenue to equal $5.3 billion in costs
Get our high school sports newsletter
Prep Rally is devoted to the SoCal high school sports experience, bringing you scores, stories and a behind-the-scenes look at what makes prep sports so popular.
You may occasionally receive promotional content from the Los Angeles Times.