BCS championship game: Auburn vs. Florida State live updates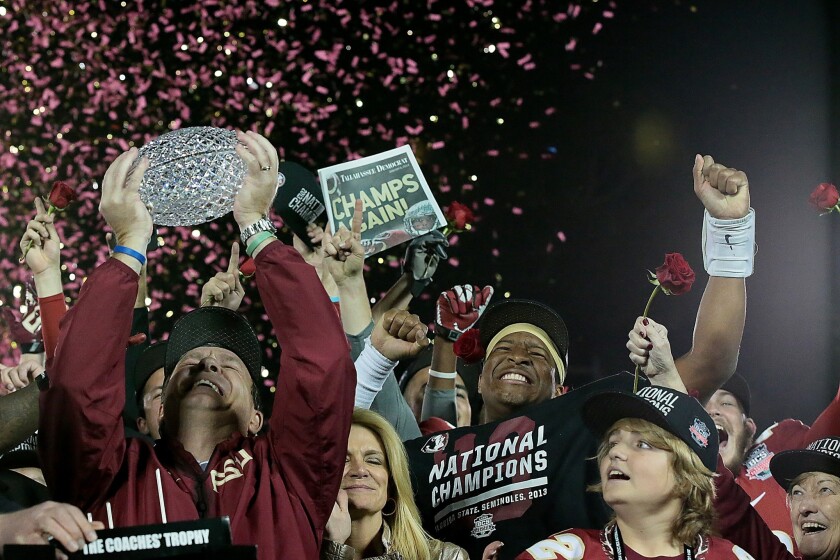 That seven-year Southeastern Conference stranglehold on college football's national championship has come to an end.
But it died hard.
Very hard.
Heisman Trophy winner Jameis Winston was outplayed by Auburn counterpart Nick Marshall for three quarters, but the Florida State redshirt freshman showed why he was considered the nation's top player, bringing Florida State back in the final minutes for a 34-31 victory in the Bowl Championship Series title game at the Rose Bowl.
A crowd of 94,208 witnessed it, and 10 times that many will say they were there.
Winston connected with Kevin Benjamin on a two-yard pass just above the outstretched arms of Auburn's Chris Davis with 13 seconds left for the game-winner.
Winston, the first freshman quarterback to lead his team to a national championship, completed 20 of 35 passes for 237 yards and two touchdowns. He also run for 26 yards in 11 carries.
His pass to Benjamin capped a furious final few minutes.
Auburn led, 24-20, after a 23-yard field goal by Cody Parkey with 4:42 left.
That lead lasted 11 seconds -- as long as it took Florida State freshman Levonte "Kermit" Whitfield to sprint 100 yards with the kickoff.
But Auburn came right back with a 37-yard touchdown run by Tre Mason to regain the lead, 31-27.
Mason, a Heisman Trophy finalist, finished with 195 yards in 34 carries.
All that did was set it up for Winston's heroics.
He cooly drove Florida State 80 yards in seven plays, the big gain coming on a short pass that Rashad Greene turned into a 49-yard gain.
Green caught the ball in the right flat, split two Auburn defenders, and raced down the sideline.
Five plays later -- on the second play after an untimely Florida State penalty for delay of game -- Winston found Benjamin.
Florida State got a pass interference call on the next play, however -- Davis was called for being over Green's back -- moving the ball to the two with a first down.
Top-ranked Florida State capped a 14-0 season. Auburn fell to 12-2 in the final game of the BCS era.
---
Florida State 34, Auburn 31 (13 seconds left in fourth quarter)
When it counted, Jameis Winston came through.
His two-yard scoring pass to Kevin Benjamin has put Florida State in the lead.
Does Auburn have one more miracle?
---
Auburn 31, Florida State 27 (1:19 left in fourth quarter)
Tre Mason isn't super flashy, but he just showed why he was a Heisman Trophy finalist.
Mason just broke free on a 37-yard run for a touchdown.
He has run for 195 yards in 34 carries.
---
Florida State 27, Auburn 24 (4:31 left in fourth quarter)
Levonte ("Kermit") Whitfield just turned around a national championship game in 11 seconds.
That's how long it took him to run 100 yards.
Taking the kickoff at the goal line, he ran straight up the field for about 15 yards, cut to the left sideline, and scored without being touched.
If Whitfield looked fast -- very fast -- it's because he is. A freshman, he was the state high school champion in Florida last season in both the 100- and 200-meter sprints.
He came into the game averaging 30.8 yards in 13 kickoff returns. He had one previous touchdown.
---
Auburn 24, Florida State 20 (4:42 left in fourth quarter)
Auburn just did -- almost -- what it needed to do.
The Tigers answered Florida State's drive with a time-consuming -- 6 minutes 13 seconds -- that covered 69 yards in 13 plays and ended in a 23-yard field goal by Cody Parkey.
---
Auburn 21, Florida State 20 (10:55 left in fourth quarter)
Florida State just scored a huge touchdown, but in celebrating drew an even bigger 15-yard penalty for unsportsmanlike conduct.
It is unclear right now what drew the penalty, but the Florida State sideline was unhappy with running back Devonta Freeman, who was apparently talking some trash to the Auburn sideline from about 25 yards away.
Freeman had some key gains on what was a 56-yard drive set up by an interception.
Jameis Winston hit fullback Chad Abram with an 11-yard pass for the touchdown. Abram pulled in the ball and hurdled Cassanova McKinzy on his way to the end zone.
---
Florida State led the nation in pass interceptions, and the Seminoles just got to Nick Marshall for the first time.
P.J. Williams made a leaping grab of an underthrown pass intended for Sammie Coates.
Coates fumbled trying to return the ball, but Lamarcus Joyner recovered for Florida State.
The Seminoles have 26 interceptions this season.
---
Florida State starters are about to see one of their few fourth quarters of the season.
The top-ranked Seminoles trail No. 2 Auburn, 21-13, and have the ball at their own 32, third-and-seven, starting the final 15 minutes of regulation.
Florida State has converted on only two of 11 third-down situations.
---
Auburn 21, Florida State 13 (6:05 left in third quarter)
Florida State kicker Roberto Aguayo just proved again he is the next-best thing to automatic.
His 41-yard field goal has made this BCS championship game a one possession game.
Aguayo has made 21 of 22 field-goal tries this season, missing only a 43-yard try against Wake Forest on Nov. 9.
A 24-yard pass from Jameis Winston to Kevin Benjamin helped move the Seminoles into scoring position.
---
Florida State is already buried in poor field position on only its second possession of the second half.
The Seminoles first series lasted three plays: a short run followed by a sack and then an incomplete pass as quarterback Jameis Winston was hurried once again.
Auburn moved the ball onto Florida State's side and punter Steven Clark put a kick out at the nine-yard line.
Florida State will try to move from there.
---
Auburn leads Florida State, 21-10, at halftime of the Bowl Championship Series national title game at the Rose Bowl.
The difference: quarterback play.
Auburn's Nick Marshall has a leg up on Florida State's Heisman Trophy winning quarterback Jameis Winston, and that's why the Tigers have the lead.
Winston, who has been under a heavy rush, has completed six of 15 passes for 62 yards -- four of the completions to Rashad Greene for 63 yards. (Their two other connections went for no gain and a loss of one.)
Winston has run seven times for 28 yards.
Winston had a nice 21-yard scramble to help set up Florida State's only touchdown, but he also had a fumble that led to an Auburn touchdown.
Meantime, Marshall has completed seven of 13 passes -- each to a different receiver -- for 113 yards and two touchdowns. He also has 26 yards rushing in 10 carries.
Tre Mason, a Heisman finalist, has 96 yards in 19 carries for Auburn.
Florida State's leading rusher is Devonta Freeman, who has six carries for 46 yards. He gained 21 yards the first time he touched the ball but has been held in check since.
---
Auburn 21, Florida State 10 (1:28 left in second quarter)
We have a Jameis Winston sighting.
A brilliant scramble by Winston for a 21-yard gain put Florida State in position for a three-yard touchdown run by Devonta Freeman.
Freeman's run capped an 11-play, 66-yard drive that was kept alive on a fake punt.
On the fake, the ball was snapped to up-back Larry Lawson III, who gave it to Jesus Wilson on a reverse that went for a seven-yard gain.
---
Auburn 21, Florida State 3 (5:01 left in second quarter)
He has the Heisman Trophy on his mantel, but right now the BCS national title game looks a little too big for Jameis Winston.
Winston fumbled deep in Florida State territory, and six plays later Auburn was again in the end zone on a four-yard touchdown run by the other quarterback in the game, Nick Marshall.
Winston's fumble came when he was stripped of the ball by Angelo Blackson, who along with Ben Bradley put a heavy rush on the Florida State quarterback.
Linebacker Anthony Swain fell on the ball for Auburn.
Auburn scored six plays later, after Marshall gave the Tigers a first down with an 11-yard pass to Quan Bray on a third-and-six play.
---
Florida State dodges a bullet as a 33-yard field-goal try by Cory Parkey from the right hashmark stayed right.
Auburn leads, 14-3, with 7:54 to play in the second quarter.
Florida State has the ball at its own 20.
---
Auburn 14, Florida State 3 (13:48 left in second quarter)
Melvin Ray had four receptions for 58 yards this season coming into tonight's BCS title game.
He can add a 50-yard touchdown reception.
Ray was wide open in the middle of the field and quarterback Nick Marshall hit him in stride.
Auburn struck quickly for the score, thanks in part to a close call and some undisciplined play by one of Florida State's stars.
On Auburn's first play, Tre Mason broke loose for a 23-yard gain. However, the Tigers barely kept possession because Florida State's Jalen Ramsey stripped Mason of the ball and then recovered. Mason was ruled down, though, just before the ball came loose.
That was the call on the field, and a review by the replay official confirmed it.
On the next play, Florida State's Lamarcus Joyner was called for unsportsmanlike conduct when he shoved an Auburn player.
On the next play, Marshall connected with Ray.
---
Some first-quarter numbers as Auburn leads Florida State, 7-3:
Auburn leads in total yardage, 77-67.
Tigers quarterback Nick Marshall has completed five of eight passes for 53 yards with a touchdown. Florida State quarterback Jameis Winston has completed four of eight passes for 43 yareds.
Tre Mason of Auburn leads all rushers with 32 yards in eight carries. Devonta Freeman has 25 yards in two carries for Florida State.
---
Auburn's defense is playing great, holding lanes and keeping containment on Jameis Winston.
All that shows great discipline. But what happened when the Tigers forced Florida State to punt did not show great discipline.
The Tigers nearly blocked Cason Beatty's punt, but Johnathan Ford bumped him going by, prompting a roughing the passer call and an automatic Florida State first down.
---
Auburn 7, Florida State 3 (3:07 left in first quarter)
Great field position after an excellent punt is turned into a touchdown.
Nick Marshall hit running back Tre Mason with a short pass in the left flat, and Mason picked up a couple of great blocks and took the ball into the end zone without being touched.
This is the first time Florida State has trailed in a game since September against Boston College.
---
Florida State is getting a good rush on Auburn quarterback Nick Marshall.
Marshall was rushed into an intentioinal grounding penalty and hurried on another play on Auburn's second possession.
He overcame the intentional grounding call, which was prompted by a heavy rush by Mario Edwards Jr., by completing a 26-yard pass to Rashad Greene for a first down.
That got Auburn into Florida State territory, and even though the drive stalled, the Tigers came away with a big plus in the battle for field position.
Auburn punter Steven Clark put the ball down inside the one-yard line, and it bounced back to the two.
Florida State went no where from there, and after a 22-yard punt return by Chris Davis, Auburn takes over at the Florida State 25 with 5 minutes 18 seconds left in the first quarter.
---
Florida State 3, Auburn 0 (9:53 left in first quarter)
Jameis Winston, who has been known to start slow in some games, is off to a pretty good start in the BCS title game.
Winston completed three of five passes, including a key 29-yard gain on third-and-16, to put the Seminoles in field-goal range.
And Roberto Aguayo converted from 35 yards out.
Florida State's covered 64 yards in its drive, which stalled when Nosa Eguae sacked Winston for a two-yard loss.
---
No miracle catch by Auburn's Richardo Louis on a third-and-seven pass thrown short.
He was wide open for what would have been a first down deep in Florida State territory.
Instead, Auburn's first possession ends in a punt after three plays.
---
Florida State wins the toss, but defers.
Auburn and that top-ranked rushing offense will have the ball first.
Representing the teams at the coin flip were Bo Jackson for Auburn and Bobby Bowden for Florida State.
Temperature at game time: 69 degrees.
---
Tonight's game is the 54th meeting between teams ranked Nos. 1 and 2 in the Bowl Championship Series standings, coaches' poll or Associated Press media poll.
The top-rated teams have a 29-21-3 edge, including 8-7 in BCS title games.
A key matchup to watch: Auburn has the nation's top rushing offense, averaging 336 yards per game. Florida State is 13th in rushing defense, giving up an average of 116.5 yards per game.
---
They just showed Chris Davis' field-goal return against Alabama.
For a minute, I thought Auburn fans were going to storm the Rose Bowl field.
---
It is about 50 minutes from kickoff of the Bowl Championship Series title game at the Rose Bowl, and Auburn and Florida State fans seem raring to go.
The Florida State faithful just finished yet another tomahawk chop chant and there have been War Eagle cries around the Arroyo Seco for the last couple of hours.
Top-ranked Florida State (13-0) will be trying to complete an undefeated season. Auburn (12-1) fancies itself as a team of destiny with a couple of key wins coming on unusal plays.
There was the tipped pass against Georgia and the field-goal return against Alabama.
Columnist Bill Dwyre is the lone L.A. Times expert picking Auburn. His score: 21-17.
Columnist Bill Plaschke said Florida State "huge," then put a score of 45-10 on it.
In this morning's newspaper, USC football beat reporter Gary Klein picked Florida State, 44-24, and national football writer Chris Dufresne took the Seminoles, 40-35.
Same context: Dwyre, Klein and Dufresne all took Stanford in the Rose Bowl, and yours truly took Michigan State by a point -- they won by four.
My choice tonight: Florida State, 34-24.
ALSO:
BCS final: It's a team of domination vs. a team of determination
BCS championship game: How Auburn and Florida State match up
Florida State vs. Auburn: Story lines for the BCS championship game
---
Get our high school sports newsletter
Prep Rally is devoted to the SoCal high school sports experience, bringing you scores, stories and a behind-the-scenes look at what makes prep sports so popular.
You may occasionally receive promotional content from the Los Angeles Times.