Manny Pacquiao vows to show Timothy Bradley his 'killer instinct'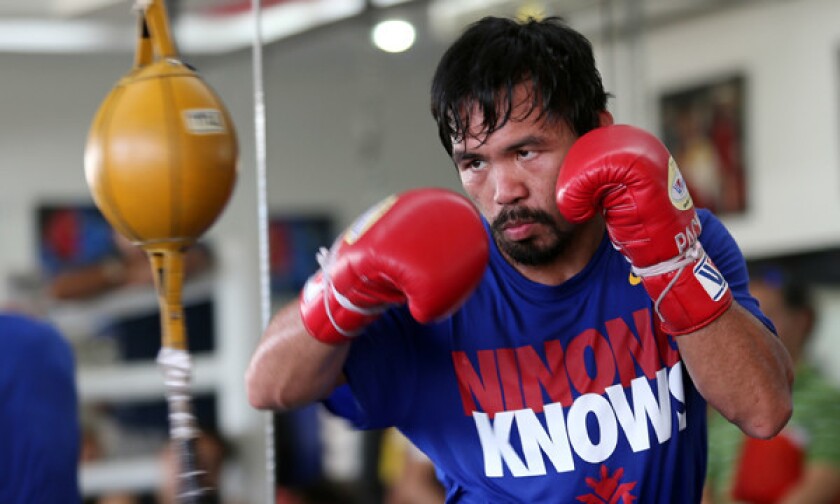 Manny Pacquiao usually remains polite, but he hasn't taken kindly to a recent assessment from April 12 foe Timothy Bradley that he's lost his killer instinct.
Bradley (31-0, 12 knockouts) repeated that thought to Pacquiao's face in a recent HBO taping, prompting Pacquiao (55-5-2, 38 KOs) to respond to his trainer, Freddie Roach: "Do you believe he said that to me?"
Roach told the Los Angeles Times on Tuesday that Pacquiao is dedicating his training camp at Hollywood's Wild Card Boxing Club to the pursuit of knocking out Bradley on April 12 at the MGM Grand in Las Vegas.
Pacquiao, who skipped Tuesday's planned workout due to a mild cold, hasn't knocked out an opponent in seven fights after defeating Miguel Cotto by technical knockout in November 2009.
Two years ago, Pacquiao dominated punch statistics against Bradley, who was reduced to appearing
at the post-fight news conference in a wheelchair, but now-retired Nevada judges Duane Ford and C.J. Ross awarded Bradley a narrow split-decision win.
"Manny's not the kind of guy who gets too [ticked] off, but that really made him not like Bradley," Roach said. "He disrespected Manny. Instead of saying the first fight was close ... to say, 'You've lost that killer instinct and I'm going to beat you...'"
Roach said Pacquiao was knocked out by Juan Manuel Marquez in late 2012 by displaying that killer instinct late in a sixth round he was dominating, and then cruised to a 2013 victory over Brandon Rios.
Asked if he took delight in seeing Pacquiao miffed and motivated by Bradley, Roach said: "Oh, yeah, of course."
The trainer, in prepared remarks, elaborated in a colorful news release issued Tuesday in which he noted Bradley's narrow decision despite being knocked down in the 2013 fight of the year against Ruslan Provodnikov.
"The first fight with Bradley was so easy for Manny that after six rounds he just took it easy on him. Not this time," Roach said. "Our mantra is 'Close the show. No mercy.'
"Bradley says he fought Manny last time with two bad feet. I don't remember him coming into the ring in a wheelchair. He hurt his feet when Manny connected his power punches on him.
"For Bradley to say 'Manny doesn't have the hunger anymore and it's never coming back,' and 'Manny no longer has his killer instinct,' that tells me that Bradley is still suffering from the concussion Provodnikov laid on him."
Pacquiao sparring partners, including Roger "Speedy" Gonzalez, said Pacquiao is showing his typical high energy, power and speed in training sessions.
The winner of Pacquiao-Bradley is due to fight the May 17 Juan Manuel Marquez-Mike Alvarado winner later in the year, promoter Bob Arum has said.
Yet, it's still uncertain if Pacquiao will return to the ring this year amid some concern the public is tired of a possible fifth Marquez fight and the thinning pool of possible opponents for him in the Top Rank stable.
"The pool is getting smaller and smaller," Roach said. "I would love for Manny to fight Mikey
Garcia," but that would require a three-division leap in weight.
Top Rank and rival company Golden Boy Promotions haven't worked together on a major fight since Pacquiao knocked out Ricky Hatton in May 2009.
Floyd Mayweather Jr., who works alongside Golden Boy, has said he'd like Pacquiao to split with Arum before he'd agree to a super-fight, but Pacquiao advisor Michael Koncz is among those who doubt Mayweather truly wants the fight and to seriously risk his unbeaten record.
"That's not even in our mind," Koncz said of dialogue with Mayweather.
Pacquiao's frustration with Mayweather's excuses led to the Filipino fighter telling reporters in his home country that they should fight and donate the profits to charity.
Arum and Koncz said Pacquiao is committed to Top Rank through the end of 2014, but it's uncertain if they can finalize an extension before the Bradley fight that would clinch a second fight this year.
Mayweather fights world welterweight champion Marcos Maidana on May 3.
---
Get the latest on L.A.'s teams in the daily Sports Report newsletter.
You may occasionally receive promotional content from the Los Angeles Times.