Chris Paul celebrates renovation of Salvation Army community center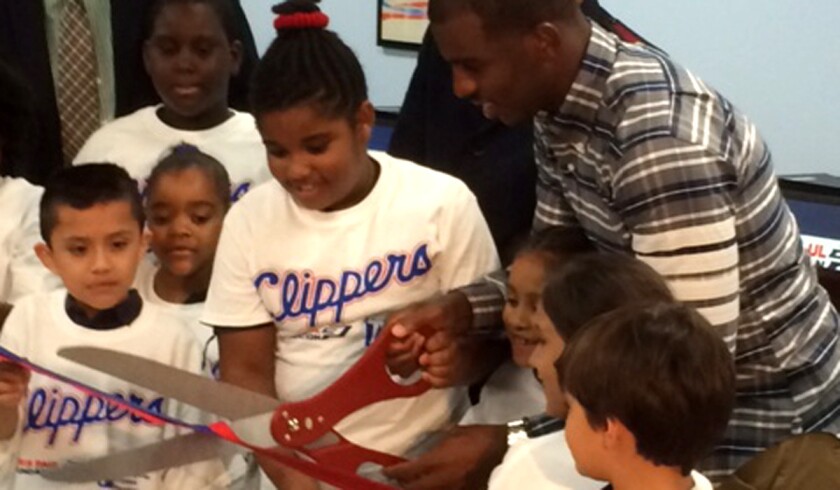 The memory remains fresh in Chris Paul's mind. He had just been traded to the Clippers from the then-New Orleans Hornets in December 2011 when he made his first visit to the Salvation Army Siemon Family Youth & Community Center in South Los Angeles.
It was one of the first places he visited in the city before it truly felt like home.
"It will always definitely have a special place in my heart," Paul said.
The All-Star point guard returned Monday to celebrate the unveiling of a renovated media and technology lounge, library and game room made possible by donations from the Clippers Foundation and Paul's CP3 Foundation.
The media and technology lounge featured more than two dozen state-of-the-art computers, a Smart board, e-readers and tablets. Children dutifully pecked away on iPads in the library and gleefully gathered around the pool table, big-screen television and basketball shooting apparatus set up in the game room.
"It's all about having an opportunity and it's one of those things that we as people and as communities, we have to sort of try to make it an even playing field at some point," Paul said, referring to the disadvantaged community that the center serves. "You think about computers and technology and how the world is so technical now, and you just want to make sure the kids have an opportunity to do that."
Paul told the children gathered inside the technology lounge that he wanted them to put the new computers to good use.
"Don't see these computers and think that it's all about games, right?" said Paul, who was joined at the event by his mother, Robin, and older brother, C.J. "You have to try to use these things as learning tools. I tell it to my own kids. I don't even let my kids play with iPads or anything like that during the week because it's all about learning and trying to get smarter."
Paul then asked the children who was the smartest one in the room, prompting each of them to raise their hands.
Later, Paul said he was giving back to the community because it was important to him, not because it was part of a public relations campaign to make himself look good.
"I tell people all the time because they ask celebrities and athletes, 'Should [you] have to give back?' " Paul said. "I don't think you have to do anything. I think you have to want to do it. People know when it's genuine."
Paul said he was "excited to be back" in L.A. after a summer in which he introduced President Obama as part of an initiative to help young men of color; helped run his summer youth tournaments and camps; and taped the newest installments in his State Farm Insurance ad campaign, which will debut on Christmas. The Clippers will hold media day on Sept. 29 before commencing training camp in Las Vegas the next day.
"I'm happy to be home for a little while and get some sense of normalcy and get back on the court," Paul said, "and this was the perfect way to end the summer."
Paul credited his mother with doing "all the work" in helping to renovate the three rooms inside the community center. He spends time here every Thanksgiving helping to give away food and other goods to the community.
"Coming here the first time, I'll never forget it because it was really my first opportunity to sort of have some type of impact on L.A.," Paul said. "I never knew back then that it would be what it is now."
---
Get our high school sports newsletter
Prep Rally is devoted to the SoCal high school sports experience, bringing you scores, stories and a behind-the-scenes look at what makes prep sports so popular.
You may occasionally receive promotional content from the Los Angeles Times.