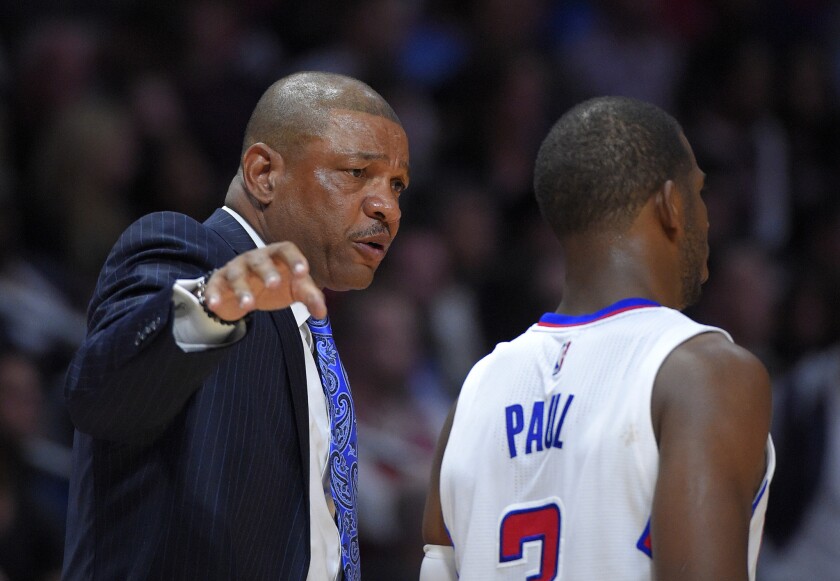 The Clippers blew a 14-point lead and lost, 105-89, Monday to a Chicago Bulls team that was playing without Derrick Rose and Pau Gasol.
After the game, the Clippers weren't lamenting their offense or defense. They were discussing trust issues -- arguably a much harder problem to fix.
"I thought our trust was broken today, offensively," Coach Doc Rivers said. "I thought we all tried to do it individually, and that's the old way we played where there's no ball movement, the ball is in one spot."
The Bulls had 28 assists. The Clippers had 20. The Bulls finished with six players who scored in double digits. The Clippers finished with four.
It's not the type of problem you'd expect from a team that returned all five starters from last season. This is not a new group of guys feeling each other out. They know each other, made it to the second round of the playoffs together.
The team's core -- Chris Paul, Blake Griffin and DeAndre Jordan -- have played together for four seasons now. The significant new pieces are Spencer Hawes and Jordan Farmer, both reserves.
Griffin said the problem isn't necessarily a matter of trust, but of genuinely and whole-heartedly buying into the team's approach, becoming one.
"Once we do that, we'll be fine," Griffin said. "We just have to trust. That's what it is. When we get down, we just have to keep going and keep pushing through it. This season is full of ups and downs. We can't get too flustered with the lows or too full of ourselves with highs -- just keep that even keel."
Paul said the Clippers' trust level was "not where it needs to be. And a lot of that falls on me with offensive execution .... We just have to keep playing with the right spirit. Everybody on our team wants to play so well every night, so when we don't, and shots don't go, we tend to hang our heads. We just have to stay the course."
The Clippers have been criticized this season for underperforming. What's not working?
Paul said that Rivers recently reminded him that last year the Clippers started the season 4-3. They went on to make the playoffs and had a chance to contend for the championship. Right now they're 5-4.
Paul said that helped put things into perspective.
The Clippers leave for a seven-game, 12-day road trip Tuesday, and Paul said that gives the team the perfect opportunity to build trust.
"We really got to be together when you go on the road and it's going to be a big test for us," Paul said.
---