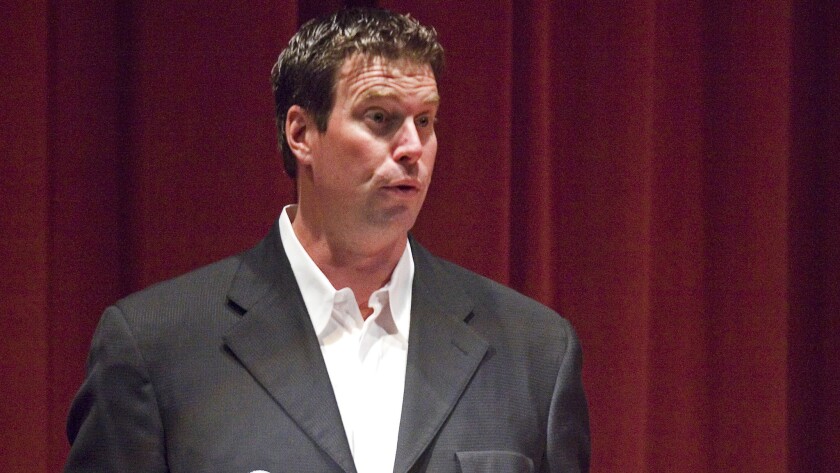 The NFL's image has taken a beating in recent years with the New Orleans Saints bounty scandal, ongoing questions about player head injuries, its stance toward domestic violence and, of course, "Deflategate."
And now Ryan Leaf is calling the league out on it.
Yes, the same man who saw his NFL dreams turn into a nightmare before getting into numerous run-ins with the law is out of prison and sharing what he thinks about the controversy surrounding the NFL's investigation into whether the New England Patriots used underinflated balls during the AFC championship game on Jan. 18.
On Monday, the former San Diego Chargers quarterback posted to Twitter: "It's troubling that the NFL can find the video of a locker room attendant in a week and never see the Rice elevator video ever!"
Leaf was referring to a Fox Sports report that the NFL has been provided video of an attendant taking game balls from the game officials' locker room and into another room at Gillette Stadium before the contest against the Indianapolis Colts. The NFL is trying to determine whether wrongdoing by that individual occurred, Fox Sports reported.
Still, Leaf makes a decent point. If the NFL's probe into "Deflategate" is anything like its investigation of Ray Rice, we'll probably never know what really led to the balls being underinflated.
As for Leaf, the second-overall pick of the 1998 NFL draft, he remains on probation after being released from prison on Dec. 3 following his 2012 conviction on burglary and drug charges. Leaf, 38, retired from the NFL in 2002.
Perhaps we can expect more tweets from Leaf regarding the NFL and "Deflategate" in the days ahead.
---