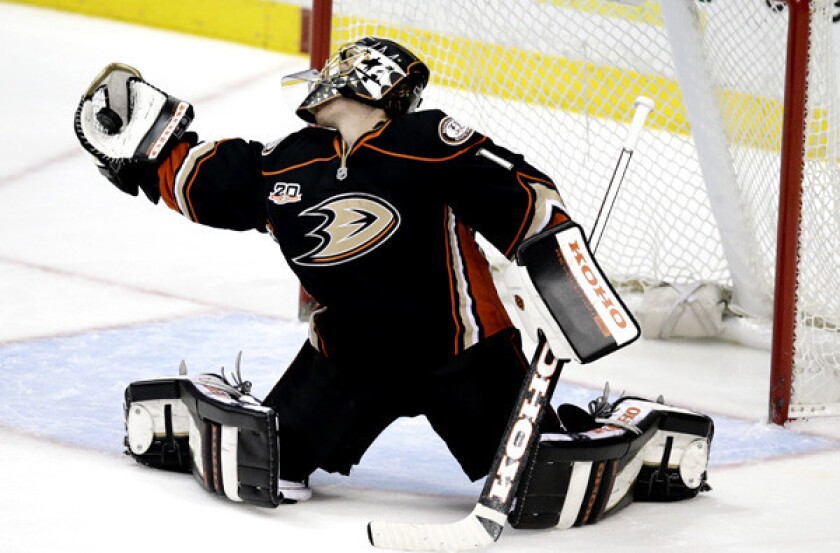 GLENDALE, Ariz. -- Ducks' goalie Jonas Hiller will seek his 13th consecutive victory Saturday night against the Phoenix Coyotes, and should he win, Hiller said he's capable of playing the next two games as well.
The Ducks (33-8-5), having won 15 of their past 16 games, return to Honda Center for a 5 p.m. game Sunday, then play at home against the Vancouver Canucks on Wednesday.
They are 18-0-2 at home.
"With back-to-backs, the second game's not usually the problem," Hiller said. "It's the third game, but having an extra day [of rest] it shouldn't be too big of a deal."
Hiller hasn't lost since Nov. 26 at Dallas. He's previously been spared back-to-back showings during the streak, as Ducks Coach Bruce Boudreau gave Frederik Andersen starts Nov. 29 versus Calgary, Dec. 7 at St. Louis and Dec. 2 at San Jose.
But Hiller did go Nov. 22-23, beating Tampa Bay and Phoenix, and it's uncertain how many starts the Ducks will give 20-year-old prospect John Gibson, who was summoned from minor-league Norfolk to replace Andersen on Friday.
Boudreau hedged committing to either Hiller or Gibson for Sunday, saying he was "serious" about the idea of letting Gibson play.
"I don't know when," Boudreau said. "A lot depends on Hiller too. Let's see how he feels after tonight … 5 o'clock game tomorrow, you might even see Gibson in that game. Who knows?"
Hiller's streak is the longest in the NHL since Martin Brodeur won 12 straight for the New Jersey Devils in 1997. Should Hiller win Saturday, he'd be one of only eight in league history with 13 straight victories.
"You always want to win, but I'm thinking more like, 'When is it going to end?' " Hiller said. "But you want to make sure it's not going to end the next game.
"On the ice, it's just about stopping pucks and playing well. I'm not going to worry about all that stuff, and stats, out there."
Hiller said the historical ramifications of his feat "are pretty cool, it's the only stat I'll tie [Brodeur] in in my life … at the same time, I'm playing on a good team that wants to win every night and that's a big part of it.
"You can play as well as you want, but if the guys in front of you are not on the same page, it's not going to work out. Having that success as a team is what makes these kinds of stretches the most fun."
Defenseman Ben Lovejoy said the team is aware of, but not obsessing over, Hiller's streak.
"We all have the same goal – we want to be the best team in the NHL, we want to win the Stanley Cup," Lovejoy said. "We know we're not going to do that in January. This streak will mean very little come the end of the season, come playoff time.
"We're trying to do everything we can to be better. We like Jonas winning, we like winning, but that streak will eventually end and nobody will remember it unless he doesn't lose a game until Game 4 of the Stanley Cup Finals."
Lance.pugmire@latimes.comTwitter: @latimespugmire
---