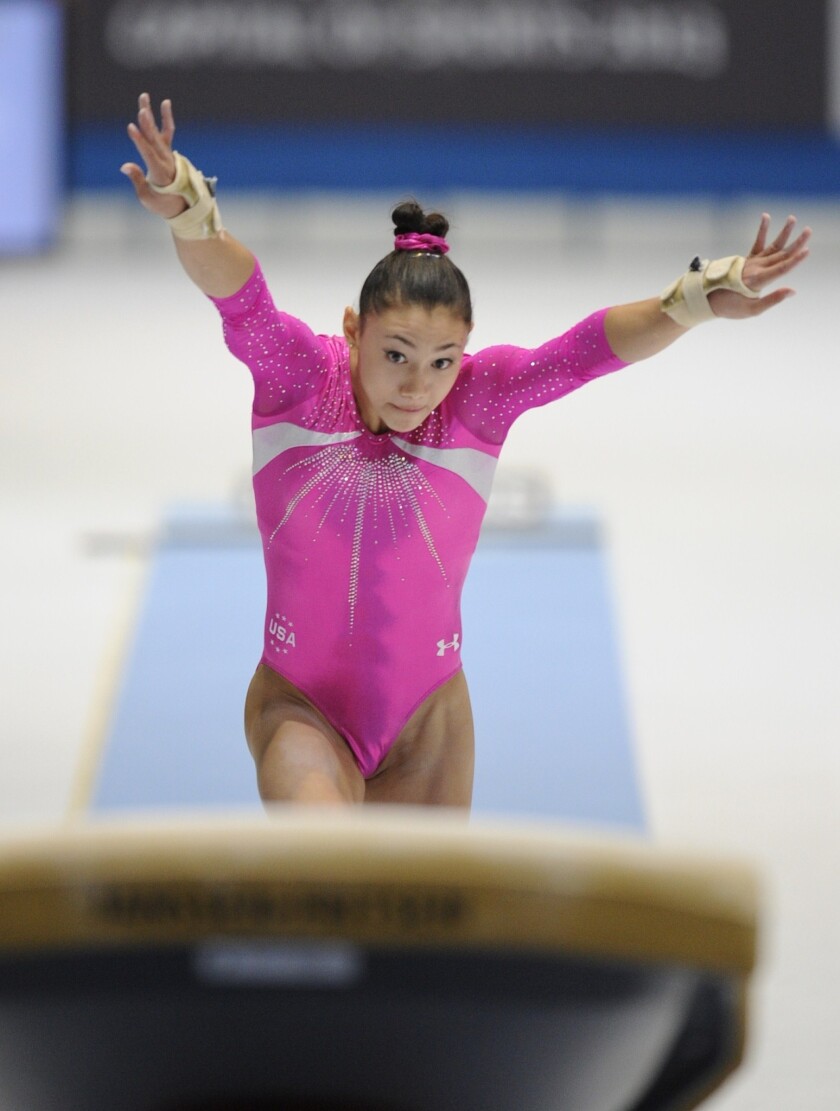 Simone Biles and Kyla Ross gave the U.S. women's gymnastics team the top two places in the all-around competition Friday in the 2013 World Championships at Antwerp, Belgium.
Biles scored 60.216, just ahead of the 59.332 by Ross, a 16-year-old from Aliso Viejo who was part of the U.S. Olympic gold-medal-winning gymnastics team at the 2012 Games in London. It's the third time in history the U.S. has won gold and silver all-around world championship medals.
"It hasn't sunken in yet," Biles said of being world all-around champion. "I am sure it will eventually, but we still have event finals, so we can't get too excited about it yet. But I know what I have done is a huge accomplishment and I am very happy. During the event Kyla and I just talked about our routines, and we are best friends, and we thought, 'Wow, this is Worlds!' I still can't believe it."
Ross also was awarded the Longines Prize for Elegance, which is given to the most elegant gymnast as determined by a voting jury. Kohei Uchimura of Japan, who won the men's all-around title, was the men's recipient.
"I think today was a really great competition, and I had a lot of fun out there, especially competing with Simone, who is so much fun to have around," Ross said. "I had solid routines, and I was happy to end up strong on floor and to win the Longines Award for Elegance. It was such an honor, and to be on the stage with Kohei was amazing. It is really nice that people associate my gymnastics with elegance."
The U.S. also took the top two spots at the world championships in 2005 when Chellsie Memmel won gold and Nastia Liukin took silver and in 2009 when Bridget Sloan won gold and Rebecca Bross earned the silver. Biles is the seventh U.S. woman to win the world all-around title joining Kim Zmeskal (1991), Shannon Miller (1993 and 1994), Shawn Johnson (2007), Jordyn Wieber (2011), plus Sloan and Memmel.
The remaining competition schedule, along with the U.S. athletes competing, is: Saturday, men's floor exercise with Americans Steven Legendre and Jake Dalton; still rings with American Brandon Wynn; women's vault with defending world champion McKayla Maroney of Long Beach and Biles; and uneven bars with Americans Ross and Biles; and on Sunday, parallel bars with Americans John Orozco and Wynn; horizontal bar with American Sam Mikulak (of Newport Coast); uneven bars with Americans Ross and Biles; and floor exercise with Ross as one of the six competitors.
ALSO:
Alex Rodriguez sues MLB, says Bud Selig is out to destroy him
Angels slugger Albert Pujols sues Jack Clark over PED allegations
Dusty Baker won't return as Cincinnati Reds manager, report says
---