Kings' Justin Williams talks about eye injury suffered against Stars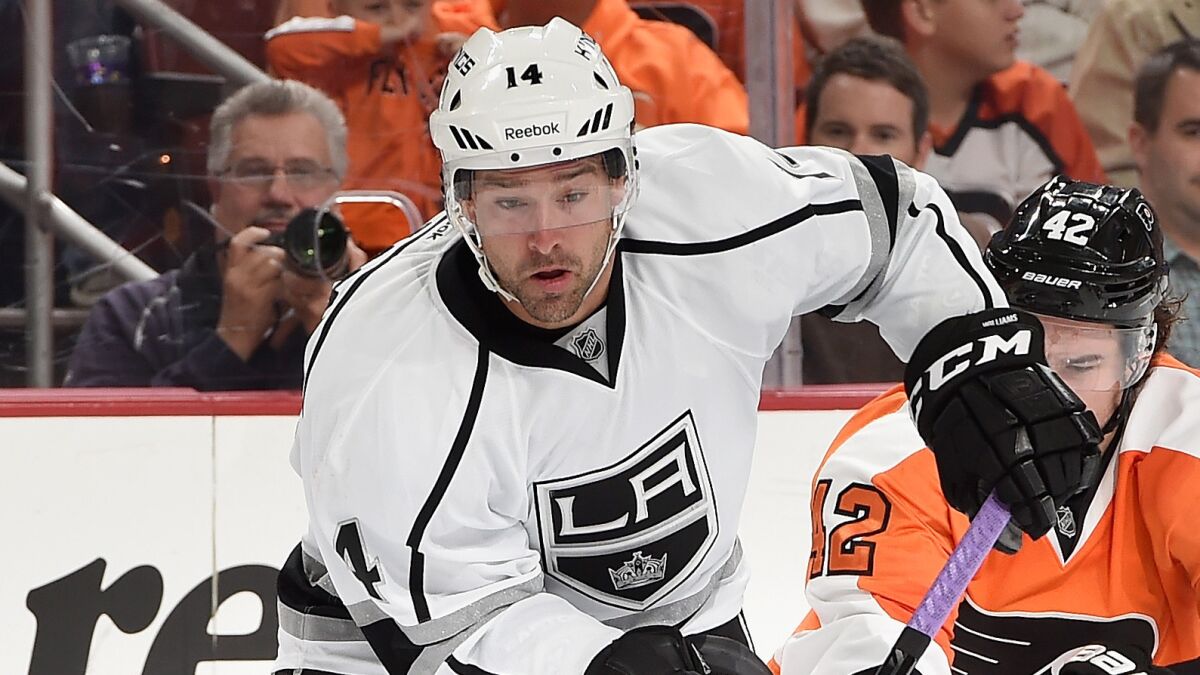 Kings right wing Justin Williams felt like he "dodged a bullet" when he avoided suffering a shoulder injury in Detroit last week.
And now?
"I'm all in one piece still, so it's all right," Williams said Wednesday with a little laugh.
Williams escaped what could have been a serious eye injury Tuesday night in Dallas. Blurred vision in his right eye will force him to miss at least one game, starting with Thursday night against the New York Islanders at Staples Center.
The injury occurred in the final minutes as the stick of Stars defenseman Brendan Dillon came up under the visor of Williams and clipped near him near the eye. He left the game immediately for treatment.
Williams was examined by a doctor at the arena in Dallas, flew home with the Kings and said he saw a local doctor Wednesday morning. There is "a little scratch" of the eye but his cornea is fine.
"Still blurry right now but that will subside in a few days," Williams said. "Initially, it's pretty scary. You get hit and it's like getting poked in the eye and you can't see anything for a little bit.
"It scares you. The doctor tells you are going to be fine and then you're OK. There are times when things happen during a hockey game that frighten you and that was certainly one of them.
"You get clipped near an eye and it can scare you, certainly."
Williams also needed a couple of stitches on the top of his eye lid, and his availability beyond Thursday will depend on how quickly the swelling goes down.
Among the Kings, Williams had the longest running active streak of games played — 225, dating back to the beginning of the 2011-12 season. He suffered a dislocated shoulder on March 21, 2011 and missed the rest of the regular season.
Kings Coach Darryl Sutter has spoken about his serious eye injury during his playing days. In Chicago, Sutter took a slap shot from teammate Doug Wilson to the face in a game at Minnesota in January, 1984.
The serious eye and facial injury put him in the hospital in Minnesota. Sutter would later tell the story of how one of his hospital visitors was the good-humored Glen Sonmor, who walked in and told Sutter that Sonmor might not be the guy he wanted as a visitor. Sonmor, who coached the Minnesota North Stars three separate times, had lost his left eye in an NHL game in 1955, ending his career.
Sutter would go on to play parts of three more seasons with the Blackhawks beyond that one.
Big minutes
Drew Doughty played a season-high 31 minutes 46 seconds against the Stars, another significant assignment for the No. 1 defenseman. He is filling a larger role because top-four defenseman Slava Voynov has been suspended indefinitely after an arrest last month on suspicion of domestic violence.
The next step in Voynov's legal situation isn't expected to come until later this week or even next week, according to Redondo Beach police.
Sutter said the increased workload has not been easy for Doughty.
"It's a whole different deal here now with the way guys are used and it affects us," Sutter said. "Drew is a guy that's going to thrive in that role, whereas some guys maybe don't want it as much. Drew does."
He now compares other defensemen to Doughty.
"That was the first thing when I came here," Sutter said. "Everybody asked about that comparison. Now it's the other way around. Now guys are compared to Drew. It's not the other way around.
"The game's changed a lot. I've been fortunate to have been around a lot of great defensemen. None of them are the same as Drew. And those guys were Hall of Fame guys too.
"Drew, at his age, has accomplished a lot already. And he's beginning to accomplish what he wants to. There's lot of young defensemen like that in the game, very comparable players, if you look at all those guys who play both ends of the ice."
THURSDAY
VS. N.Y. ISLANDERS
When: 7:30.
On the air: FS West. Radio: 790.
Etc.: Two players with links to the Kings are among the Islanders' top six defensemen: Lubomir Visnovsky and Thomas Hickey. Visnovsky, now 38, played seven seasons with the Kings. Hickey, a first-round draft pick of the Kings in 2007 (fourth overall), never played an NHL game for them and was claimed off waivers by the Islanders in 2013.
---
Get our high school sports newsletter
Prep Rally is devoted to the SoCal high school sports experience, bringing you scores, stories and a behind-the-scenes look at what makes prep sports so popular.
You may occasionally receive promotional content from the Los Angeles Times.