Kings' Milan Lucic suspended for 'sucker punch' in loss to Coyotes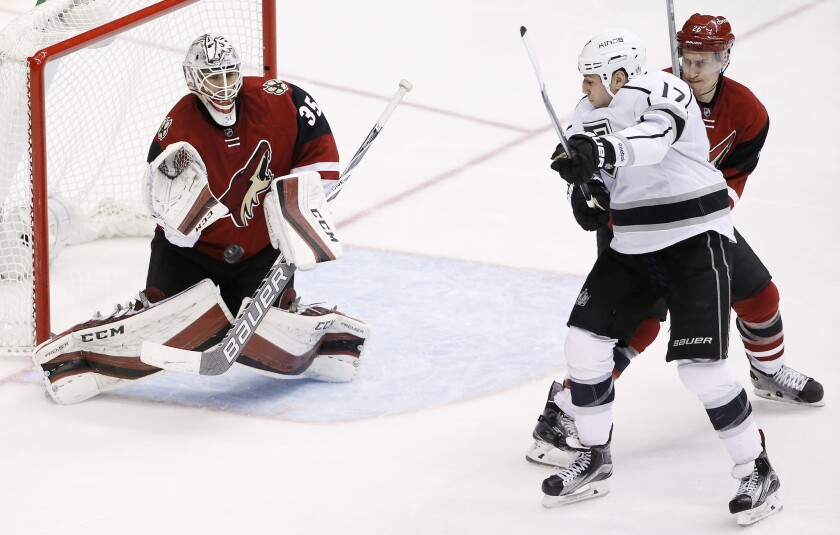 Kings left wing Milan Lucic was suspended for one game for punching Arizona Coyotes defenseman Kevin Connauton in the head during Saturday's 3-2 loss.
The ruling was announced hours before the Kings played at San Jose on Sunday night.
Lucic delivered what NHL Player Safety called a sucker punch to Connauton after Connauton slashed him and received a two-minute roughing minor and a game misconduct in the third period. Connauton received a minor slashing penalty but remained in the game after his penalty expired.
The problems for Lucic began at 6:55 of the third period, with the Kings down a goal. Connauton gave Lucic a nasty two-handed slash to the wrist.
Lucic, visibly angered, went after Connauton and cuffed him on the side of the head, earning a two-minute roughing minor plus a game misconduct. Connauton received a minor slashing penalty on the play, but remained in the game once his penalty expired.
"In this situation Connauton has no reason to believe a punch may be thrown by Lucic. The play had been blown dead several seconds earlier and Connauton was in no way engaged with Lucic," the Department of Player Safety said in a video explaining Lucic's suspension. "After the whistle blows, Lucic finds Connauton, skates to him and delivers a punch to his head at a moment when connauton has no way to defend himself in any manner.
"This is not an situation in which two or more players are squaring off in confrtontation. In those situations, it may be reasonable for a player to expect a confrontation to escalate and possibly escalate quickly. With rare exceptions, any punches thrown in those situations can be adequately penalized by the on-ice officials."
Lucic had the wrist X-rayed, and the test showed no broken bones, though after the game, he told The Times and the Kings' website that he thought his wrist had been broken on the play.
He was also critical of referee Brad Meier's call, saying: "If I don't react, I don't think he even calls a penalty. The same guy, Brad Meier, I think this is the fourth time he's kicked me out of a game.
------------
For the record
2:11 p.m.: An earlier version of this post incorrectly spelled referee Brad Meier's last name as Maier.
------------
"It's always the same thing with him. Guys can take liberties on me and it's not a penalty. If I do something, I'm automatically kicked out of the game. It's just unfortunate it is that way with him. Just gotta move on and not get frustrated by the referees in the game."
With Lucic out, it likely means Jordan Nolan draws back in the lineup against the Sharks. Nolan, who was a healthy scratch against the Coyotes, is the extra forward on the trip.
According to the NHL's official report on the matter, league officials are considering supplemental discipline regarding the roughing penalty and the punch. The league's department of player safety also retains the right to make adjustments to the infraction on review.
Lucic has been fined four times and suspended twice before as a member of the Boston Bruins, according to NHL Player Safety. He received a one-game suspension for a cross check to the head of Montreal's Maxim Lapierre in the 2009 playoffs and one game for an illegal hit to Philadelphia's Zac Rinaldo in 2011.
Lucic received a match penalty for retaliating on San Jose's Logan Couture in the Kings' season opener in October but did not serve the automatic suspension after the league reviewed it.
Follow Curtis Zupke on Twitter @Curtis Zupke
Follow Lisa Dillman on Twitter @reallisa
---
Get our high school sports newsletter
Prep Rally is devoted to the SoCal high school sports experience, bringing you scores, stories and a behind-the-scenes look at what makes prep sports so popular.
You may occasionally receive promotional content from the Los Angeles Times.