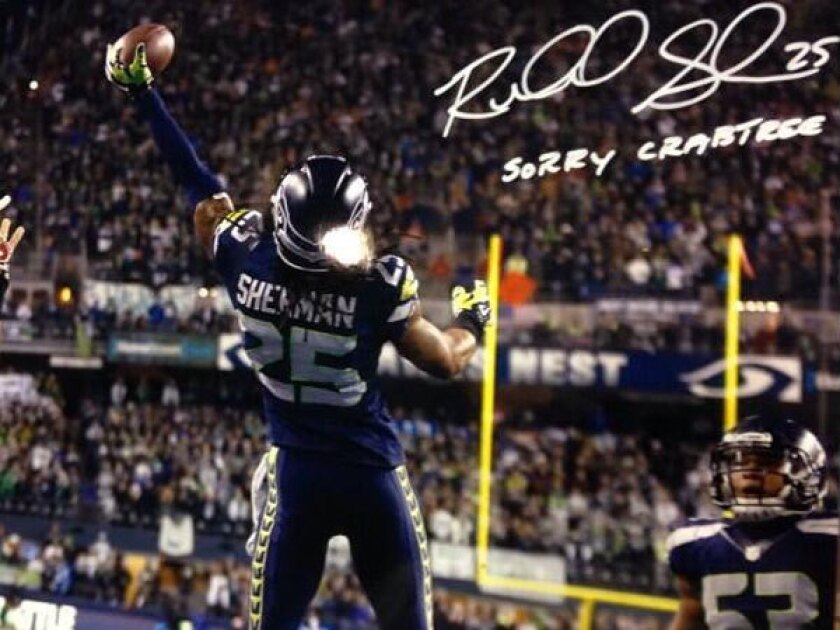 Richard Sherman appears to have changed his tune again.
First, the Seattle cornerback trashed San Fransciso's Michael Crabtree during a postgame interview at the NFC championship, moments after tipping the ball away from the 49ers receiver in the end zone and propelling the Seahawks into Super Bowl XLVIII.
In an interview several days later, however, Sherman admitted he felt bad for the personal attack on Crabtree, saying it "was uncalled for."
But now it seems Sherman isn't quite done dissing Crabtree about that play. An image first tweeted out by Steiner Sports Memorabilia shows that Sherman has autographed a photo of that famous endzone tip with the words "Sorry Crabtree."
Is it a sarcastic apology? Or is it Sherman at his wittiest, using the same word to describe Crabtree as he did during that postgame rant ("a sorry receiver like Crabtree ...")?
Either way, you can be sure there are Seahawks fans out there who can't wait to get their hands on one of those. But be forewarned.
It's not up for sale on the Steiner website yet, but a photo featuring Sherman with New England Patriots quarterback Tom Brady is. That one -- autographed by the Seattle defender with the words "U mad Bro?" -- is going for $249.99. And that's without a frame.
It seems authenticated Richard Sherman insults don't come cheap.
---