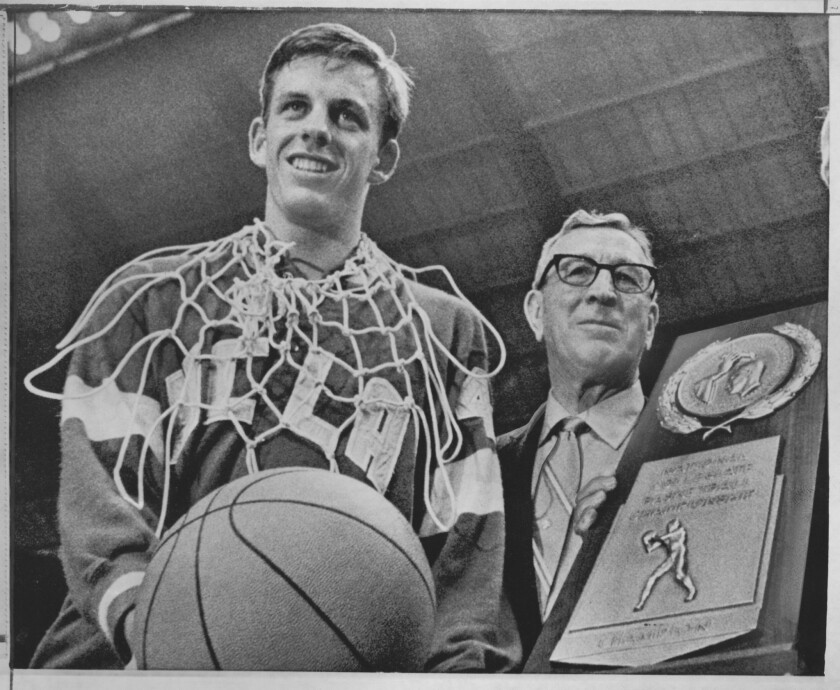 A former Jacksonville University basketball coach claims in a new book that the school's 1970 NCAA title game against UCLA was -- how would one put this delicately? -- rigged.
Thomas Errol Wasdin was an assistant on the Jacksonville Dolphins team that made a surprise run to the title game before losing to John Wooden's powerhouse Bruins.
Wasdin, in his memoir, "Once a Coach, Always a Coach," written with award-winning Florida-based sportswriter Peter Kerasotis, claims that "the message we got was that we weren't going to win because the officials weren't going to let us. The Establishment didn't want it. Our chances were very thin."
But why? Jacksonville, Wasdin says, was considered a renegade program that didn't conform to establishment rules. The Dolphins wore "Afro" haircuts and warmed up before games to "Sweet Georgia Brown," the song associated with the Harlem Globetrotters.
Jacksonville players, led by 7-foot-2 center Artis Gilmore, used to dunk during warm-ups even though the slam dunk had been outlawed in college basketball.
Wasdin notes that UCLA shot 35 free throws in the game, compared with just eight for Jacksonville. Yeah, so? Well, how could that be if Gilmore was being guarded by Sidney Wicks, who was only 6-foot-8?
Jacksonville averaged 29.3 foul shots per game that year. Wicks is remembered in that game for several spectacular blocks against the taller Gilmore. Yet, Wasdin claims that many of the blocks should have been "goal tending" calls because Gilmore was shooting down at the basketball as he released his hook shot.
Even UCLA players interviewed for the book don't argue that point. OK, but does that really constitute a conspiracy?
The book notes that UCLA shot 27 more foul shots than Jacksonville, still the largest title-game differential in NCAA history. The second-highest differential is Arizona's 24 foul-shot advantage in its win over Kentucky in 1997.
Did "The Establishment" not want Kentucky to win that year?
Here's the most compelling counter-argument to Wasdin's theory: UCLA won the game by 11 points, 80-69. It was UCLA's fourth straight NCAA title and its sixth in seven seasons. UCLA was really, really, REALLY good. John Wooden's players were excellent and disciplined defenders who did not foul a lot.
The chapter on the 1970 game was titled "This time Goliath won ... with some help."
But wait a minute: Wasn't it Jacksonville that had Goliath in Gilmore? And wasn't Sidney Wicks more like David?
ALSO:
49ers might already be finished with Aldon Smith
Felix Trinidad reaches debt deal after alleged $63-million loss
UFC's Joe Rogan says Rounda Rousey would beat Floyd Mayweather
---