UFC's heavyweight king Cain Velasquez returns to action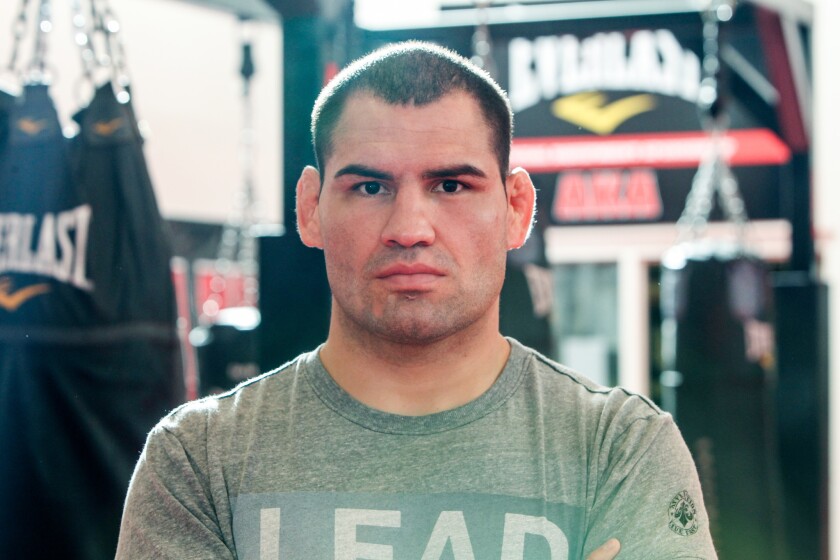 In Oct. 2013, Cain Velasquez was on top of the world. The soft spoken and fiercely determined UFC heavyweight champion had finished his trilogy with the second best heavyweight in the world, Brazil's Junior Dos Santos. Dos Santos is the only man to ever defeat Velasquez.
In their third fight, Velasquez destroyed his top career rival with overwhelming pressure and cemented his status as the top heavyweight of his generation. There was serious discussion as to whether Velasquez was now MMA's best all time heavyweight, passing even the legendary Russian Fedor Emelianenko.
Velasquez hasn't fought since.
A fight between Velasquez and top challenger/now interim heavyweight champion Fabricio Werdum was initially delayed in order to film and air the first season of Ultimate Fighter: Latin America. The payoff was to come in November 2014 at the UFC's first event in Mexico, UFC 180. Unfortunately, Velasquez suffered a torn meniscus and sprained MCL, forcing him to withdraw from the fight less than a month out. After a lengthy rehabilitation process, Velasquez will finally return to action this Saturday night at UFC 188. Following the nearly two year layoff, he will seek to remind fans of what a dominant force he was before his unfortunate hiatus.
While Velasquez missed out on the opportunity to fight on the first UFC card in Mexico, he will have a second chance to compete in the country of his heritage. UFC 188 takes place in Mexico City, with the UFC seeking to grow in popularity in the fight friendly nation. UFC has a strong television deal with the powerful Televisa network and Velasquez is the promotion's most high profile Mexican or Mexican-American star. Fighting in Mexico was important to Velasquez from the beginning of his MMA career.
"That was definitely the one place I thought I wanted to fight," Velasquez says. "As far as everywhere else, I was happy to fight wherever but one day I thought I'll get to fight in Mexico. That was always in my head."
As far as nationalistic MMA rivalries go, Velasquez doesn't have the ideal opponent for UFC 188. The formula for such rivalries has usually been simple: the foreigner antagonizing the local favorite. That was the case when Japanese icon Kazushi Sakuraba was knocked out by the menacing "Axe Murderer" Wanderlei Silva, American Dan Henderson fended off the challenge of cocky Brit Michael Bisping, Matt Serra took cheeky shots at Canadian hero Georges St. Pierre or just about anyone not from Brazil had the nerve to travel to Brazil to fight just about anyone from Brazil.
Fabricio Werdum has challenged that narrative. The Brazilian fighter lived for many years in Spain and became fluent in Spanish. He does Spanish commentary for the UFC and has lived some in Mexico. He is also known for his friendly, outgoing personality that has made him friends all over the globe. He has in effect lobbied for the support of Mexican fight fans and then lobbed a heavy volley in Velasquez's direction this week by saying that he is "more Mexican" than Velasquez. That insult appears to have greatly angered the usually even tempered Velasquez and it remains to be seen how the crowd will react to it all. Velasquez expects he will have great support.
"I think they'll definitely respect him because of what he's done as far as his commentary," Velasquez observes. "I expect they won't boo him, but I do think the majority of the crowd will be behind me."
Stylistically, Werdum presents some interesting challenges for Velasquez. Werdum started his MMA career as a world champion Brazilian Jiu Jitsu specialist. He ended Fedor Emelianenko's long unbeaten streak by submission and has submitted the likes of Antonio Rodrigo Nogueira and Alistair Overeem as well. Then, in recent years, he devoted great time and effort to improve his standup game. His striking looked devastating when he picked apart Roy Nelson and Travis Browne, and he knocked out K-1 champion Mark Hunt with a flying knee. Werdum is dangerous wherever a fight takes place.
While Velasquez respects Werdum's ability, Velasquez exhibits great confidence going into the fight and his training partners and coaches have voiced their confidence in even stronger terms. Velasquez believes that Werdum's knockout win over Hunt showed the dangers Werdum presents but also his limitations.
"I've been watching that last fight," Velasquez says. "With Hunt we saw where he improved, but I thought Hunt was winning that fight until the last exchange. And Hunt did okay on the ground there too, and that was with a few weeks' notice."
Velasquez also presents a furious style that Werdum has never encountered before. Velasquez is MMA's supreme pressure fighter, pushing forward with strikes and going constantly for takedowns. Even MMA's best conditioned heavyweights have wilted under the pressure and Velasquez's outstanding cardiovascular conditioning. Werdum presents great danger of a knockout strike or sudden submission, but the longer the fight goes, the more Velasquez will likely impose his will.
An added dimension to that aspect of the fight is the fact that the contest is taking place at elevation. Werdum went into Mexico City very early for his previous fight in order to prepare for that altitude and Velasquez came in two weeks early this time. The altitude will make it even harder for Werdum as he is being worn down. However, it could also work against Velasquez. Velasquez is used to such a breakneck pace that the altitude could hit him more suddenly than a fighter used to preserving his energy.
If Velasquez can defeat Werdum on Saturday night, discussion could pick up again about his place among the all-time greats. But that's not on the mind of the humble champion.
"I don't think about that," Velasquez notes. "I just do what I have to do in the cage to go out and win. If people say that, people say that. I just go out and do my job."
---
Get our high school sports newsletter
Prep Rally is devoted to the SoCal high school sports experience, bringing you scores, stories and a behind-the-scenes look at what makes prep sports so popular.
You may occasionally receive promotional content from the Los Angeles Times.