UFC will allow fighter Cung Le to appeal positive test for HGH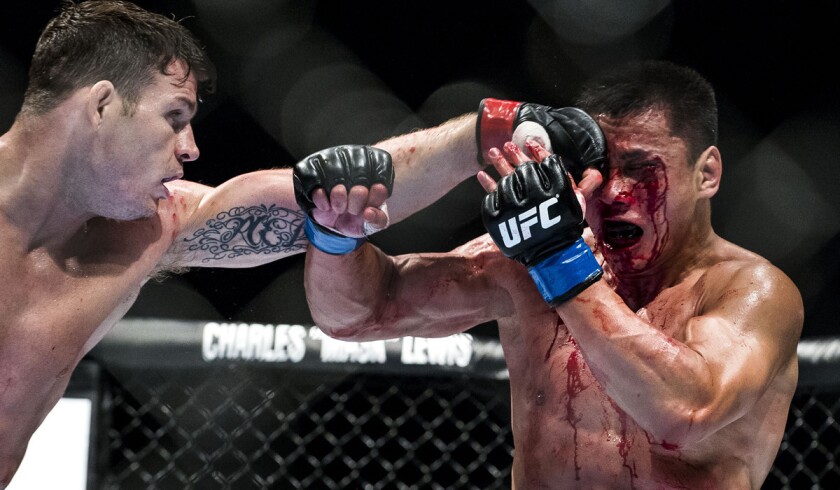 The Ultimate Fighting Championship will give middleweight fighter Cung Le an opportunity to appeal a one-year suspension that was handed down last week for a failed drug test, which has been met with criticism by one of sports' most respected anti-doping authorities.
UFC President Dana White told ESPN.com that his organization, after securing its first positive test for human growth hormone, is taking the unprecedented step of allowing a third-party arbitrator, the American Arbitration Assn., to hear Le's argument.
Le, a fighter from San Jose who has a record of 9-3, tested positive for elevated levels of HGH following his technical-knockout loss to Michael Bisping in Macao, China, on Aug. 23.
The 42-year-old Le, in interviews with the Los Angeles Times in the last week, has insisted he did not use performance-enhancing drugs to attain the sculpted physique that caused Bisping to request thorough testing following the release of a photo of Le near the close of his training.
"I'm glad I'm able to appeal and am very confident," Le said. "The facts are out there. If the right test had been done, this would have never happened. This is new to everyone -- to the UFC, obviously -- and I'm happy to now have the chance I deserve to appeal after taking a pounding and getting called a cheater by people who've never researched my career or taken note that it was spotless before this."
The UFC announced in August it is moving toward a partnership with an anti-doping organization like the U.S. Anti-Doping Agency that follows the World Anti-Doping Agency code in its drug testing and relies on WADA-accredited labs.
A UFC spokesman explained this week that in August, "immediately following the bout … a phlebotomist hired from the Malo Clinic collected blood samples from both fighters. The blood samples were shipped to the Hong Kong Functional Medicine Testing Center for analysis … . [Le] was ordered suspended by our senior management team as we self-regulated the event due to [the] lack of [a] commission there."
Yet, Dr. Don Catlin, who has been involved in Olympic drug testing since the 1970s and has worked to produce an effective blood test for HGH that relies on biomarkers, said the UFC testing protocol fell short of WADA standards, telling bloodyelbow.com that Le's result should be "ignored."
"The UFC used a growth hormone test that's designed for a medical environment, not for anti-doping detection," said Oliver Catlin, Catlin's son and president of Los Angeles-based Banned Substances Control Group. "If they want to get a growth hormone result they can use to suspend a fighter, they need to use a test that's been validated for anti-doping purposes."
Le contends he was stuck by the tester with a needle less than 15 minutes after leaving the octagon from a grueling defeat in which he suffered a broken eye bone and was bleeding internally, contending his state of exertion and trauma caused his body's own growth hormone level to rise.
"My levels were high because I was in recovery mode," Le told The Times. "They pull me into the drug testing room, telling me to test. I'm bleeding all over the place and they haven't started stitching me up yet. They clean me up a little … I had three cuts on my face. The lady starts sticking me, having a hard time finding a vein. I look down, a stream of blood is flying off my arm. My urine was completely bloody because of my eye injury, I had bruised ribs … you think the body wouldn't be under stress?"
Le said his fit look was a result of more than 18 months of intense training and eating right after struggling through past injuries.
---
Get our high school sports newsletter
Prep Rally is devoted to the SoCal high school sports experience, bringing you scores, stories and a behind-the-scenes look at what makes prep sports so popular.
You may occasionally receive promotional content from the Los Angeles Times.