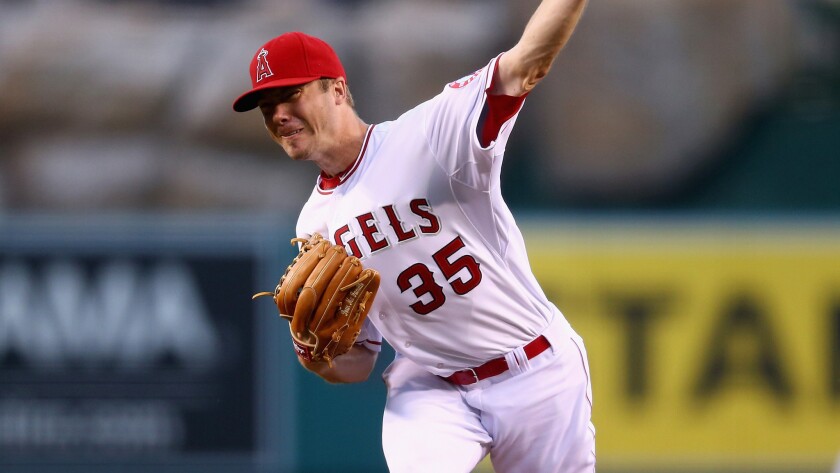 The Angels have a big four-game series against the American League West-rival Oakland Athletics this weekend in Anaheim, and they're not sure who their starting pitcher will be for one of those games, on Saturday night.
They know who it won't be, veteran left-hander Wade LeBlanc, who was designated for assignment on Tuesday after allowing six runs and seven hits in 3 1/3 innings of Monday night's 7-1 loss to Miami.
LeBlanc got the first crack at replacing the injured Garrett Richards in the rotation, but he will not get another. The Angels needed more bullpen depth after LeBlanc's short start Monday night, so they used his spot to recall right-hander Yoslan Herrera from triple-A Salt Lake.
-------------
FOR THE RECORD: An earlier version of this story stated Randy Wolf is scheduled to start Wednesday for the Angels. He is scheduled to start Friday.
-------------
"This isn't a reactionary move to a bad outing from last night, to say we're looking past Wade LeBlanc, but right now, we have to," Manager Mike Scioscia insisted. "We're desperate for a fresh arm here tonight.
"Wade didn't pitch as deep as we hoped. Our focus has to be on making sure we're not overworking guys in the bullpen. We needed an arm, and that was the only move open to us right now."
Among the in-house options to start Saturday are double-A left-hander Michael Roth, who pitched Monday for Arkansas and would be in line to start Saturday. Triple-A left-hander Randy Wolf is scheduled to start Friday night, but could see his start pushed back a day.
Triple-A right-hander Chris Volstad and double-A right-hander Drew Rucinski are also options.
Among the potential trade targets for General Manager Jerry Dipoto are New York Mets right-hander Bartolo Colon and Houston right-hander Scott Feldman, who have reportedly cleared waivers, and Arizona right-hander Trevor Cahill. It is believed that Cahill has cleared waivers but it is unknown whether the Angels have put in a claim for him.
Colon is 41 and has an $11-million contract for 2015, and Feldman has two more years and $18 million left on his contract, making both unattractive to a team that will be pushing up against the $189-million luxury tax threshold next season.
Cahill is 3-8 with a 4.54 earned-run average in 26 games, 11 starts, this season, and has thrown the ball well since moving back into the rotation permanently on July 18, going 2-2 with a 3.43 ERA in his last seven starts.
But Cahill is also owed $12 million in 2015, and he has two option years on his contract, for $13 million in 2016 (with a $300,000 buyout) and $13.5 million in 2017 (with a $500,000 buyout).
---