Boston-L.A. World Series struck out looking for Fox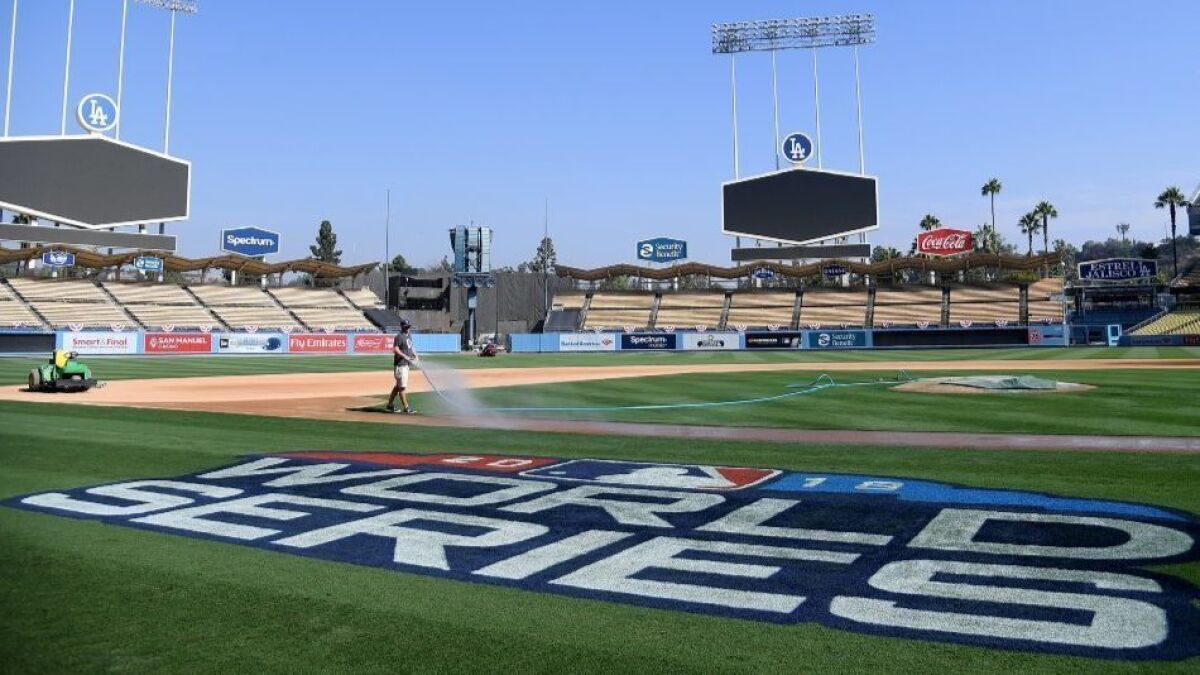 Major League Baseball might plan another trophy presentation — and Dodger Stadium can even host it based on its recent hospitality — for whomever produces the most logical interpretation as to why the 114th World Series, one matching sports market titans Los Angeles and Boston, generated the latest remarkably underwhelming Nielsen numbers in the sport's annual championship.
Fox Sports' self-reporting on averages of an 8.3 household rating and 14.1 million viewers for five World Series games — even with the nation's Nos. 2 and 9 TV markets and both historic brands — provided little insight.
Fox chose to focus on how it logged the highest-rated and most-watched shows in all of prime-time TV for six consecutive days, including an incidental "Thursday Night Football" game. Because in today's world, that's the best way to measure what's working.
Traditional TV analytics feel about as useful to some people as a MLB Statcast graphic. Anecdotally, the more reasons/excuses thrown against the backstop screen pile up like extra-inning swings and misses.
Not to get all John Smoltz here, but back in the day — like, 2017 — the Dodgers' seven-game World Series loss to the Houston Astros averaged a 10.6 rating and 18.7 million viewers. When any series goes beyond Game 5, it matters.
This year's 8.3 rating could have built with two more games and easily surpassed the 8.2 (with 13.9 million viewers) for the San Francisco Giants-Kansas City Royals seven-game series in 2014. Instead, it's more comparable to the New York Mets losing in five to the Royals in 2015 (8.6 rating, 14.5 million viewers). That's just been the way of 21st century sports TV viewing by these measurements.
MLB Commissioner Rob Manfred was quoted as saying his people were "looking hard at it" after weak numbers from the first two World Series games this season. He added that they "haven't isolated a cause."
This isn't some airborne virus immune to exit velocity. But where are the resuscitators?
Fox did some damage control during the Dodgers' 18-inning Game 3 victory that started Friday night and ended Saturday morning. The 9.5 overnight rating for that one could have been worse had Fox not stopped airing national advertisements after 11:10 p.m. local time, or what amounted to the final four innings.
As a rule, Nielsen ratings are measured only between the first and last national ad. When Fox realized it was at a point of diminishing viewership based on the late night/early morning, it turned off the counter. L.A. did a 25.4 rating/46 share for Game 3, yet Boston's 29.1 rating/57 share was the lowest for a Red Sox-involved World Series game in the 2000s — covering 19 games.
For Sunday's Game 5, which had 17.6 million viewers, the Rams-Green Bay Packers national NFL lead-in provided some needed momentum. The Rams' late-scoring 29-27 win produced a 15.0 national rating, yet Game 5 could only do so much holding that audience and pulled a 12.3.
No matter where this discussion goes, credence must be given to Bob Costas, whose work on MLB Network games appears to supersede anything he's doing for NBC these days.
Costas told Sirus XM's Chris "Mad Dog" Russo during an interview before Game 3 at Dodger Stadium last week that it was "a bad look for baseball" when Fox dispatched Buck to Texas for that Thursday night Miami Dolphins-Houston Texans contest, instead of giving him a break between travel from Boston to L.A. for World Series Game 3.
"By implication, that tells America a regular-season NFL game is as important, if not more important, than a World Series," Costas said. "Baseball may be my favorite sport, but in June I'm not watching an MLB game over an NBA Finals game. But now the NFL regular season takes precedence?"
Going back to the National League Championship Series, Costas questioned Fox's "common-sense distinction" in relegating the Dodgers-Milwaukee Brewers Game 7 to FS1 while Fox's over-the-air channel instead aired an Oregon-Washington State football game Oct. 20.
"Let's be reasonable here — this implicitly disrespects baseball and I don't like to see baseball disrespected," Costas said.
Michael Mulvihill, a Fox Sports vice president, told the Sports Business Daily that the Red Sox have lost some of their national lovable-loser appeal while winning four titles in 15 seasons. (It could also be argued that with the Dodgers' SportsNet LA situation there's a nasty local disconnect.)
Mulvihill has noted on his Twitter feed that a share percentage — those watching TVs already in use — should be looked at with more value than an overall rating, which is a percentage of total TV homes.
"Speculation around why ratings/viewership for the Series have been down has been too focused on baseball reasons and not focused enough on the general trend of TV usage," he wrote. "If you look at NFL ratings you'll see a similar trend."
Virtual makeover
EPSN will "re-image" a version of "Around The Horn" starting Monday, moving the Tony Reali hosting part of it to New York and injecting doses of augmented reality and a brighter color scheme that they intend to transform into more of a video-game look. The show is beginning its 16th season.
Dribble drive
The official trailer for the debut of LeBron James' executive-produced "Shut Up and Dribble," tipping off Saturday at 9 p.m. on Showtime, exudes a measured, somber tone about what to expect from a series that is supposed to drive discussion about an athlete's role in social justice issues by going decades back to how other NBA players became involved.
The series, scheduled for three parts, is directed and co-produced by L.A.-based Gotham Chopra, whose 2016 series "Religion of Sports" came out to critical acclaim during its run on DirecTV's Audience Network. A year earier, Chopra produced "Kobe Bryant's Muse" for Showtime, which became the most watched sports documentary in the network's history.
---
Get our high school sports newsletter
Prep Rally is devoted to the SoCal high school sports experience, bringing you scores, stories and a behind-the-scenes look at what makes prep sports so popular.
You may occasionally receive promotional content from the Los Angeles Times.