MLB suspends spring training indefinitely because of the COVID-19 pandemic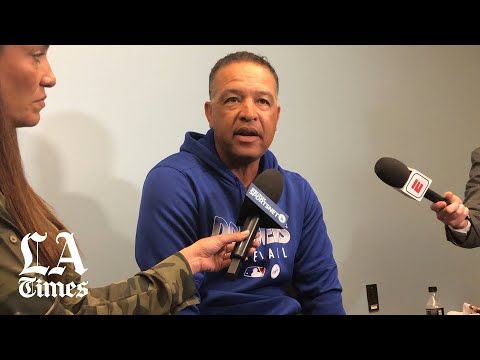 There was no compelling reason to wait any longer. Major League Baseball on Thursday suspended spring training and delayed the start of the regular season by at least two weeks, in response to the coronavirus pandemic.
The decision was all but inevitable, and it capped a turbulent 24-hour period in the four major North American sports currently in season. The NBA suspended its season Wednesday night, and Major League Soccer, the NHL and MLB followed in order on Thursday.
Dodgers manager Dave Roberts said "a best-case scenario" would be to play all 162 games, with postponed games from the first weeks of the season added to the end of the schedule.
But a shortened season would not be without precedent. In 1995, after players ended their strike April 2, the league cut the schedule from 162 games to 144 and started the season April 25.
For now, players are free to work out on their own, or at their team's spring training facilities. The commissioner's office and the players' union are expected to discuss logistics — including scheduling and player salaries — that could depend on the great unknown: How long will it take until large gatherings are no longer considered a public health hazard?
"The tricky part is players will argue that spring training itself is too long," Roberts said. "Now you're adding two weeks on. So to go with this same pace for now eight weeks is a lot to ask, so I think that you got to understand and back off a little bit to keep guys engaged and focused."
For players that did speak Thursday, there was an awareness that the world extended beyond the ballpark.
"Out of this, hopefully we can get something positive," Cleveland shortstop Francisco Lindor told reporters at the Indians' training camp in Arizona, "and that we'll all be in a much better spot when it comes to taking care of each other.
"At times, it seems we're not at peace with each other. I think now, we have a really good chance of helping each other out, being there for each other and being good Samaritans."
MLB had hoped to buy time. The regular season in the other three sports was well underway, but the MLB season was not scheduled to start until March 26. The league considered relocating some games as an alternative to postponing them all, but the prospect of widespread government intervention made that approach untenable.
Minor League Baseball announced it too would delay the start of its season, with no specific date announced. The Class A California League was scheduled to open April 9 — the same day MLB indicated is its new target for opening day.
That date is not set in stone. In announcing what it called a delay of "at least two weeks," MLB said it had "a variety of contingency plans regarding the 2020 regular season schedule" and would continue to monitor the situation "with the hope of resuming normal operations as soon as possible."
Indeed, after the MLB announcement, Illinois Gov. J.B. Pritzker said he had suggested that sporting events and other large gatherings within the state be postponed through at least May 1, and said the team owners with whom he had spoken had agreed. That would mean the Chicago Cubs and White Sox could not play home games if the MLB season is resumed in April.
On Wednesday, authorities in California and Washington either recommended against large gatherings or banned them outright, at least for the next few weeks, putting home games of the Dodgers, Angels, San Diego Padres, San Francisco Giants, Oakland Athletics and Seattle Mariners at risk. On Thursday, the governors of New York and Ohio put similar directives in place, restricting the availability of four other MLB stadiums.
The Mariners, Giants and A's had said they were working on "alternative" plans for playing the games, presumably elsewhere.
But public health experts told The Times that the limited availability of coronavirus tests means it would be folly to assume that the virus had not spread into any given area in the country, even one with few reported cases.
Stories examining the impact the spread of the coronavirus has had on the NBA, NHL, MLB, the NCAA tournament and the rest of the sports world.
Dr. Dena Grayson, a Florida-based expert in Ebola and other pandemic threats, said the current virus is "highly contagious" and said its spread is in its "acceleration phase."
"The worst thing you can do is to have a bunch of large gatherings," Grayson said. "Large gatherings are basically a cauldron for this virus."
On Thursday morning, hours after the NBA had called off its season, the wife of Washington Nationals pitcher Sean Doolittle pleaded with fans not to attend spring training games.
"I'm probably not supposed to say this, but people I beg of you," Eireann Dolan wrote on Twitter, "please do not come to games right now. I know they're still inexplicably playing them right now, but that doesn't mean it's safe to attend. You're putting yourselves, the staffs, and teams at risk. Please don't go."
Nonetheless, while exhibition games were rained out in Arizona on Thursday, they went on as scheduled in Florida — even as word surfaced that spring training was about to be suspended.
"It felt like the most meaningless game in the history of the sport," St. Louis Cardinals infielder Matt Carpenter said.
The NBA postponed its season indefinitely Wednesday night, immediately after learning one of its players, Rudy Gobert of the Utah Jazz, had tested positive for coronavirus.
"We'd be naive to think that one player across every MLB camp doesn't have it yet," Washington pitcher Max Scherzer said Thursday morning at the Nationals' camp in Florida.
Within hours of Scherzer's comment, the issue hit home for MLB. Gobert's teammate, Donovan Mitchell, had tested positive for the virus as well.
Mitchell's father, the New York Mets' director of player relations and community engagement, was in attendance last week when the Jazz played the New York Knicks at Madison Square Garden. According to the New York Post, Mitchell's father rejoined the Mets at their Florida training camp the next day and has remained at work there since then.
The Dodgers and Angels curtail travel of scouts in what typically is a busy time of year evaluating college and high school prospects.
The Mets said Thursday that Mitchell's father has been advised not to work and has been sent for tests to determine whether he has contracted the coronavirus.
In the announcement of what the NHL called a "pause" in its season, commissioner Gary Bettman noted that its many of its teams share arenas with NBA teams.
"It now seems likely that some member of the NHL community would test positive at some point — it is no longer appropriate to try to continue to play games at this time," Bettman said.
Dodgers infielder Gavin Lux, speaking before the MLB announcement, said the NBA shutdown was quite a surprise.
"Anytime you shut down the whole league like that, I think it's a surprise," Lux said, "but at the end of the day, health is a huge concern for everybody -- and, like I said, it's not just athletes. It's everybody and the whole world."
New York Mets first baseman Pete Alonso shared a Twitter post in which he thanked medical workers, wished a speedy recovery to those who are sick, and said healthy and strong athletes must help protect others by calling off games.
"As much as we hate not having sports," he said, "it's our duty to protect others."
Alonso said he would miss the sport in its absence. However, he said: "The best things in life (baseball season) are worth waiting for."
Get our high school sports newsletter
Prep Rally is devoted to the SoCal high school sports experience, bringing you scores, stories and a behind-the-scenes look at what makes prep sports so popular.
You may occasionally receive promotional content from the Los Angeles Times.