LeBron James has his worst All-Star game, but it's not a loss for the Lakers star
LeBron James was stuck alone in an Atlanta hotel room, lounging to the side while he spoke into a camera, doing something he didn't want to do.
"I'm here," he said.
The NBA's All-Star game, he said, is a celebration of the game that gave him so much, a single-city destination for a weekend of competitions and celebration, truly a highlight despite the added demands on players' time and energy.
"A weekend of extreme fun," James said of the typical All-Star event. "We have everyone in town for that one weekend. This is when everyone in basketball, the world, comes to one city and we all enjoy [this] and really sit back like, 'Wow, this is what this game has built.'"
But this game also was a reminder of all that's been torn down.
Trail Blazers guard Anfernee Simons flashed the rim a kiss during a dunk that helped him win the NBA All-Star game slam dunk contest on Sunday.
Two All-Stars, Philadelphia's Joel Embiid and Ben Simmons, were scratched from the game hours before Sunday's start because the barber who cut their hair tested positive for the virus. The COVID-19 pandemic forced the NBA to compress its events into one night, with players largely isolated in their hotel. With the season's schedule also compressed, James and some other players would've preferred rest.
But instead, he was in Atlanta, preparing to captain a team and play an exhibition in the middle of a pandemic.
"I'm by myself," James said on a videoconference. "…It's just different to say the least compared to previous years."
James had plenty of company and help as Team LeBron won the game 170-150, winning the first three quarters before beating Team Durant to the 170-point finish. Team LeBron earned $300,000 for its charity, the Thurgood Marshall College Fund. Milwaukee's Giannis Antetokounmpo, James' first pick in the All-Star draft, made all 16 of his shots, scored 35 points and was named the Kobe Bryant All-Star game most valuable player on a night when James was mostly in the background.
The best photos from the 2021 NBA All-Star game on Sunday in Atlanta.
It was James' worst performance in his lengthy All-Star history, as he scored only four points in 13 minutes — both career lows for the 17-time All-Star.
He wasn't the only player who viewed the game as more of an obligation than a celebration. Clippers stars Kawhi Leonard and Paul George were among the other All-Stars who weren't thrilled that the game was held.
"It's just an unfortunate time in the world where our health and safety should be at the front of the helm," George said before scoring 17 points off the bench for Team LeBron. "I personally didn't agree with the game, but it is what it is."
Leonard, who scored eight points starting for Team Durant, succinctly described the pregame environment, with only a handful of handpicked guests in attendance at State Farm Arena: "There's no energy. There's no excitement."
But as they've done all season, players tried to make the best of the situation. As part of the event, the NBA committed more than $3 million to historically Black colleges and universities — a cause that was highlighted throughout Sunday's broadcast.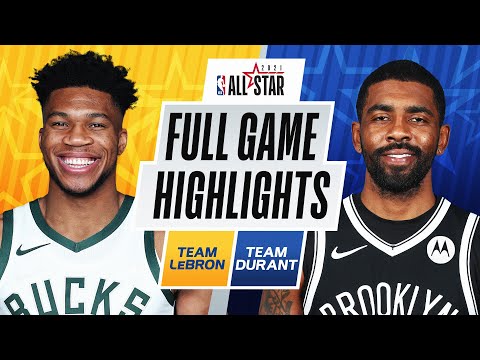 Highlights from Team LeBron's win over Team Durant in the NBA All-Star game on Sunday.
Stephen Curry was electrifying in winning the pregame three-point contest and carried that over in the first half as the Golden State Warriors star made the most of his first-time pairing with James.
"It was an honor to be on the floor with him, man," James said.
"There's so much respect there," Curry added.
He hit threes from as deep as half court, caught a lob from Chris Paul for a dunk and returned the favor for a rare slam by the Phoenix point guard. Portland's Damian Lillard joined in from way back — making a three from the wrong side of the mid-court line.
Lillard finished with 32 and the game clincher. Curry scored 28 and first-time All-Star Jaylen Brown of Boston scored 22.
"That's why I drafted them," James said after the win. "…Guys that I'm just in awe of."
Washington's Bradley Beal led Team Durant, playing without its injured captain, Kevin Durant of Brooklyn. Leonard had a low-scoring night after being the MVP a year ago but had nine rebounds and eight assists.
Golden State Warriors standout Stephen Curry's mind "kind of went blank" as he put up his final shot to win the NBA All-Star three-point contest for a second time.
As the night ended, James was one of the first players dressed, ready to head back to Los Angeles to make the most of the Lakers' time off before the start of the second half. The Lakers' other All-Star, Anthony Davis missed the game to rest a calf injury, and James would rather have stayed home too, the Lakers' short offseason and stacked schedule already making this season even more demanding.
But as he prepared to leave Atlanta, James had some perspective on the day.
"Anytime you're able to benefit a situation like the HBCUs or give back to the communities that don't get the support that we wish they'd get more of, I think it's beneficial," he said. "All in all, the league did a hell of a job to put this together still. … And us as the players, we came in and did our jobs. Now we get ready for the second half of the season."
Get our high school sports newsletter
Prep Rally is devoted to the SoCal high school sports experience, bringing you scores, stories and a behind-the-scenes look at what makes prep sports so popular.
You may occasionally receive promotional content from the Los Angeles Times.