March Madness: North Carolina upsets Baylor in overtime, will face UCLA in Sweet 16
So much for the idea that North Carolina is soft against top-tier competition. These Tar Heels are going to the Sweet 16 after knocking off the defending champions.
No, it wasn't easy. The Tar Heels blew a 25-point second-half lead after Brady Manek was ejected for a wild elbow and starting guard Caleb Love fouled out, and they had some issues when top-seeded Baylor turned up the full-court pressure. But they never fell behind, played with poise in overtime and pulled out a 93-86 victory Saturday in Fort Worth in the second round of the NCAA tournament.
"All year, we've just been hearing different things about us, how we're a soft team, how we don't like to fight," All-Atlantic Coast Conference power forward Armando Bacot said. "Today, I think we really showed that we can fight. To persevere in a moment like that and just come together, I'm just so proud of everyone."
RJ Davis scored a career-high 30 points with a nifty layup while being fouled in overtime, when Bacot made the tiebreaking free throws after missing three in the final 38 seconds of regulation. Bacot had 15 points and 16 rebounds, along with three blocked shots.
A year after losing in the first round of the tournament in coach Roy Williams' final game, the Tar Heels (26-9) pulled off a shocker for his successor, Hubert Davis, who moves on to the East Regional semifinals in Philadelphia.
North Carolina will play in its 35th Sweet 16 against UCLA.
"Baylor's a great team. They're the defending national champions, and they did not want to go home," Davis said. "They stepped up their effort, but we stepped up our effort as well and we were able to make the plays we needed to make to win the game."
UCLA is back in the Sweet 16 of NCAA men's basketball tournament, keeping its March Madness run alive in a 72-56 victory over St. Mary's.
Overtime started with a three-pointer by freshman Dontrez Styles, who was two for 14 from long range on the season before that. RJ Davis, who had five three-pointers in regulation, got his only points in overtime on the off-balance layup with 1:18 left and added the free throw for a 91-85 lead.
"I didn't want to go home. There was no time to be tired," Davis said. "Our mindset was gather my teammates together and regrouping and to contain our composure and let's get this win."
Adam Flagler had 27 points for Baylor (27-7), which was one-for-11 shooting in overtime. James Akinjo had 20 points, while Jeremy Sochan had 15 points and 11 rebounds.
The Tar Heels won as a No. 8 seed over a top seed for the third time. They did so on the way to the Final Four in 2000, 10 years after after beating top-seeded Oklahoma when Davis was a player for Dean Smith.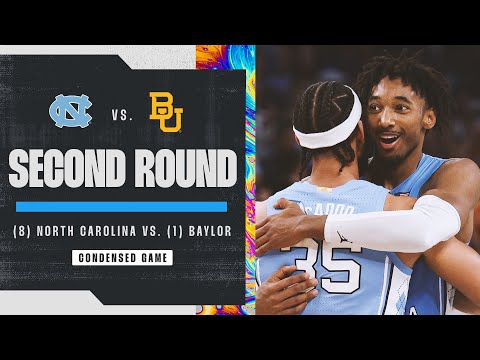 North Carolina had double-digit losses to Kentucky, Tennessee, Duke, Miami and Wake Forest and was on the NCAA tournament bubble before winning seven of its last eight regular-season games. That included a 94-81 win at Duke in retiring coach Mike Krzyzewski's final home game.
Baylor lost in the second round for the second time in the last three NCAA tournaments. The Bears, who fell to top-seeded Gonzaga in the round of 32 three years ago, were trying to match the biggest comeback to win an NCAA tournament game.
"Rudy Tomjanovich said it best: Never underestimate the heart of a champion," coach Scott Drew said, fighting back tears. "You're down 25 and come back and force overtime. Real proud of these guys and the heart with which they compete. ... We didn't win on the court, but we've won in life."
Manek had 26 points before getting ejected because of a flagrant foul with 10:08 left in regulation after his left elbow struck the face of Sochan as they were battling underneath the Baylor basket. Manek had just drained a three-pointer that gave the Tar Heels their largest lead at 67-42.
With Manek out, and Love fouling out soon after that, the Tar Heels had 10 turnovers as Baylor turned up the pressure and made a furious rally.
No. 15 St. Peter's 70, No. 7 Murray State 60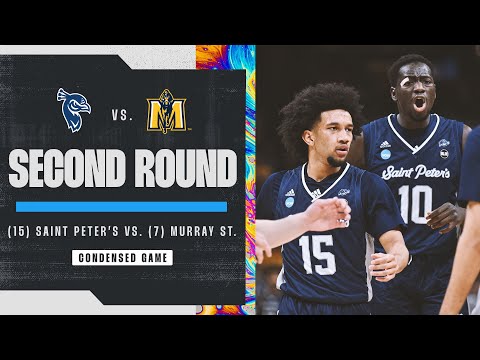 INDIANAPOLIS — St. Peter's broke the hearts of Kentuckians yet again, getting 17 points from KC Ndefo to beat Murray State in the second round of the NCAA tournament and complete its rise from obscurity into the Sweet 16.
Two days after tossing eight-time national champion Kentucky out of the bracket, the tiny Jesuit school from Jersey City, N.J., became the third 15 seed to advance to a regional semifinal, joining Oral Roberts last year and Florida Gulf Coast in 2013.
St. Peter's (21-11) ended a 21-game winning streak and a memorable season for Murray State (31-3), located 265 miles from Lexington in Kentucky's southeastern corner.
The memories will be lifelong for the Peacocks and coach Shaheen Holloway, a North Jersey hoops lifer who played at Seton Hall and apprenticed there as an assistant. On Friday, Pirates coach Kevin Willard endorsed Holloway as his replacement if he departs in the offseason.
March Madness is officially here. Here's everything you need to know about the 2022 NCAA men's and women's basketball tournaments.
Holloway has more immediate concerns: preparing his team for an East Regional semifinal Friday in Philadelphia against Virginia Tech or Purdue.
Doug Edert came off the bench to score 13 points for the Peacocks, including some big baskets late. St. Peter's built a 13-point lead early in the second half and never trailed, but Murray State still made it tense. Justice Hill hit a three-pointer to get the Racers to within 59-57 with 4:07 left. Edert followed with a three and a layup, and the Peacocks closed it out at the free-throw line.
Hill made five three-pointers and had 19 points and Tevin Brown scored 14 for Murray State.
No. 1 Gonzaga 82, No. 9 Memphis 78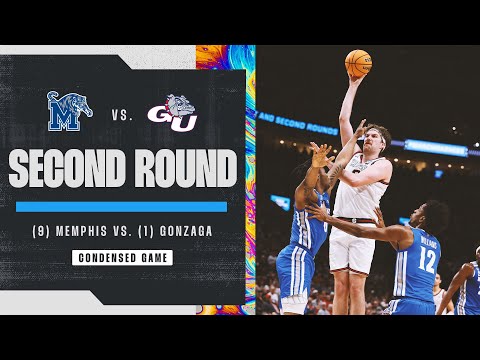 PORTLAND, Ore. — Drew Timme scored 21 of his 25 points in the second half, and the Bulldogs (28-3), the NCAA tournament's top overall seed, rallied from a 10-point halftime deficit to beat the Tigers (22-11).
Trailing at the half for only the fourth time this season, Gonzaga leaned on its star junior to reach its seventh consecutive Sweet 16. The Bulldogs will face No. 4 seed Arkansas in the West Regional semifinals Thursday in San Francisco.
Andrew Nembhard added 23 points for the Bulldogs, and Rasir Bolton scored 17. Gonzaga never trailed after a basket from Timme and Bolton's three-pointer with 10 minutes remaining that made it 61-57.
But Memphis didn't go away. The Tigers pulled even at 66-66 on DeAndre Williams' basket. After Nembhard's three-pointer put the Bulldogs up 76-69, the Tigers still made it a one-possession game with 32 seconds left on Lester Quinones' three-pointer.
The UCLA Bruins used elite defense to defeat seasoned Saint Mary's in the NCAA tournament Saturday, punching their ticket to the Sweet 16.
Nembhard, the only consistent free-throw shooter for Gonzaga on the night, made four at the foul line in the final 25 seconds.
Williams scored 14 points for Memphis but sat a big chunk of the second half because of foul trouble. Tyler Harris had 11 of his 14 points in the first half, and Quinones finished with 10.
The matchup between future NBA lottery picks Chet Holmgren of Gonzaga and Jalen Duren of Memphis never fully materialized because of foul trouble. Duren finished with seven points and seven rebounds but played just 19 minutes and sat for more than 10 minutes of the second half after picking up his fourth foul.
Holmgren had nine points, nine rebounds and four blocks before fouling out in the final seconds.
No. 4 Arkansas 53, No. 12 New Mexico State 48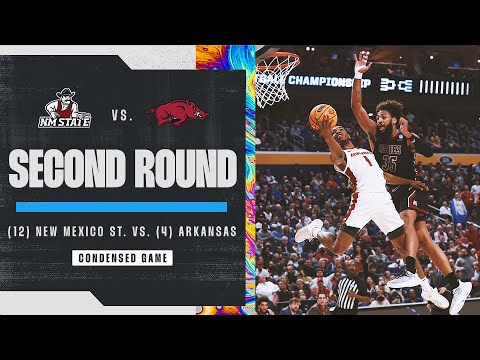 BUFFALO, N.Y. — Au'Diese Toney's fast-break dunk capped the decisive run with about six minutes left and launched the Razorbacks (27-8) to the Sweet 16 for a second consecutive year with a win over the Aggies (27-7).
JD Notae scored 18 points for Arkansas before fouling out with 1:22 left, and Jaylin Williams added 10 points and 15 rebounds. Notae's replacement, Chris Lykes, hit all four free-throw attempts in the final 10 seconds to secure the win after New Mexico State closed to within two points on Teddy Allen's three-pointer with 12 seconds left.
The Razorbacks advance to play top-seeded Gonzaga at the West Regional site in San Francisco on Thursday.
Allen was limited to 12 points after scoring 37 in the first round against Connecticut. Johnny McCants scored 16 points and had 12 rebounds for New Mexico State. The Western Athletic Conference champion was denied a chance to reach the Sweet 16 for the second time in school history, and first since 1992.
No. 11 Michigan 76, No. 3 Tennessee 68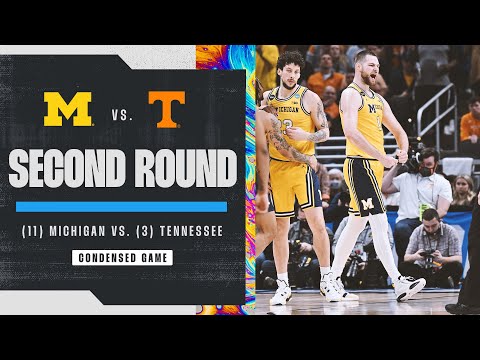 INDIANAPOLIS — Eli Brooks put Michigan ahead for good with a three-point play and delivered four critical points in the final minute, and the Wolverines booked the most surprising of their five straight trips to the Sweet 16 by beating the Volunteers.
Brooks finished with 23 points, including a looping, improvised hook shot and two free throws as Michigan (19-14) put away Tennessee (27-8), which had a six-point lead with 8½ minutes left but then went four minutes without scoring. The Volunteers' cold shooting continued until it was too late.
Big man Hunter Dickinson had 27 points and two of his 10 rebounds in the closing seconds for the Wolverines, whose five consecutive Sweet 16 appearances are the most in Division I. Gonzaga is the only other team to make it four straight times.
Michigan will face either second-seeded Villanova or longtime rival Ohio State, the No. 7 seed, in Thursday's East Regional semifinals in San Antonio.
Mick Cronin's new deal, which runs through the 2027-28 season, replaces a two-year extension he signed after guiding UCLA to the 2021 Final Four.
"I'm just trying to live in the moment right now and cherish the time we have with the people in my life right now at Michigan and enjoy the process of going through this tournament again and having that chance of getting our last goal," said Brooks, a fifth-year senior.
Hardly a conventional Cinderella given its resources and pedigree, this Michigan team nonetheless came into the tournament amid low expectations. The Wolverines have the worst record of any team left in the field and did the bare minimum down the stretch to secure an at-large berth. Their consecutive wins in the tournament are their first since mid-February.
But coach Juwan Howard's squad still has plenty of talent and elevated its play down the stretch against the Southeastern Conference champions. Howard himself had to learn some lessons about composure when he was suspended for five games late in the season for hitting a Wisconsin assistant during a postgame handshake line.
Kennedy Chandler had 19 points and Josiah-Jordan James added 13 for Tennessee, which saw its seven-game winning streak end. Two days after shooting a school tournament record 60% from the field, the Volunteers shot 41.8% and came up short again in the postseason. Tennessee lost to Oregon State in the first round last year, also at Gainbridge Fieldhouse.
This year, the arena was filled to the rafters with an orange hue and Volunteers fans repeatedly belted out the lyrics to "Rocky Top" during timeouts — a stark contrast from last year, when attendance was limited to about 25% of capacity because of COVID-19 restrictions. The energy made a difference.
Wolverines starting point guard DeVante' Jones returned from the concussion protocol, only to be pulled in the first half after colliding with teammate Moussa Diabate.
No. 1 Kansas 79, No. 9 Creighton 72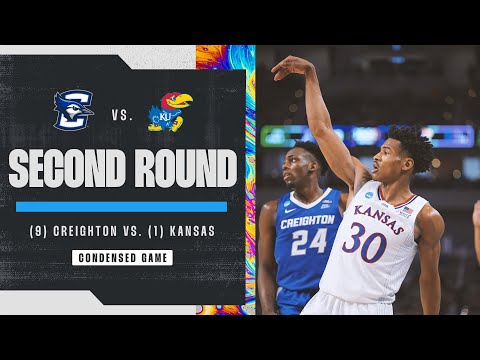 FORT WORTH — Remy Martin scored 20 points, Ochai Agbaji put Kansas ahead for good with his first basket early in the second half, and the Jayhawks held off the Bluejays to advance to the Sweet 16.
Martin hadn't led Kansas (30-6) in scoring all season as the fifth-year senior transfer from Arizona State battled a sore knee, but he's done it in both NCAA tournament games.
The short-handed Bluejays (23-12) stayed close with an uncharacteristically hot showing from three-point range. One of the worst teams in the country from beyond the arc, Creighton went 12 for 28.
The biggest came from freshman Trey Alexander, who swished an off-balance heave from well behind the line as the shot clock was about to expire. Keyshawn Feazell's bucket soon after got Creighton within one in the final two minutes.
The Bluejays had a chance to go ahead in the final minute, but Alexander's errant pass went off Alex O'Connell's hands, leading to a breakaway dunk for Agbaji, who scored 13 of his 15 points in the second half.
Arthur Kaluma scored 24, going four for 10 from long range for the Bluejays.
Creighton, which reached the Sweet 16 last year, had just six players in its rotation after losing 7-footer Ryan Kalkbrenner to a knee injury late in overtime of a 72-69 win over San Diego State on Thursday.
After rallying from a double-digit deficit, seventh-seeded USC is unable to overcome a late surge by No. 10 Miami in a 68-66 NCAA tournament loss.
Ryan Hawkins drained a three-pointer from well behind the arc 13 seconds into the game and finished three for six from distance with 14 points. O'Connell was three for eight and scored 16 points. Alexander finished with 14 points.
Martin, a plucky 6-foot guard who scored 15 in a blowout of Texas Southern in the opening around, had 16 in the first half off the bench, then helped the Jayhawks stay in front.
Christian Braun scored 13 for the Jayhawks, including a big three in the second half that was his only one of the game.
Kansas will face Providence in its 32nd Sweet 16.
No. 4 Providence 79, No. 12 Richmond 51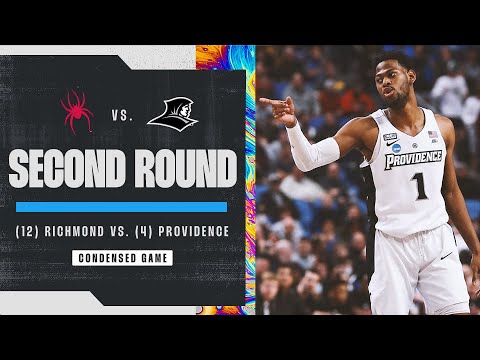 BUFFALO, N.Y. — Noah Horchler scored 16 points as the Friars had their best three-point shooting performance of the season, routing the Spiders to advance to the Sweet 16 for the first time in 25 years.
Providence will face Kansas, the top seed in the Midwest Region, in Chicago next week.
Providence (27-5) has made its living this season on winning the close ones, 16 in all by single digits. The Friars talked this week about being well aware of their skeptics and motivated by being called the luckiest team in America.
The Big East Conference regular-season champions looked like a juggernaut against Richmond.
Providence controlled the game from the start and went up 21 on the Spiders (24-13) less than two minutes into the second half when Horchler swished a three-pointer from the corner. The Friars shot 52% from the field and a season-best 54.5% from three. They came in shooting 34.3% from long range.
The Friars are past the first weekend of the tournament for the first time in six tries under 11th-year coach and Providence native Ed Cooley.
The Friars last advanced past the second round in 1997, when they reached the Elite Eight. The only other time was 1987, when they went to the Final Four under coach Rick Pitino.
Richmond crashed the tournament by winning four games in four days to take the Atlantic 10 championship as a sixth seed and then upset Iowa in the first round.
Richmond's iron-man point guard Jacob Gilyard, who had played every minute of the Spiders' previous six games, finished his decorated six-year college career with four points.
Gilyard finally exited the game with 1:15 remaining, receiving a long hug from coach Chris Mooney. Fellow sixth-year senior Grant Golden (10 points and five rebounds) also was greeted with a warm embrace from his coach.
Get our high school sports newsletter
Prep Rally is devoted to the SoCal high school sports experience, bringing you scores, stories and a behind-the-scenes look at what makes prep sports so popular.
You may occasionally receive promotional content from the Los Angeles Times.