Commentary: Kareem Abdul-Jabbar will always be No. 1 for his post-NBA career work
We don't celebrate No. 2s. A runner-up is not sexy. Second best is ho-hum.
So it is after LeBron James popped in his 38,388th point Tuesday night and Kareem Abdul-Jabbar became second fiddle. But before we shuffle the Bruins and Lakers great, now 75 years old, into the back of our minds, we should celebrate him too. There never has been an athlete, or person, quite like Kareem Abdul-Jabbar.
His life represents heroics and humanity. In retrospect, the first part was easy. The second part was long developing and is ongoing.
He came into our consciousness as Lew Alcindor, a 7-foot teenager making national headlines at Power Memorial in New York City. He and his basketball team won virtually everything. He was unstoppable then, and he remained so through his four years at UCLA and 20 years in the pros. He scored 38,387 points in the NBA, against the toughest, meanest, most-talented opponents ever to play the game. That is gob-smacking. To score more than that, as James has, is the same.
Abdul-Jabbar's road was full of bumps, twists and turns. And oh, so much pressure. He was a walking headline, a page-one fixture, a TV ratings slam dunk.
He picked UCLA in the John Wooden era, could not play on the varsity his freshman year because of NCAA rules and so he and the frosh team, attracting a packed house at Pauley Pavilion, beat the varsity in an exhibition scrimmage 75-60. He scored 31 of those 75 points. That UCLA varsity was a two-time defending NCAA champion and ranked No. 1 in the preseason polls. That season, because of Alcindor, it wasn't even the best team in Westwood.
He led UCLA to NCAA titles the next three years, was the most valuable player in each of those tournaments, and, as the obvious top choice in the 1969 NBA draft, became the subject of the most-famous coin flip of all time. In those days, the two teams with the worst records the previous season would flip to see which got to pick first. In the '68-69 season, Phoenix finished 16-66 and Milwaukee went 27-55.
The coin flip took place in New York, at the office of commissioner J. Walter Kennedy. Jerry Colangelo, Suns general manager, was in his office in Phoenix. Wes Pavalon, Bucks owner, was in his office in Milwaukee with his general manager, John Erickson. The Bucks had decided to let the Suns make the call. Both had run polls of fans and had consulted with Las Vegas gamblers. Which would be better — heads or tails? Colangelo called heads, Commissioner Kennedy flipped the coin, caught it in one hand, where it rested heads up, then did the customary flip to the top of his other hand, where it showed tails. Lew Alcindor was going to play in Milwaukee. Erickson and Pavalon leaped on a desk to hug each other and Pavalon's lit cigarette went into Erickson's ear. Years later, Colangelo told the Milwaukee Journal that he left his office and drove around town for three hours.
The Suns, picking second in that draft, chose 6-10 Neal Walk of Florida. Walk had a good pro career, but the coin-flip stigma never left him. He used to say his nickname should be "Booby Prize."
Alcindor led the Bucks to their first NBA title in 1971. Milwaukee had acquired aging superstar Oscar Robertson to go with the young center and the Bucks swept the Baltimore Bullets in the NBA Finals.
Kareem Abdul-Jabbar celebrates the cultural oasis that was Central Avenue in Los Angeles.
The Bucks had another shot at the title in 1974. They played the Boston Celtics in the Finals, and in Game 6, in a rollicking, rotting Boston Garden, where the rats had started to outnumber the fans, Bucks coach Larry Costello called a timeout in the closing seconds of a second overtime with Boston leading 101-100. The Bucks trailed in the series 3-2, but they had the ball. Costello, a hyper-active, arm-flailing kind of coach, reached for his ever-present yellow legal pad and frantically drew a play. During the timeout, hundreds of fans descended from the upper reaches of the old train station/basketball barn, crowded near the benches and hovered over press row. Celtics public relations staffers quickly tore away all identification signs of Milwaukee press from the table. A missed shot by the Bucks would mean a Celtics title and rush to celebrate on court. Press row would get trampled, especially the visitors.
After the game, a Bucks player told a reporter what had happened. He said Costello had called a play for Jon McGlocklin to take the final shot, but it had been a confusing setup and so, on the way back out, Robertson called the team together quickly near half court and told them, "Just get it to the big guy." The ball did, indeed, get to Abdul-Jabbar, who was forced far out along the right baseline, well out of his usual Sky Hook range. As the clock ticked down and desperation set in, Abdul-Jabbar got a little room and, in a combination of desperation and incredible skill, rolled a 15-foot hook shot off his fingertips. The ball swirled around the rim before going down. The Celtics faithful, poised to flood the floor, gulped and collapsed.
The cost of that Game 6, however, was decisive for Boston. The Celtics had pressed Robertson full court for the entire game, making him work just to get the ball across the time line. After he showered, Robertson needed help to get up the stairs of the team bus. In Game 7 in Milwaukee, the Celtics double- and triple-teamed Abdul-Jabbar, physically man-handling him, and won in a rout.
Alcindor had changed his name to Abdul-Jabbar in 1971 and begun to express a desire for at least some access to a culture more attuned to his Muslim beliefs than Milwaukee presented. Some in Milwaukee took it as Abdul-Jabbar not liking white people. It was an oversimplified conclusion but it clung to Abdul-Jabbar for years.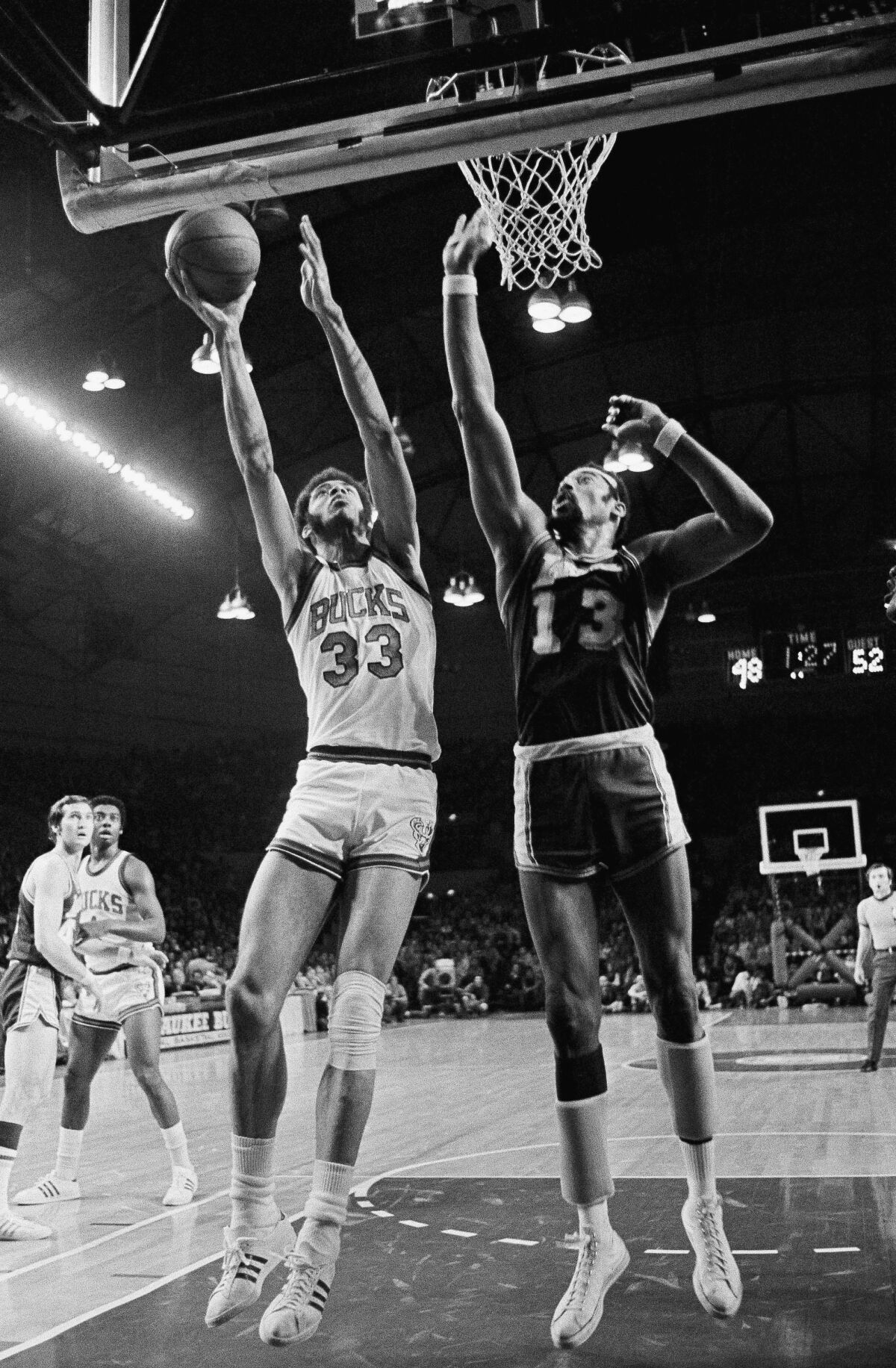 The Bucks' management rolled with the controversy for as long as it could, and Abdul-Jabbar, while asking for a trade, tried his best to keep a lid on the issue. But by 1976, management realized its best move was to get the most out of its star's value. That resulted in a blockbuster trade that sent Abdul-Jabbar back to Los Angeles and the Lakers and young prospects Junior Bridgeman, Brian Winters and David Meyers to Milwaukee.
Lew Alcindor had left in 1969. He came home in 1975 as Kareem Abdul-Jabbar and Los Angeles could not have been more thrilled. A few years later, a dynamic young superstar, as extroverted as Kareem was introverted, arrived on the scene and L.A. was to have Magic and Showtime.
But before that, in the opening game of the 1977-78 season, the schedule had the Lakers playing at the Bucks. It was no scheduling coincidence, and kind of a nasty thing to do to the league's superstar. Bucks coach Don Nelson, recently a Celtic and well involved in much of Boston's physical approach over the years to stopping the rival center — especially in those '74 playoffs — had a top draft choice to pit against Abdul-Jabbar in that opener. The entire country would be watching. So, Nelson prepared his new big man, Indiana's Kent Benson, to be ready to go to war. Nellie was not teaching ballerina basketball. This was to be elbows and shoulders and muscle and might. Much more was going on than just an opening game of a long season.
Just 2 minutes 9 seconds into the game, Benson and Abdul-Jabbar jostled under the basket. Benson landed an elbow that bent Abdul-Jabbar over in pain. Abdul-Jabbar retaliated with a punch that knocked down Benson. Benson, stunned and concussed, was helped off the court by Tony Spino, the longtime Bucks trainer who had attended to Abdul-Jabbar many times in previous years and eventually moved West to become a UCLA trainer.
LeBron James has surpassed Kareem Abdul-Jabbar's 38,387 NBA points, a benchmark set when the legendary Lakers center retired 36 years ago.
Abdul-Jabbar was ejected and fined $5,000 by the league. He missed 20 games with a broken hand, and it was never clear whether he had broken the hand on Benson's face or in anger and frustration later in his hotel room. Benson played 11 seasons in the NBA and averaged nine points and six rebounds, not exactly numbers of a No. 1 draft choice. It has long been theorized that the real length of Benson's career was 2 minutes 9 seconds, that Abdul-Jabbar's punch knocked the superstar out of him.
Once Abdul-Jabbar settled in for the Lakers, he became a perennial All-Star, a G.O.A.T candidate even as he eventually passed Wilt Chamberlain as the NBA's top career scorer in 1984. He persevered through the loss of his home and much priceless memorabilia in a fire in Bel Air. He lost millions when his financial manager, Tom Collins, put him in ill-advised investments.
Still, he excelled each night, never shortchanging the paying customers. The one NBA title he won in Milwaukee grew to five more with the Lakers. He was the league's MVP six times and named to 19 All-Star games. The skyhook was named by a disc jockey, Eddie Doucette, who became a legendary Bucks play-by-play announcer. In Los Angeles, it was cultivated for the next decade-plus by Chick Hearn. Doucette and Hearn could describe it, but nobody could stop it, even in Abdul-Jabbar's 20th season.
When he retired, it was to a life of literature and media. He has written or co-written 17 books, appeared in dozens of movies and is a voice of reason so powerful and thought-provoking that national magazines and newspapers seek his words for opinion pieces on some of the toughest and thorniest issues of society.
The smoldering anger that was stored so long inside of him, as he navigated through a mostly white world that often seemed to see him only as a very tall man with a great hook shot, moderated long ago. He has battled cancer and heart issues, talked about them to help others who might similarly suffer, and never has stopped writing and creating in ways that have little or nothing to do with basketball.
A few years ago, he crossed paths with a local sportswriter who had retired.
"Keep writing," Abdul-Jabbar advised. "Don't stop."
This piece attests to that advice being heeded.
During Barack Obama's presidency, Abdul-Jabbar was called to Washington to receive a Medal of Freedom. Those go to world figures of importance, thinkers of depth and substance, people whose life and existence have inspired and influenced.
We are blessed that Kareem Abdul-Jabbar was all of that, and that those 38,387 points were only a part of who he was.
And still is.
Get our high school sports newsletter
Prep Rally is devoted to the SoCal high school sports experience, bringing you scores, stories and a behind-the-scenes look at what makes prep sports so popular.
You may occasionally receive promotional content from the Los Angeles Times.