LeBron James turns focus to Lakers' playoff push after loss in All-Star Game
SALT LAKE CITY —
There are no secrets, no hidden agendas, no questions to be asked.
LeBron James was crystal clear — there's one acceptable outcome for the rest of this season.
"It's 23 of the most important games of my career for a regular season," he said before Sunday's All-Star Game.
And after a little bit of a scare, that's what James will have to deal with next.
James missed the second half because of a hand injury as Team Giannis beat Team LeBron 184-175.
From the time LeBron James entered the NBA until he set the all-time scoring record at 38, peers have been in awe of his basketball IQ and athleticism.
"Coach [Michael] Malone is a defense-minded coach. I had him in my early days in Cleveland. I told him I would get one stop tonight for him," James said after the game. "I tried to get one little chase-down block, and got my finger caught in the rim. But I'll be fine. I'll be fine. I don't think it's too much to worry about. For precautionary reasons, I just had to take the rest of the night off."
It was some of the only defense played all game.
Boston's Jayson Tatum, who was named the game's most valuable player, scored 55 for Team Giannis, breaking Anthony Davis' record for points in the game.
When the NBA resumes, the Lakers will need to be in a sprint — the team is two games out of the final play-in spot and 4½ games out of the No. 6 playoff seed.
James spoke before captaining and drafting his team for the All-Star Game — doing it the day of the game is a new feature — and though he answered questions about breaking the league's all-time scoring record, James insisted his focus is elsewhere.
"I want to make a push to make the playoffs. I don't want to see myself not being part of the postseason for two years straight. It's just not part of my DNA," James said. "We're sitting up here talking about the record and things of that nature, and that's all cool, but I'm more passionate about trying to make the postseason and give ourselves a chance to compete for another Larry O'Brien Trophy. That's just who I am. That's what I'm cut from.
"So I hope I can figure out a way to just make sure that I'm available on the floor every single night for these 23 games to give us a chance, give our group a chance to be able to compete every night and give ourselves a chance to win every night so we can give ourselves a chance to get into the postseason."
James has been fighting foot and ankle injuries this season, the Lakers winning just five times in the 14 games he has missed. James played in the Lakers' final game before the break after missing the previous three.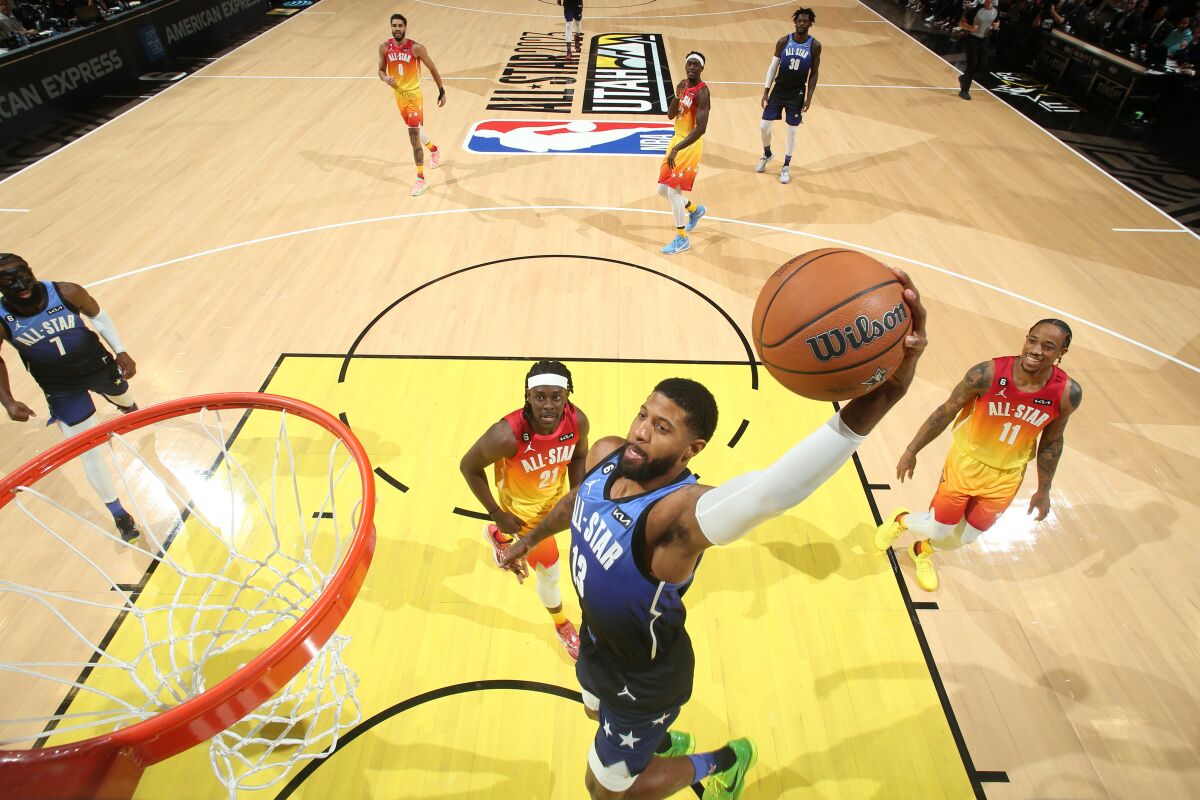 "The most important thing for me right now is to maintain my health and be available to my teammates after this break because we have to make a strong push if we want to do anything special," he said.
Sunday's game began with a playground-style draft. From the starters, James picked Philadelphia big man Joel Embiid first before selecting former teammate (and Lakers trade target) Kyrie Irving of Dallas second.
Utah's Lauri Markkanen was the final starter picked and Memphis' Jaren Jackson Jr. was the final reserve selected.
"It was OK," James said of the live draft, saying he preferred the televised versions in the past.
Milwaukee's Giannis Antetokounmpo, who captained the team opposite James, played the first possession of the game, dunked and exited — his injured wrist bad enough to limit his participation.
James vowed not to go "too crazy" during Sunday's game — a rule he violated when threw an alley-oop to himself off the backboard in the game's first minutes.
He finished with 13 points in 14 minutes before shutting it down for the Lakers' final push.
Paul George scored eight points for Team LeBron on a tough shooting night during which the Clippers star missed all nine of his three-point shots.
At halftime, James was honored on stage with the NBA's No. 2 and No. 3 all-time leading scorers, Kareem Abdul-Jabbar and Karl Malone.
Philadelphia 76ers guard Mac McClung, who has scored three baskets in his NBA career, put on a show to win the NBA All-Star slam dunk contest.
"That moment for me is, like, I'm standing in between these guys, and I'm, like, it's such a surreal feeling," James said. "Growing up — I know you hear this story over and over, but it's just a part of my DNA. Growing up in Akron, Ohio, and thinking about playing games to 21 or 33 with my brothers and my friends growing up, we always would try to emulate certain players. And to be mentioned with some of the greatest to ever play this game, along with Karl and along with Kareem, it's just an honor for sure."
But for the rest of the season — the honors aren't the goal.
It's the postseason — and James made it clear that it's what matters the most.
Get our high school sports newsletter
Prep Rally is devoted to the SoCal high school sports experience, bringing you scores, stories and a behind-the-scenes look at what makes prep sports so popular.
You may occasionally receive promotional content from the Los Angeles Times.