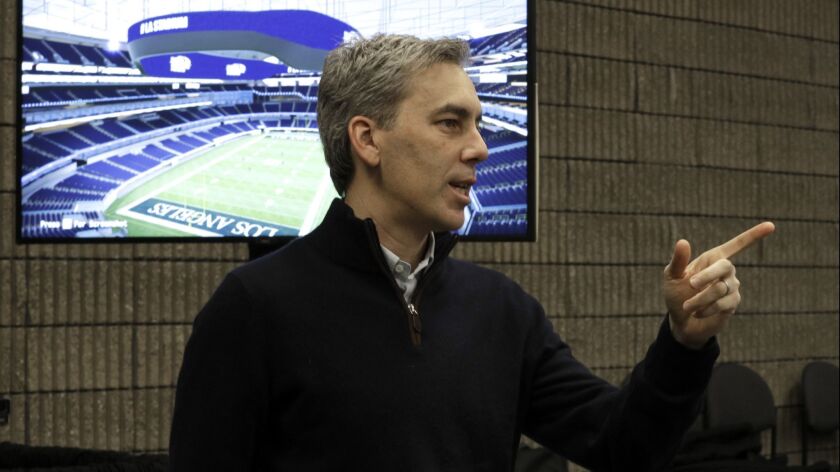 Reporting from ATLANTA —
This Super Bowl week is mostly a business trip for Kevin Demoff, but it's also a bit of a reconnaissance mission for the Rams' chief operating officer.
As busy as Demoff has been handling the logistical details of his team's weeklong stay in Atlanta for Sunday's game against the New England Patriots, he's also been trying to soak up some knowledge in preparation for the Super Bowl the Rams and Chargers will host in their new Inglewood stadium in January 2022.
"One of the things you do is you take notes on everything — you talk to the [Atlanta] Falcons and the host committee," Demoff said. "You get it from the team perspective more, what the team hotels are like, where you're gonna practice, how those movements work. And you take it all in.
"We're looking at it more along the lines of how do we play best on Sunday, how do we make sure our friends, families, coaches and players are all situated. But you definitely take some mental notes. It's a little bit harder when you're in it."
Kathryn S. Schloessman, president of the Los Angeles Sports & Entertainment Commission, and Casey Wasserman, the sports and entertainment agency head who chaired the Super Bowl bid committee, are also doing advance work in Atlanta this weekend.
Sign up for our daily sports newsletter »
The next two Super Bowls will be played in Miami and Tampa Bay. No team has played a Super Bowl game in its home stadium. Demoff would love for the Rams to be the first.
"It would be unbelievable," Demoff said. "I can't even imagine what it would be like in Los Angeles to both play in and host the Super Bowl, judging from the excitement in the city this week for a game that's being played 2,500 miles away. If we can bring that energy and atmosphere to Los Angeles in three years, it would be unbelievable."
Twitter: @MikeDiGiovanna
---