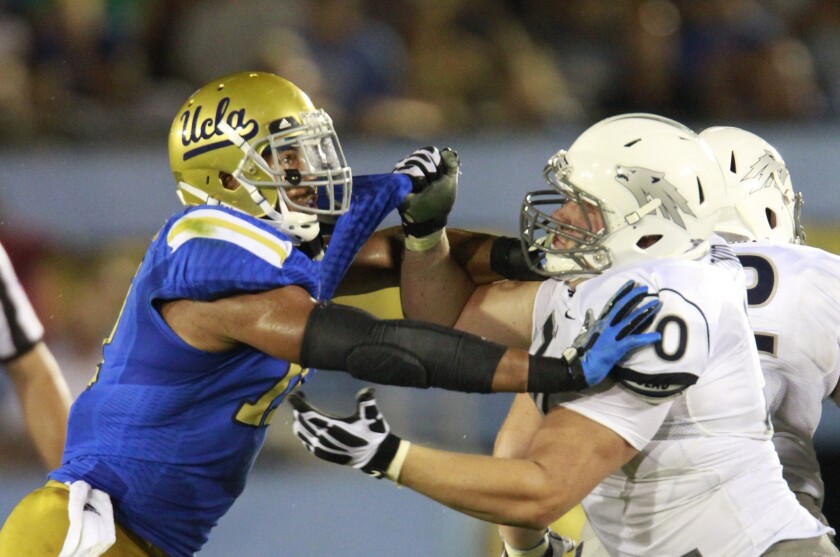 This is a dangerous week for UCLA.
The No. 11 Bruins have a chance to join the elite … but not this Saturday. Road games against No. 5 Stanford (Oct. 19) and No. 2 Oregon (Oct. 26) could get UCLA into the national championship discussion.
First, though, comes a home game Saturday night against lowly California.
Some might call this a bye week. The Bruins call it trouble.
The Golden Bears are 1-4, with their only win coming against Portland State … by seven points. UCLA opened as a 231/2-point favorite against California and that has gone up to 251/2 at the Wynn sports book.
So it's time to start talking about the Stanford game, right?
"We've got to get that buzz and stop it cold," Bruins junior linebacker Eric Kendricks said.
These Bruins are wary. A year ago, they toddled off to Berkeley with a 4-1 record and were embarrassed, 43-17.
"Any time someone beats you, you kind of want to play them a little tougher," senior linebacker Anthony Barr said.
Barr said keeping minds from wandering past this Saturday "is something we're going to have to address and stress this week. This is the biggest game on our schedule."
As talking points go, the Bears don't offer much in support of that, judging by their national rankings.
They are 122nd out of 123 Football Bowl Subdivision teams in points allowed (48.8), 121st in total yards allowed (524.0), 110th in rushing yards (219.8) and 115th in passing yards allowed (304.2).
On top of that, the Bears are so depleted at defensive back that receivers Chris Harper and Bryce Treggs may have their roles expanded to cornerback. California was down to three healthy cornerbacks in a 44-22 loss to Washington State on Saturday.
"I think from here on out, we can't take anyone lightly," UCLA safety Anthony Jefferson said. "Especially Cal. They beat us last year."
That will be the running theme for the Bruins this week. The loss last season "wasn't pretty," quarterback Brett Hundley said. He also said this year's UCLA team" is more comfortable with where we're at. We adjust better."
Plus, the Bears no longer have the same defensive coordinator. Clancy Pendergast, whose scheme so befuddled the Bruins last season, is now at USC.
The Bears can be an offensive threat. First-year Coach Sonny Dykes brought in a life-in-the-fast-lane offense and turned it over to quarterback Jared Goff, a first-year freshman.
Goff is averaging 364.2 yards passing per game, third-most in the nation.
"They run an extreme tempo," Barr said. "They can go off for 50 points just like that."
And, it seems, give that up just as quickly.
McCarthy misses practice
Bruins defensive lineman Ellis McCarthy missed practice Monday because of an undisclosed injury.
McCarthy started at left defensive end the first four games. If he is unable to play, first-year freshman Eddie Vanderdoes probably will start.
Losing McCarthy hurts UCLA's depth. The Bruins rotate defensive linemen liberally, something that is even more vital against an up-tempo team such as California.
The Bruins lost two other key players in Thursday's win against Utah. Torian White, UCLA's starting left tackle, broke a bone in his leg and tore a ligament. He is out for the season. Running back Jordon James, the team's leading rusher, suffered an ankle injury and is not expected to play this week.
Twitter: @cfosterlatimes
---