Jamie Dixon close to deal to become UCLA's next basketball coach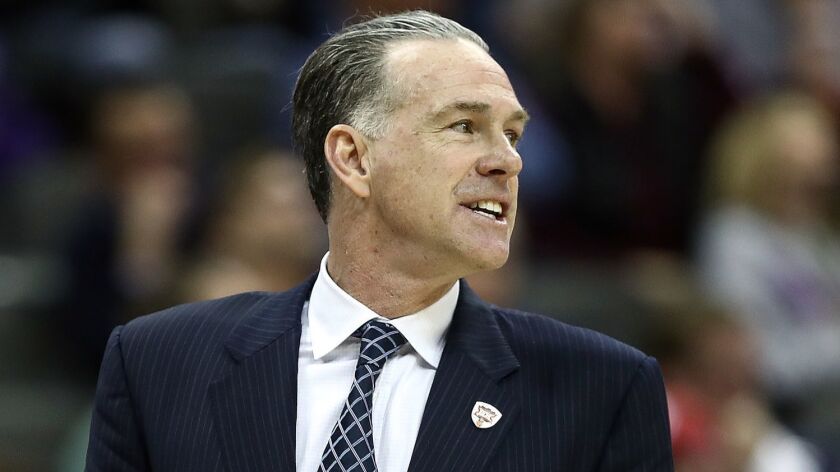 Jamie Dixon is on the verge of leaving his alma mater to come home.
In a dramatic plot twist for the son of a screenwriter who grew up in North Hollywood, Dixon would make a triumphant return to Southern California as UCLA's next basketball coach if he and the school can find a way to satisfy the terms of his buyout at Texas Christian, according to multiple people close to the situation.
Dixon was in negotiations with the school to reduce his $8-million buyout to a substantially lower figure, one person said. Barring that, UCLA and Dixon would have to find a way to pay the full amount.
Terms of Dixon's proposed UCLA contract were not immediately known.
Dixon has agreed in principle to leave the Horned Frogs in hopes of reviving the sagging fortunes of a program that has not been to a Final Four in more than a decade or won a national championship in nearly a quarter of a century.
Dixon would replace Steve Alford, who was dismissed in December after five-plus seasons that yielded only sporadic success and included a dramatic drop-off over the last two seasons.
A protégé of former UCLA coach Ben Howland, Dixon would arrive as something of a consolation prize after the Bruins' search committee, which included Golden State Warriors general manager Bob Myers, was not able to land a top target despite having nearly 100 days to make its pick.
UCLA was rebuffed in its efforts to lure Kentucky coach John Calipari after offering him a six-year, $45-million contract and struck out with a host of other high-profile candidates who either were not interested, did not pass the school's background checks or declined to be interviewed until after the Final Four.
Dixon, 53, was considered a strong Plan B candidate alongside Cincinnati's Mick Cronin, another finalist for the job.
Dixon's teams are known for being elite offensively while also featuring strong defense. He made three appearances in an NCAA tournament regional semifinal during his 13 seasons at Pittsburgh, guiding the Panthers to a regional final in 2009, and has compiled a 395-164 record as a college head coach.
He's enjoyed less success at tradition-starved Texas Christian, advancing to the NCAA tournament only once in three seasons. The Horned Frogs won the National Invitation Tournament in 2017 and made it to a semifinal this season before losing to Texas on Tuesday. Dixon's team won 12 of its first 13 games this season before going 7-11 in Big 12 Conference play and finishing with a 23-14 record.
Dixon's time in Fort Worth included some recent controversy. The school fired assistant coach Corey Barker last month over his alleged involvement in the FBI's college basketball corruption case. Barker was purported to have accepted a bribe to steer players to a sports agency, an accusation that Dixon said he was "shocked" to learn.
Dixon has shared many of Howland's basketball philosophies over the years, relying on smart shot selection and strong defense and rebounding. His teams have routinely ranked among the most efficient in the nation offensively and defensively, particularly during his early years at Pittsburgh.
Sign up for our daily sports newsletter »
Dixon would inherit a roster that could return almost fully intact from last season, when UCLA went 17-16 and did not advance to the postseason for the fourth time in the last decade. Sophomore forward Kris Wilkes, the team's leading scorer, has announced his intentions to hire an agent and declare for the NBA draft in the first of a possible handful of departures.
But the Bruins are expected to return a strong core of players supplemented by the return of point guard Tyger Campbell and power forward Shareef O'Neal from injuries and the arrival of freshmen Jaime Jaquez and Jake Kyman. Dixon's recruiting efforts could benefit from his strong West Coast ties and his recent hiring of former UCLA associate head coach Duane Broussard as an assistant on his staff.
Dixon's ties to Howland go back to Dixon's days as a late-blooming star player at Sherman Oaks Notre Dame High in the early 1980s while Howland was a top recruiter at UC Santa Barbara. Howland informed Dixon that there was no place for him with the Gauchos and Dixon landed at Texas Christian, leading the Horned Frogs to the 1987 NCAA tournament before playing in the CBA and overseas.
Dixon reconnected with Howland as a graduate assistant on Jerry Pimm's staff at Santa Barbara in 1991, and the duo later coached together for four seasons at both Northern Arizona and Pittsburgh. When Dixon traveled to Southern California as an assistant at Northern Arizona, he would often sleep on a hotel floor or with his parents because of budget constraints.
Howland praised Dixon's tireless work ethic and ability to spot talent during a 2004 interview with The Times.
"He's had as much to do with my success as anybody," Howland said at the time. "I really owe a lot to him."
Dixon owes some of his most famous roles to his father, Jim, who transitioned from acting to screenwriting. As he started his career as a cash-strapped assistant coach, Dixon used his family connection to land a part in a Bud Light basketball ad in which he and a group of male basketball players get dunked on by a woman in a pickup game.
He had been acting since he was 5, when he sat in the backseat while his father drove in a Volvo commercial. Dixon also appeared in commercials for Kentucky Fried Chicken, Mattel and Rice Krispies. But his father said his son didn't want to do commercials once he started playing Little League.
All these years later, he's close to stepping into the big time in a leading role he coveted.
Twitter @latbbolch
---
Get the latest on L.A.'s teams in the daily Sports Report newsletter.
You may occasionally receive promotional content from the Los Angeles Times.