UCLA will try to contain Kansas State's option offense in Alamo Bowl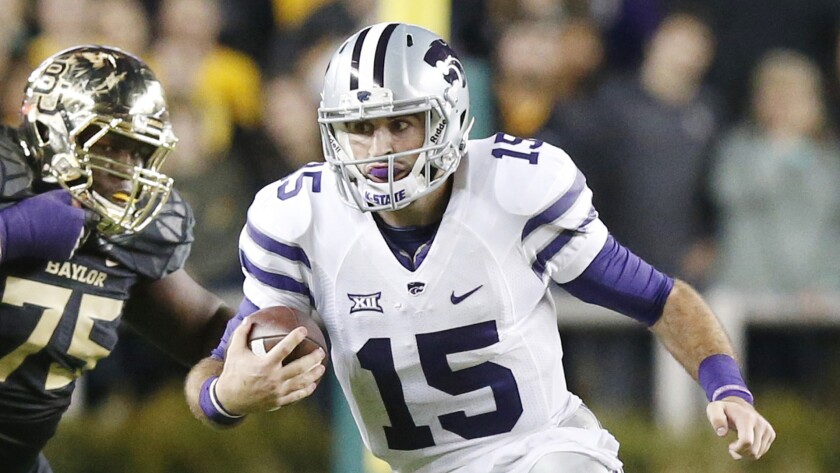 Exotic is not a word often used to describe anything from Manhattan, Kan. But UCLA Coach Jim Mora applied it to Kansas State's offense, calling it "more exotic than Arizona."
As a travel agent, that would be setting the bar low. As a defensive-minded head coach, it was quite a compliment.
The Wildcats will throw an efficient zone-read offense at the Bruins in the Valero Alamo Bowl on Jan. 2. It may be similar to what Arizona runs, but the Wildcats have perfected the offense during 23 seasons under Coach Bill Snyder.
"Everything is run until it's a pass, everything is a pass until it's a run," UCLA defensive coordinator Jeff Ulbrich said. "They can go any way with any play."
Kansas State quarterback Jake Waters has thrown for 3,163 yards and run for another 461. The Wildcats use tag-team running backs, with Charles Jones gaining 521 yards and DeMarcus Robinson 436.
But the biggest threat is receiver Tyler Lockett, who has 93 receptions for 1,351.
"Lockett won deep a lot this year playing against some really good teams," Ulbrich said. "We got to have great discipline, particular [in the secondary]. When you're in coverage, keep your eyes on your man."
As for being "more exotic," Ulbrich said that Kansas State "has more personnel groups, more formations than Arizona. At the same time, all that run-pass option thing is in full effect."
The good news for the Bruins is they handled the other Wildcats. UCLA held Arizona to 255 total yards in a 17-7 victory this season.
Other side
UCLA offensive coordinator Noel Mazzone looks at the 21.8 points per game that Kansas State allows and worries.
"There are a lot of good offenses in the Big 12," Mazzone said. "You go from Baylor to TCU to Oklahoma to Oklahoma State, which are all very close to our offense. They have done a very good job of containing the explosiveness of those offenses."
Well, sort of. Texas Christian ran up 553 yards in beating Kansas State, 41-20, and Baylor had 584 yards in a 38-27 victory over the Wildcats.
Bowl swag
UCLA and Kansas State players will receive a gift bag from the Alamo Bowl that includes a GoPro Hero4 Silver camera ($400), a Fossil watch ($95-$795), an Oakley Works backpack ($55-$100) and a Schutt mini football helmet ($25-$30). All prices are from the products' websites.
UCLA, meanwhile, will bring home an Alamo Bowl payout of $3.825 million. It is part of a lucrative bowl season for the Pac-12. As one of the five power conferences, the Pac-12 is guaranteed $50 million from the playoff revenue pool. The conference will receive an additional $25.687 million in bowl game revenue for a total of $75.687 million.
The postseason loot will be divided equally among the conference members, with each school receiving a little more than $6.3 million.
Last tango
Linebacker Myles Jack is looking forward to the Alamo Bowl for many reasons, but one in particular. It will be his last game alongside senior linebacker Eric Kendricks.
"I can't put in words what it means to the team and myself, but he will be missed," Jack said.
Jack managed to find some words.
"He's the guy I have been closest with," he said. "He has been on me since I came here making me a better player."
Goforth back
Safety Randall Goforth was back at practice this weekend after having successful surgeries on both shoulders.
Goforth, a junior, played in UCLA's first two games before needing the surgeries. He will be able to use a redshirt this season and will have two years of eligibility remaining. Goforth expects to be ready for limited work in spring practice.
Hollins cleared
Linebacker Deon Hollins was allowed to practice Sunday. He was forced to wear a non-contact red jersey Saturday after suffering a concussion last week. Hollins is expected to play against Kansas State.
---
Get the latest on L.A.'s teams in the daily Sports Report newsletter.
You may occasionally receive promotional content from the Los Angeles Times.