Former UCLA coach Pepper Rodgers knows all too well what Chip Kelly is going through with 0-4 start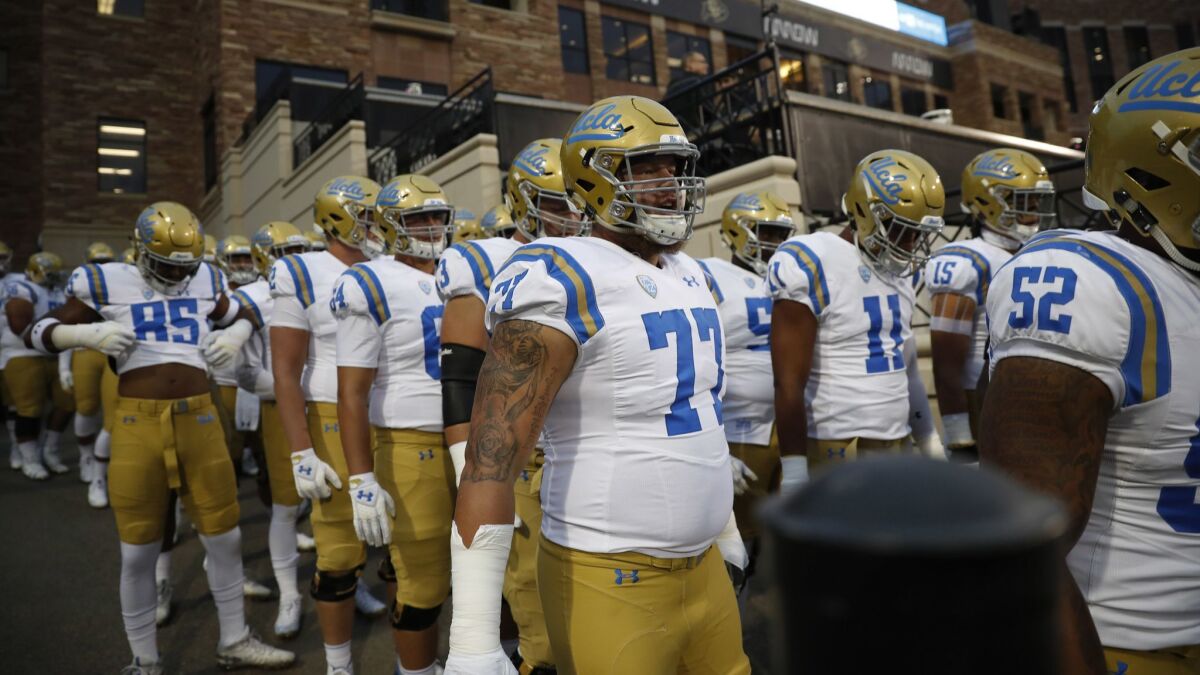 The new UCLA football coach faced questions about his use of two quarterbacks entering the program.
The Bruins lost their opener as two-touchdown favorites after their starting quarterback departed the game and his backup lost a fumble in the fourth quarter.
The team went on to drop game after game, starting 0-4 while facing a tough schedule.
It had been a tough opening month for Pepper Rodgers.
The last UCLA coach before Chip Kelly to open a season with four consecutive losses might be uniquely qualified to feel the pain of the man in the current predicament, even if Rodgers' early-season stumbles happened 47 years ago.
"I feel sorry for him," Rodgers, 87, said during a telephone interview this week from his home in Reston, Va., "because I don't care what kind of coach you are, you can't win with players who aren't good enough."
Kelly contended that wasn't the issue facing the 2018 Bruins (0-4 overall, 0-1 Pac-12 Conference), who will try to notch their first victory on Saturday at the Rose Bowl against No. 10 Washington (4-1, 2-0). Asked on Tuesday if his team had the talent to win, Kelly said, "Sure."
Across the board?
"Sure," said Kelly, who pinned his team's struggles on breakdowns in execution and communication as well as penalties.
Rodgers rebounded from his horrid start … the next season. The Bruins won only two games after starting 0-4 in 1971, finishing 2-7-1, before going 8-3 in 1972 and 9-2 in 1973. Of course, the possibility of future success provided no consolation amid loss after loss during Rodgers' first season.
Rodgers said there wasn't much talent on UCLA's roster when he replaced Tommy Prothro, his former boss with the Bruins who had departed for the NFL before the 1971 season.
"I know why Tommy Prothro left to go to the Rams," Rodgers said. "One, it was a big-time pro job and No. 2, he didn't have any players left."
The Bruins' top quarterbacks were junior college transfers Mike Flores and Clay Gallagher. Rodgers went with Flores as the starter in the season opener against Pittsburgh at the Coliseum, but the heavily favored Bruins lost the lead after Gallagher was brought into the game in the fourth quarter because he was considered more sure-handed as the team turned to its running game.
Gallagher coughed up the ball and UCLA the game after Pittsburgh converted a fumble into the winning points in a 29-25 triumph.
It didn't seem to matter who played quarterback the next week during a 28-10 loss to No. 3 Texas in which the Bruins were completely outclassed.
"As [Longhorns coach] Darrell Royal told me when we played Texas," Rodgers recalled, " 'Your quarterbacks look like dogs with broken bones on ice.' "
UCLA fell to 0-3 after two turnovers in the game's first 11 minutes doomed them in a 38-0 loss to No. 4 Michigan. It was the team's worst start since the 1943 team dropped its first seven games on the way to a 1-8 finish. The Bruins' prospects for improvement seemed bleak with their offense so inept that they punted on a third down.
UCLA appeared poised for a breakthrough against Oregon State the following week, taking a lead in the third quarter. The Bruins then gave up three touchdowns in a 7½-minute span on the way to a 34-17 loss, forcing Rodgers to acknowledge being emotionally drained from trying to end a losing streak that had reached four games.
He could finally exhale in Week 5, but only after Washington State logged a school-record 10 fumbles, losing the ball six times, and had two passes intercepted by an attacking UCLA defense. The Bruins gave Rodgers the game ball following their 34-21 victory, a belated birthday present one day after he had turned 40.
With UCLA's record in conference play at 1-1, Rodgers was asked afterward whether the Bruins were back in the running for the Rose Bowl.
"Hell, I don't know," he said. "Just let me enjoy this win, OK?"
Rodgers got to delight in another triumph the following week when UCLA beat Arizona before resuming its losing ways. The Bruins dropped three more games going into their showdown against USC following a bye week. That's when Rodgers installed the wishbone offense, helping UCLA pull out a 7-7 tie against the No. 15 Trojans.
"We played what I called a stall game," Rodgers remembered. "We never went out of bounds. We didn't throw any incomplete passes hardly and we kept the clock moving and we tied Southern Cal in the last game of the season."
It was the start of a sharp turnabout. The Bruins upset top-ranked Nebraska in their opener the following season, ending the Cornhuskers' 32-game winning streak, behind the strong play of quarterback Mark Harmon and an innovative scheme implemented by new offensive coordinator Homer Smith. UCLA finished the season 8-3, making Rodgers the Pac-8 coach of the year. The Bruins went 9-2 in 1973 before Rodgers departed for Georgia Tech, his alma mater.
"Strategically, professionally, it wasn't a good move," Rodger said of going to a school that wasn't in a conference at the time. "But the heart spoke. I'm a Georgia Tech boy and Atlanta guy. I sold peanuts and cola to Tech players when I was 10 years old, so it was a lifelong dream for me."
Rodgers spent six seasons with the Yellow Jackets, compiling a 34-31-2 record, before coaching in the United States and Canadian football leagues.
He said he revived his UCLA fortunes by restocking the roster with top players, a time-honored formula for success.
"I proved everything: I can coach good players, I can't coach bad ones," Rodgers said. "And I think Kelly's proving that. I think Chip Kelly is a good coach. Now, here's what will prove whether or not [he can succeed at UCLA]: Is he a good recruiter? We'll see. Because if you can't recruit, I don't care what kind of coach you are, you're not going to win."
Etc.
Kelly said linebacker Jaelan Phillips, who has missed the last two practices, was sidelined with an unspecified injury.
Phillips detailed his recovery from two wrist surgeries in a lengthy Instagram post Monday, writing that he had returned to the field in four months after being told he could miss as much as a year.
"I wanted to post this as encouragement to my fellow athletes to 1. Not take anything for granted, because ANYTHING can happen," wrote Phillips, who has played in every game this season, "and 2. Don't be discouraged by adversity, embrace it and use it as motivation to do things that nobody thought you could do."
Times researcher Cary Schneider contributed to this report.
Follow Ben Bolch on Twitter @latbbolch
---
Get the latest on L.A.'s teams in the daily Sports Report newsletter.
You may occasionally receive promotional content from the Los Angeles Times.