Dorian Thompson-Robinson is getting a push from Austin Burton in UCLA's QB battle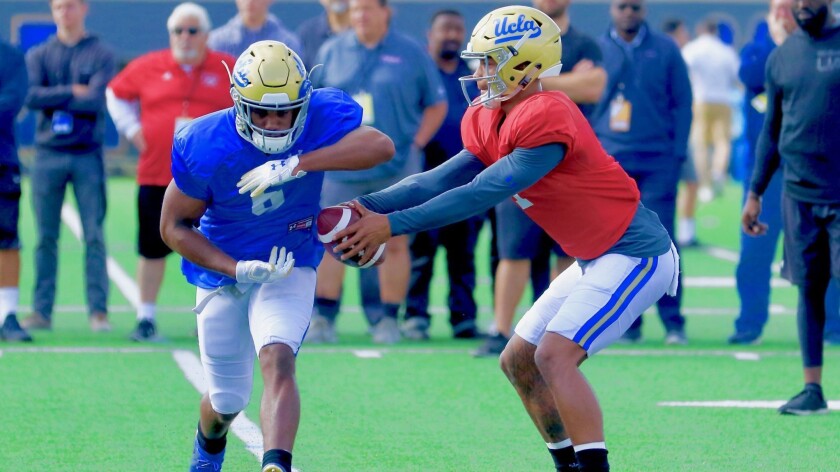 Each spring practice, after every drive he completes with the first-team offense, Dorian Thompson-Robinson shuffles toward the sideline to watch the teammate trying to take his job.
Austin Burton has made the battle to become UCLA's starting quarterback a two-man race. In the most recent practice open to reporters, Burton led a couple of touchdown drives while Thompson-Robinson was shut out, though the former was facing the second-team defense and the latter the first-team defense.
The coach who will ultimately pick the starter suggested that Burton entering the fray has helped nudge Thompson-Robinson along in a race that will reach its next marker Saturday morning during the spring game on campus at Drake Stadium.
"I think Dorian is pushing himself," coach Chip Kelly said, "which is the most important thing."
Kelly noted how Thompson-Robinson continually asked coaches questions based on his unceasing study of practice footage. Receiver Kyle Philips said Thompson-Robinson was extending his film review habits to his teammates, working with them individually to examine plays and suggest fixes.
A year ago, there was nothing for the quarterback to watch besides film of his high school games.
Thompson-Robinson arrived at UCLA last summer before a fascinating freshman season. He lost a training camp battle with graduate transfer Wilton Speight to become the starter but found himself trotting onto the Rose Bowl field in the second quarter of the season opener after Speight sustained a back injury.
Thompson-Robinson looked like he might never give the job back by midseason, after completing 45 of 61 passes (73.8%) over one three-game stretch. But a shoulder injury against Arizona allowed Speight to reclaim a job that he gave back only briefly, against Oregon, the rest of the season.
Thompson-Robinson finished his first college season completing 57.7% of his passes for 1,311 yards with seven touchdowns and four interceptions while being sacked 19 times.
Speight's departure opens the way for Thompson-Robinson again, unless Burton beats him out. Both quarterbacks appear more confident this spring than a year ago, and Kelly said he's noticed something else about Burton's development.
"The key critical factors to being a quarterback [are] being a great decision-maker and accuracy," Kelly said, "and I think he's gotten better."
An increased familiarity with Kelly's offense has benefited both quarterbacks as they prepare to enter Year 2 under their new coach.
"They can finish sentences now," Kelly said. "When you start to call a play, they know where we're headed and what the concept is, what the formation is and what we're motioning and what we're trying to get accomplished, so I just think they're a lot more comfortable in terms of what we're doing."
Burton, a redshirt sophomore, has not appeared in a college game, making his performance in the spring game last year his one shining moment. He completed six of eight passes for 110 yards and a touchdown against the second-string defense.
Thompson-Robinson watched that game in street clothes, still a high school senior. Now he's about to head into his sophomore year of college as a big man on campus based on his newfound swagger.
"Last year, he was just kind of our quarterback," Philips said, "but now he's really our leader."
Sign up for our daily sports newsletter »
Follow Ben Bolch on Twitter @latbbolch
---
Get the latest on L.A.'s teams in the daily Sports Report newsletter.
You may occasionally receive promotional content from the Los Angeles Times.